Four members of Congress who are among hundreds of lawmakers targeted in retaliatory sanctions by Russia were previously named in a report detailing their stakes in Russian companies.
Reps Josh Gottheimer [D-NJ], Ro Khanna [D-CA], Peter Meijer [R-MI] and Susie Lee [D-NV] have been included in the Russian Foreign Ministry's list of 398 members of the House of Representatives who are being hit with "mirror" sanctions.
Russia said the move was in response to the latest "wave" of sanctions brought on by President Joe Biden in response to the country's invasion of Ukraine in late February.
On March 24, Biden issued sanctions against 328 members of Russia's legislative body, the Duma, as well as the Duma itself.
The news of the sanctions from Russia, which does not indicate any wrongdoing, arrived after Gottheimer, Meijer, Lee and Khanna featured in an Insider report noting how they, or their spouses, had invested money in Russian companies.
The report published March 1 notes the members of Congress were not doing anything illegal by investing in public companies, and others had even sold their assets.
But, it could be seen as a conflict of interest given the U.S. recently began issuing sanctions against Russia, and Congress is looking into banning lawmakers from trading individual stocks.
Gottheimer owns up to $30,000 worth of American depository receipts in Russian fossil fuel company Lukoil, and purchased $15,000 of receipts as recently as February 2021, according to filing of his finances.
Gottheimer also owns up to $15,000 worth of stock in Yandex, a Russian internet services company, and reported that he earned up to $2,500 in capital gains from the stock in 2020, according to federal filings.
In a statement to Newsweek, Gottheimer said that prior to taking office, he turned over management of his retirement savings and investments to a third party.
"Throughout my time in Congress, decisions related to my managed investments have been made at the direction of that third party," Gottheimer said.
"I don't believe members of Congress, judges, or any government employee in a policy role, should be involved in the day-to-day trading of securities, including crypto currencies."
Gottheimer added he is also working with Rep. Abigail Spanberger on her TRUST in Congress Act, which would require lawmakers place any stocks or bonds in a blind trust to "ensure they have no direct involvement in their investments."
Meijer also reported owning up to $15,000 in Yandex stocks in 2020 as part of assets linked to a trust held by his family's grocery store business.
Meijer said that he sold all his stocks, including his shares in Yandex, in early 2021.
Elsewhere, the wife of rep. Khanna, Ritu Khanna, was also found to have purchased up to $15,000 of Yandex stock in January 2022.
Marie Baldassarre, Khanna's spokesperson, said the stock is part of Ritu Khanna's family trust which was set up before they got married and managed by a third party.
"Congressman Khanna does not trade in any stocks, and he supports a ban on stock trading that applies also to spouses," Baldassarre said.
In 2021, rep. Lee disclosed that her husband, whom she is no longer in a relationship with, also owned up to $200,000 worth of shares in two Russian exchange traded funds—VanEck Russia ETF and iShares MSCI Russia ETF.
Rep. Lee's said in a statement that these investments were in family members' accounts, which included her estranged husband's, and were sold two years ago.
"The family currently has no investments in these funds," Lee spokesperson Zoe Sheppard said.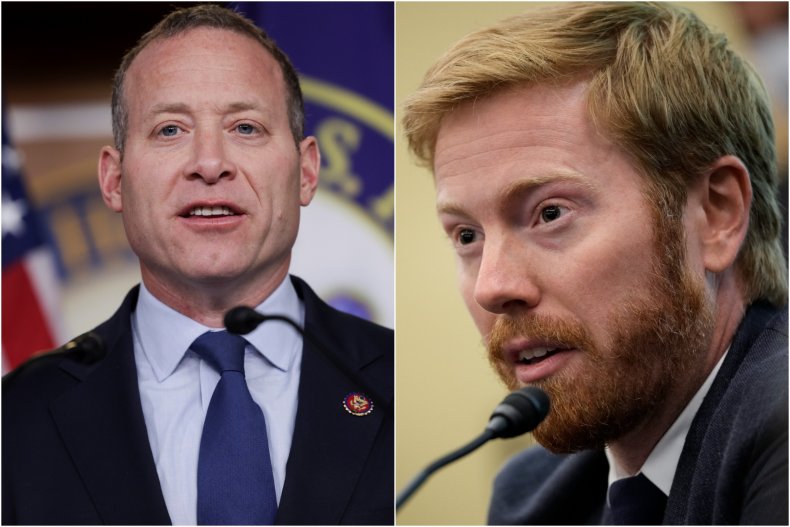 It is unclear if the members have retained their stock, or made any other investments related to Russian companies.
Elsewhere, some of the lawmakers have reacted to the news that they have been sanctioned by Russia with glee.
"I take it as a compliment to be sanctioned by war criminal Putin + his cronies," Gottheimer tweeted.
Meijer added: "Apparently I just got sanctioned by Putin for our work supporting Ukraine. I guess my [House Committee on Foreign Affairs] bill to expand US sanctions against all Russian Duma officials struck a nerve!"
Update 04/14/2022, 11:30 a.m. ET: This article has been updated with comment from Rep. Josh Gottheimer and a correction of the congressman's name.