Russia Seeks Quick US Return to Iran Nuclear Deal to Avoid Middle East Chaos
Russia is seeking a U.S. return to the Iran nuclear deal, a move that experts say would help preserve regional stability and prove lucrative for growing trade with the heavily-sanctioned Islamic Republic.
"This is high time for #US and #Iran to make coordinated steps to restore full implementation of #JCPOA," Russian ambassador to the United Nations Mikhail Ulyanov tweeted late Wednesday in response to Newsweek's coverage of the most recent drama regarding the nuclear deal that is officially known as the Joint Comprehensive Plan of Action.
The accord was struck by Washington and Tehran in 2015 and additionally endorsed by Moscow and other major powers who continue to support it, despite former President Donald Trump's unilateral exit in 2018.
President Joe Biden had vowed to return to the deal, but a lack of progress in the first weeks of the new administration has frustrated proponents of the agreement, as have the ongoing sanctions that carried over from the Trump administration and remain in place.
These sanctions have deliberately hindered the JCPOA's promised benefit of normalizing Iran's foreign trade ties. Opening up and improving the country's economy was a key incentive at play in Iran's initial decision to limit a nuclear program it has always insisted was peaceful.
Iran has since lifted its uranium enrichment caps in retaliation for the failure of other parties to live up to their end of the historic bargain, but has promised to reverse this measure if compliance to the agreement by all parties is restored.
But the Biden administration has insisted that Iran first adhere to its initial commitments before it will consider rejoining the deal, a stance from which it has yet to budge despite a new offer from Tehran.
When Iranian Foreign Minister Mohammad Javad Zarif proposed a "synchronized" return alongside the U.S. that would be overseen by European Union Foreign Affairs High Representative Josep Borrell, State Department spokesperson Ned Price expressed no interest in it.
"If Iran comes back into full compliance with its obligations under the JCPOA, the United States would do the same, and then we would then use that as a platform to build a longer and a stronger agreement that also addresses other areas of concern," Price said. "Of course, though, we are a long way from that."
As to whether this posed as an outright rejection of the offer, Ambassador Ulyanov tweeted, "I hope this is a wrong assessment."
He said such an impasse would serve no one.
"Otherwise we observe something as [a] bonfire of vanities and fruitless ambitions: the other side has to make the first step," the Russian diplomat wrote. "The way to nowhere."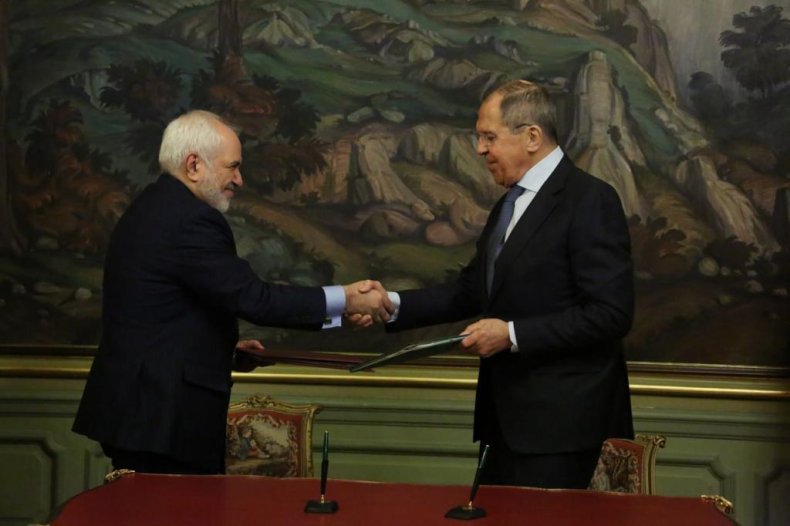 An unnamed U.S. official cited by Reuters later attempted to walk back Price's comments, saying that "there is no rejection" of Zarif's offer.
"We have not begun negotiating with Iran, or with anyone else, because our priority is to consult" with partners in the nuclear deal and in the region, the official reportedly said.
This attempt by the U.S. to clarify its position was likely welcome in Moscow, where Russian International Affairs Council program coordinator Pyotr Kortunov indicated that the compromise suggested by Zarif may well provide a way forward.
"Russia still reasonably expects Washington to be the first one to hold out its hand to Iran in order to repair what the previous administration had tried to destroy," Kortunov told Newsweek. "However, both Iran and Russia would probably welcome a more compromising approach where Tehran and Washington would synchronize their respective obligations under the JCPOA, thus making simultaneous steps in each other's directions."
But whether the new U.S. administration was willing to go down this path was unclear, and both Price and Secretary of State Antony Blinken have suggested there may be no immediate answer.
For Iran, a U.S. return to the JCPOA would mean relief from the crushing sanctions that have crippled the Islamic Republic's economy, compounding financial, political and humanitarian woes.
As Iranian lawmakers pressure Iranian President Hassan Rouhani—whose term ends in June—to walk further away from the nuclear deal, a U.S. return to the JCPOA is also a priority for Russia.
"Keeping the JCPOA alive is a matter of utmost importance," Kortunov said, "as it is crucial to Moscow's balancing strategy in the Middle East."
He said that although uncertainty caused by the problems with the JCPOA is not necessarily a negative for Russia itself, it is exacerbating tensions in the region, which could lead to open conflict.
"While the JCPOA remains in limbo, not collapsing completely, but not functioning as intended either, Russia can to a certain extent benefit from the existing tensions," he said. "However, this state of uncertainty and escalating tensions creates a very dangerous atmosphere where one reckless move from either party can trigger a domino effect and through a series of retaliations lead to an armed conflict between Iran and its regional rivals."
Kortunov said such an outcome would seriously impact stability in the Middle East.
"This scenario would be disastrous for Russia's balancing act in the region," he said, "and will greatly diminish Moscow's influence in the Middle East."
Unlike the U.S., which has firmly aligned itself with the West and closely partnered Middle East states, Russia has few rivals it won't talk to or trade with, and has maintained relations with nearly all sides involved in the region's overlapping feuds.
This strategy has become somewhat more difficult to sustain in the wake of the former Trump administration's so-called "maximum pressure" campaign, which has exacerbated divisions among foes.
Though current JCPOA Commission parties China, the European Union, France, Germany, Russia and the United Kingdom see the agreement as vital for maintaining peace, Israel and Saudi Arabia—both close U.S. partners—strongly oppose the accord, seeing it as a form of appeasement for an increasingly powerful and influential Iran.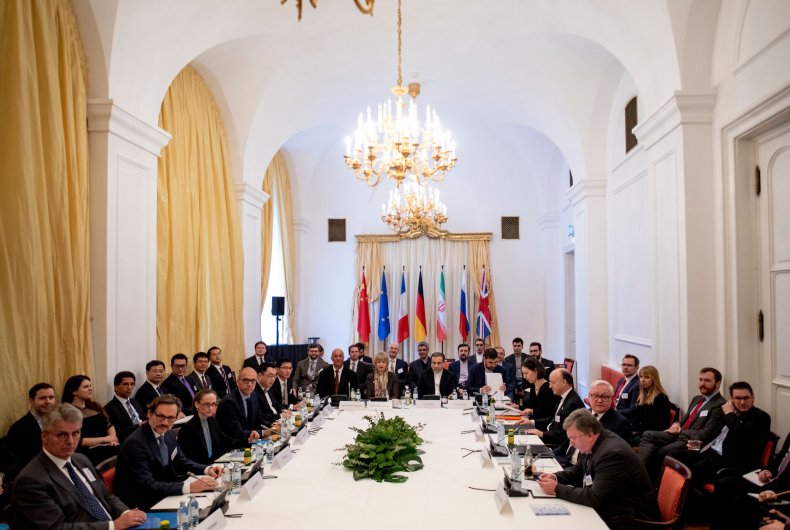 Despite being critical of Trump's JCPOA exit, the Biden administration, intent on consulting with Middle East partners before making any major moves, has yet to reverse any of the previous administration's moves targeting Tehran, something Moscow sees as unnecessarily destabilizing for the Middle East and detrimental to its own interests.
"Russia favors a U.S. return to the JCPOA, since it has always been a reliable party to the accord and proponent of negotiating Iranian nuclear program in a diplomatic way," Maxim Suchkov, a senior fellow and associate professor at the Moscow State Institute of International Relations, told Newsweek. "But it doesn't favor the inflation of tensions in the region which it believes would stem from the maximum pressure campaign."
Trump-era maximum pressure has been marked by a severe rise in Middle East unrest, especially in Iraq and across the Persian Gulf, one of the world's most crucial maritime oil trade routes.
To counter this, Suchkov points out that Russia "has offered its own vision for regional security in the summer of 2019, and seeks to act as an architect of that structure." Presented in July of that year, the Collective Security Concept for the Persian Gulf Region proposed a comprehensive counterterrorism coalition of actors including countries on both sides of the Persian Gulf, as well as all JCPOA signatories and other major stakeholders, such as India.
The idea was welcomed by Tehran and Beijing, but met with mixed reviews among other actors. Also in 2019, the U.S. established the eight-nation International Maritime Security Concept to patrol the Persian Gulf and surrounding waters, where Iran has sought to limit foreign presence and focus on regional cooperation through the creation of a Hormuz Peace Endeavor, or Coalition for HOPE, that has yet to take shape.
But outside of multinational efforts, Russia has also invested directly in Iran's security in the face of external threats.
Russian Foreign Minister Sergey Lavrov met with Zarif last week in Moscow, and the pair signed an information security agreement that Suchkov said is "deemed to get the Russian-Iranian cooperation on track to defend against what both see information and cyber threats coming from the U.S."
But the two also emphasized their joint support for the JCPOA.
"Our positions are identical," Lavrov said at the time. "We are interested in its complete preservation. We are convinced that the way to this goal lies exclusively through the consistent, all-round implementation of the provisions of this major document by all involved parties in strict compliance with UN Security Council Resolution 2231."
He urged the U.S. to return to compliance with the deal, a decision that would, in turn, "create conditions for observing the requirements of the nuclear deal by the Islamic Republic of Iran."
The information security agreement is just one of many growing projects between Russia and Iran, who are cooperating in a multitude of fields.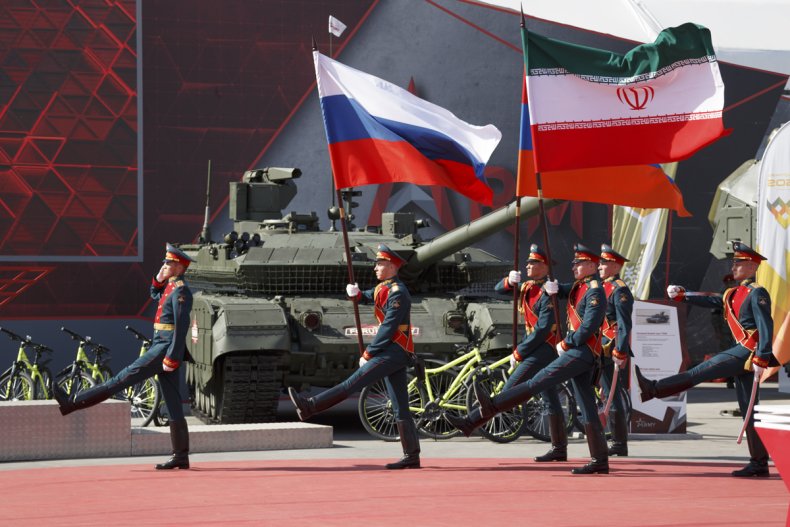 Andrey Baklitskiy, a consultant at the Moscow-based PIR Center, said this collaboration would persist even if the Trump administration's efforts to sabotage the JCPOA proved successful.
"Moscow has been trying hard to preserve the agreement during the Trump presidency so there would be something to return to," Baklitskiy told Newsweek. "At the same time, Russia continues to increase cooperation with Iran in both political-military and economic spheres, and this process will continue regardless of what Washington does on the JCPOA."
He cited ongoing work at Iran's Bushehr Nuclear Power Plant as an example of Moscow and Tehran's robust relationship, often officially referred to by both sides as a strategic partnership. On the defense side, the two regularly hold joint military exercises, including naval drills alongside China for the first time in late 2019, and continue to coordinate in their mutual defense of the Syrian government.
Though dismayed at the early negative signs from the Biden administration's approach to the JCPOA, statements indicate Russian officials appear to have held up some degree of hope that the Biden administration would fulfill its campaign promise of reversing the U.S. exit from the deal.
"Russia is willing to give President Biden a benefit of a doubt on returning to the JCPOA—after all he did extend the New START as promised—and will support the U.S. return both in the UNSC and in the Joint Commission," Baklitskiy said.
Kortunov concurred. But he noted that any attempts to significantly reorganize the original agreement would likely result in opposition from Moscow.
"The JCPOA in its original form addresses Russia's main concern about Iran— its nuclear capabilities," Kortunov said. "While ensuring the Islamic Republic doesn't acquire a nuclear weapon, the 'nuclear deal' doesn't aim to curtail Tehran's presence and influence in the region, which is very compatible with Russia's strategy in the Middle East."
Much in the way Biden extended New START on his first full day in office, Russia's optimal vision is to see the U.S. administration display the same sense of urgency in resolving the nuclear deal, an agreement that brought friends and foes alike in a show of converging interests, a type of effort that is increasingly rare among major powers.
"Ideally," Kortunov told Newsweek, "Moscow would like to see the JCPOA revived as soon as possible with little to no amendments to the deal's original provisions."