Russia Will Be Sending More Weapons to NATO Member Turkey, Senior Lawmaker Vows as S-400 Missiles Arrive
A senior Russian politician has said that Russia will expand its weapons sales to NATO nation Turkey, despite American protests over Ankara's recent receipt of a cutting-edge Russian anti-aircraft system.
Russia has now delivered eight shipments of S-400 components to Turkish armed forces at the Murted air base close to the capital of Ankara. The deal has angered American officials, who claim that integration of Russian armaments into the NATO nation's defense network poses a security risk to the entire transatlantic alliance.
But despite U.S. protests and threats, both Russian and Turkish officials have stayed the course. And this weekend, Leonid Slutsky—the head of the foreign affairs committee of Russia's lower house of parliament—said the controversial agreement is "the first shot" in a new era of military cooperation between Moscow and Ankara.
"Turkey is the first sign," Slutsky told the RT TV Channel, the Tass state news agency reported. "S-400 and a more advanced armament system from Russia will definitely appear in the region. We will cooperate closely; volumes of such cooperation are huge. I am confident we should increase such cooperation at every possible way," Slutsky added.
The S-400—code named the SA-21 Growler by NATO—is considered one of the most potent anti-air weapons in the world. Other nations that have purchased or expressed an interest in the S-400 include China, Saudi Arabia, India, Iraq and South Korea.
Turkey began receiving deliveries of the weapon components last Friday when three Russian cargo planes landed carrying several tractors and a loading vehicle. The graphic below, provided by Statista, illustrates the major global weapons exporters.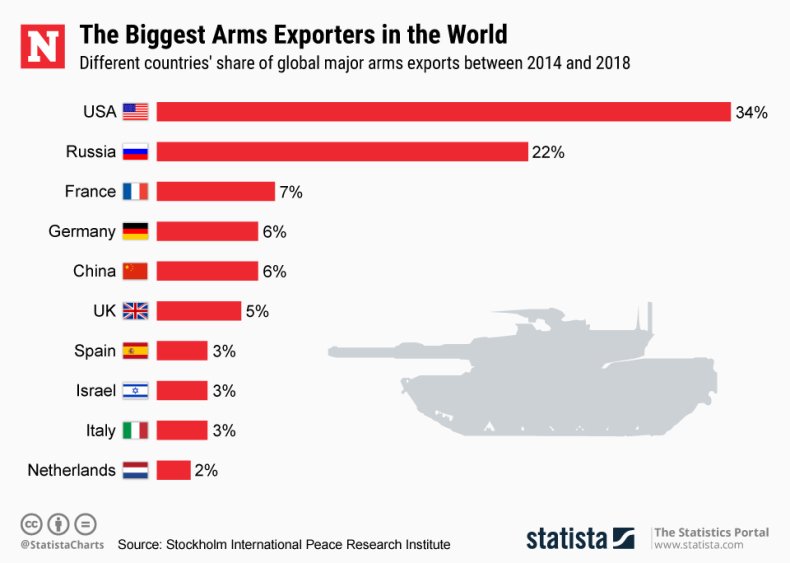 The purchase has opened a rift between Washington and Ankara, even prompting the U.S. to threaten imposing sanctions on Turkey if it does not pull out of the deal.
American officials have even said the purchase threatens U.S.-Turkish cooperation on the F-35 stealth fighter jet program, in which Ankara is a financial and manufacturing partner and of which Turkey has agreed to buy 100. American officials fear that Turkey's use of the S-400 could help Russia expose weaknesses in the F-35.
But Turkish officials, among them President Recep Tayyip Erdogan, have refused to reconsider the S-400 deal. This weekend, Erodgan lauded the delivery as "the most important agreement in our modern history."
"Purchasing S-400 systems, Turkey is not getting prepared for a war," he added. "These missile defense systems are meant to ensure peace and security in our country. We make other steps to improve our defense capacities."
Erdogan also told reporters that the F-35 should not factor into Turkey's S-400 deal. "The S-400 deal is one topic, while F-35 is quite another topic," he said . Noting that Turkey has already paid $1.4 billion for the F-35s, he warned the U.S. "will have to pay back the sum we have paid" if the country is excluded from the project.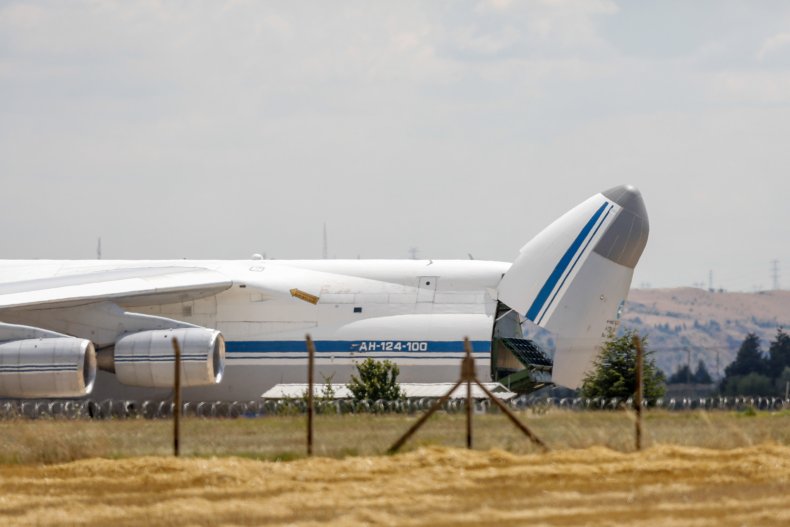 This article was updated to include an infographic.