Russia Vows Harsh Response to Unfriendly U.S., Steps Up Military Drills
Russian Foreign Minister Sergey Lavrov has warned the Kremlin would respond "harshly" if it detected U.S. antagonism, as he suggested Washington had pressured Moscow since the summit between presidents Vladimir Putin and Joe Biden.
Lavrov's comments came as Moscow announced it had carried out military drills amid ongoing tensions with NATO, as it conducts war games in the Black Sea region, which Russia considers to be its backyard.
Lavrov said that after the Geneva summit between Putin and Biden last month, American officials had stated "with redoubled force" how the U.S. had "warned and outlined demands" to Moscow during the summit.
"All these warnings come along with threats—if Russia within 'several months' fails to accept 'the rules of the game' outlined in Geneva, it will be subject to new pressure," Lavrov told Indonesian newspaper Rakyat Merdeka.
Lavrov said the U.S. attitude was at odds with the tone of the summit itself in which both sides made "principled statements" and "showed a wish to understand each other."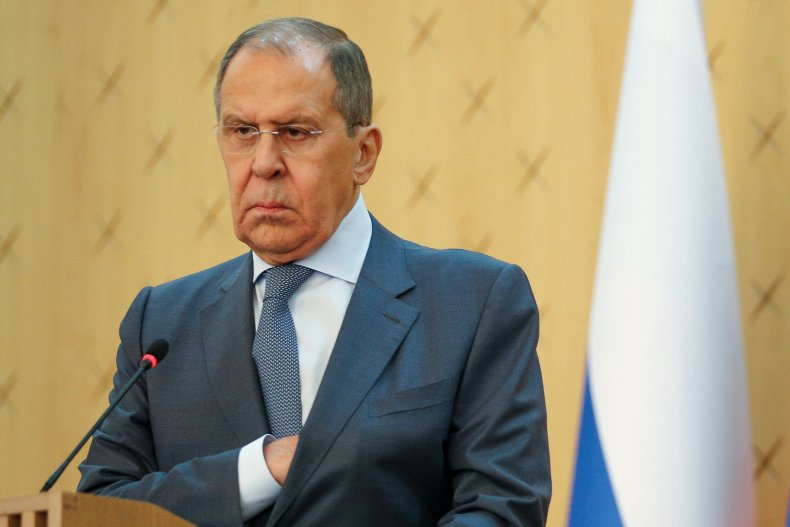 "The attempts to hold dialogue with us from the position of force are initially doomed to failure; we will respond harshly and resolutely to unfriendly steps," he added, according to news agency Tass.
"There is the need for fair cooperation if Washington really wants stable and predicted relations, as it says," added Lavrov, who met his Indonesian counterpart in Jakarta on Monday.
When contacted by Newsweek for a response to Lavrov's comments, a State Department spokesperson said in a statement that the U.S. and its partners "must be prepared to continue to impose costs when Russia's behavior crosses boundaries that are respected by responsible nations."
The spokesperson said the U.S. and Russia are in the process of scheduling a meeting to discuss strategic stability in which the countries will include discussions about the next steps in nuclear arms control.
"Our goal is to have a relationship with Russia that is predictable and stable," the spokesperson said, "even in periods of tension, the United States and Russia can reduce the risk of armed conflicts and the threat of nuclear war."
The concern in Moscow about the U.S. commitment to repairing ties with Russia follows increased tensions over NATO's Sea Breeze exercises which started last week.
On Tuesday Russia's defense ministry announced that it had carried out long-range aviation drills in the Saratov, Amur, Irkutsk and Ryazan regions. The drills involved 20 units including strategic missile carriers Tu-160 and Tu-95 MC and Il-78 air-to-air refueling tanker aircraft, Tass reported.
Days earlier, Russia tested the readiness of its air defense systems in Crimea, the peninsula it annexed from Ukraine in 2014.
This followed a flare-up of tensions after Russia said it had to fire warning shots against destroyer HMS Defender, a claim the U.K. denied.
Meanwhile on Tuesday, Russia's deputy foreign minister Sergei Ryabkov doubled down on Moscow's insistence that the U.S. had been involved in Moscow's dispute with the British Navy over Crimea, which the international community does not recognize as Russian.
Ryabkov said that the U.S. and the U.K had tried to "hijack our coast guard system and the system of control over our waters," Tass reported. He also said that talks between Moscow and Washington to outline a framework to discuss strategic stability would take place "before the end of July."
This story has been updated to include comment to Newsweek from the U.S. State Department.