Russia Sees 'Obvious Shortcomings' in US Election, Warns of 'Negative Consequences' for World
As the presidential race entered its third day with key states up for grabs and both candidates indicating their victory, Russian officials said there are deep-seated flaws in the U.S. election system, the uncertainty of which Moscow warned could have harmful ramifications worldwide.
Trump declared himself the winner early Wednesday as his lead began to dwindle with a late influx of pro-Biden votes earlier delivered via mail-in ballots. With figures still trickling in from U.S. battleground states, he has continued to insist he will come out on top, while claiming that if Biden wins, it will be because of widespread voter fraud.
Taking note of these developments, Russian Foreign Ministry spokesperson Maria Zakharov told a press conference Thursday that "obvious shortcomings of the American electoral system are evident."
She referred to a recent preliminary report published Tuesday by the Organization of Security and Co-operation in Europe (OSCE), which sent international observers to monitor the U.S. race they ultimately deemed wrought with "legal uncertainties and logistical challenges," as well as "baseless allegations of systematic deficiencies" by Trump.
She echoed the report's criticisms of a failure in the U.S. to update critical election laws, describing "the archaic nature of the relevant legislation and the lack of regulation in it on a number of fundamental points."
The OSCE also criticized Russia's elections for "restrictions on fundamental freedoms" and a "lack of genuine competition" in a system that has produced four victories for Vladimir Putin, who is serving his second consecutive term, and fourth overall, as president after being in power for two decades as either head of state or premier. Putin won 77% of the vote in 2018.
With the U.S. divided and outcome in flux, Zakharova expressed hope that a clear result would emerge nonetheless.
"We hope that the legal mechanisms existing in the United States will make it possible, in full compliance with the American Constitution, to determine the future head of state, and most importantly, to avoid the outbreak of mass unrest in the country," she said. "At the same time, I would like to emphasize that the election of the head of state is the exclusive right of American citizens who deserve to have their votes properly counted."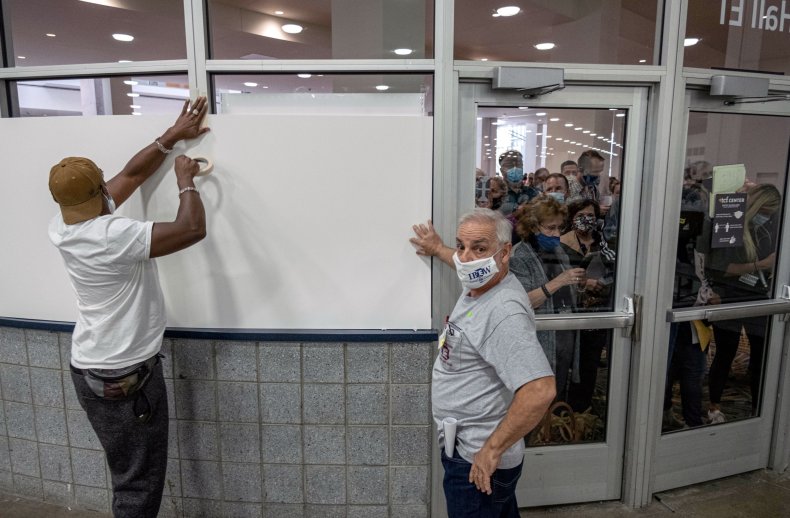 In recent conversations with Newsweek, Russian officials have called for a need to reverse a deep decline in Moscow-Washington ties on various issues including trade, international affairs and arms control, regardless of who won the election.
"We have repeatedly stressed that we are ready to work with Washington on any issue," Petr Svirin, spokesperson for Moscow's embassy in Washington, told Newsweek over the weekend before the race. "The main thing is that such cooperation should be built on the basis of equality, mutual respect and a balance of interests."
Maria Zakharov reiterated this point Thursday.
"As for the prospects for Russian-American relations in the context of elections overseas, Moscow—as the leadership of our country has repeatedly stated—is ready for constructive interaction with the President of the United States, no matter who they become after the elections," she said.
That same day, Kremlin spokesperson Dmitry Peskov also commented on the tumultuous affair gripping the United States. He warned a lack of clarity could ultimately hurt the international community.
"Any uncertainty in the most powerful world economy in one of the largest countries has and could potentially have negative consequences for global affairs, first of all for the global economy," Kremlin spokesperson Dmitry Peskov said Thursday, the state-run Tass Russian News Agency reported as figures continued to trickle in from U.S. battleground states.
"Meanwhile, we will see how long this uncertainty period lasts and how strong this influence is," he added.
With the final count still up in the air, Peskov declined to weigh in further.
"The results of the U.S. election haven't been announced yet and it's impossible to make comments in the current situation," he said. "We would rather take our time and wait for the situation to become clearer."
Moscow has repeatedly emphasized its neutrality in the contest between President Donald Trump and rival Joe Biden, the former vice president who joined Democrats in accusing Trump of colluding with Russian President Vladimir Putin in an attempt to influence the 2016 election in his favor.
Both Putin and Trump's administrations have denied such an effort, and Peskov sought to avoid additional controversy.
"Unfortunately, everything related to our country is like a red rag to a bull in the U.S.," he said, "so let's refrain from making comments right now, I think that the Americans should deal with their affairs on their own."
Despite Trump's initial efforts to improve the United States' relationship with its former Cold War adversary, tensions have risen as Washington lawmakers voted for sanctions against certain Russian government entities and state-affiliated companies.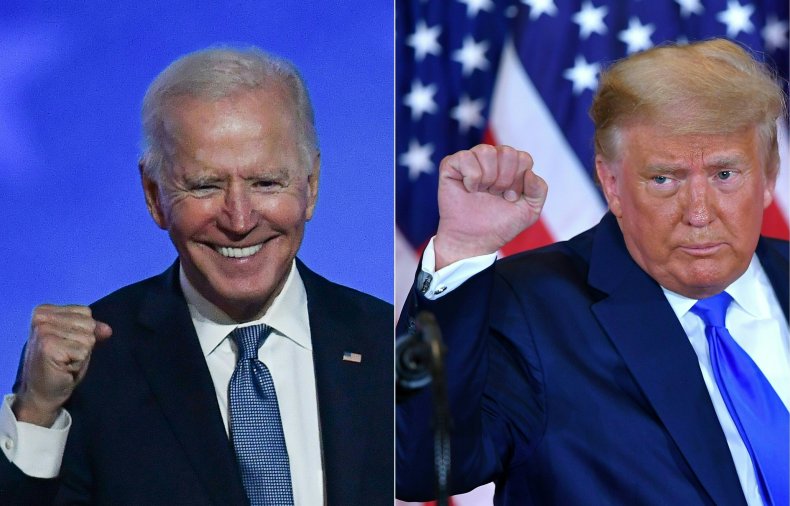 Abroad, the two countries are on opposing sides in a number of important arenas, most seriously in Syria and Ukraine. Elsewhere in Eastern Europe as well, the U.S.-led NATO military alliance and Russian forces have built up defenses.
This long-standing competition for influence here has once again been inflamed by the collapse of arms control agreements such as the Intermediate-range Nuclear Forces (INF) Treaty and a severe test of a second historic pact, the New Strategic Arms Reduction Treaty (START). The latter pact sets mutual limits and verification measures for the world's top two nuclear powers.
Representatives of Washington and Moscow were locked in negotiations over extending New START in the months and weeks leading up to the election, and though Putin offered an immediate, unconditional extension, the Trump administration has given no definitive response.
Rather than a renewal, the U.S. side has argued for a new deal involving additional weapons systems and more countries such as China, which has repeatedly rejected offers to join such a multilateral agreement because of its far smaller nuclear arsenal.
Biden, while vowing an even tougher approach toward Russia than that of Trump, has said he would pursue New START's extension.
Back in Moscow, Leonid Slutsky, who chairs the foreign affairs committee of Russia's lower house of parliament, said Wednesday that lawmakers were set to gather later this month in anticipation of how to handle foreign policy with the eventual winner of the U.S. election.
He also described an "unpredictable" situation and charted a likely rough road ahead for relations between the two countries.
"The anti-Russian card has been used widely in the US domestic policy field and regardless of who sits in the White House in the next four years, it will inevitably be used again," he said. "Still, we remain hopeful for common sense and healthy pragmatism."