Russia Slams 'Maniacal' U.S. Attempt to Sanction Country's Elites
U.S. lawmakers' proposal to sanction members of Russia's elite over alleged human rights violations has been called "maniacal" by Moscow's envoy to Washington, D.C.
Anatoly Antonov's remark come as diplomatic maneuvering continues between the U.S. and Russia to resolve a stand-off over embassy staff at missions in both countries.
The Magnitsky Act authorizes the U.S. government freeze assets, and ban those suspected of human rights offences—was invoked by Tom Malinowski, a Democrat Representative and John Curtis (R-UT) last month in an amendment to the defense budget bill.
Their amendment calls on the Biden administration to determine within 180 days whether 35 Russian officials and prominent figures meet the criteria to be sanctioned under the act.
On the proposed blacklist are Kremlin spokesman Dmitry Peskov, the owner of Chelsea soccer club, Roman Abramovich, and prime minister Mikhail Mishustin.
In response to a media question about the move, Antonov said the "maniacal persistence of local legislators trying to bring down Russian-American relations is bewildering," and that the "attempt to impose restrictions on 35 Russians under a completely contrived pretext is a clear example of this."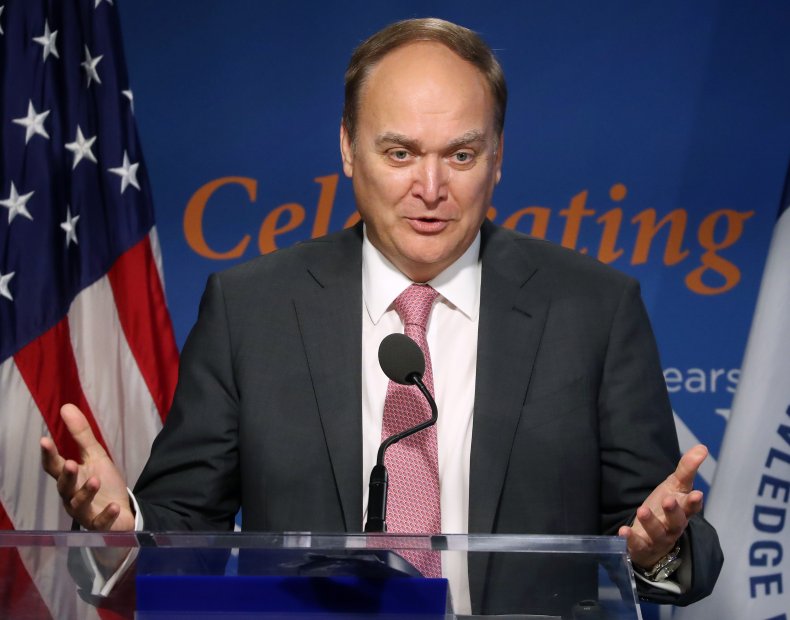 He said that the motive was "to create among the voters the illusion of 'fighting the enemies of America'...instead of dealing with the urgent problems of its own country."
"We call on members of Congress to abandon destructive approaches," he added in comments reported by state news agency Tass.
Helsinki Commission Chairman Sen. Ben Cardin (D-MD) and ranking Member Sen. Roger Wicker (R-MS) have also introduced a measure on October 8 also requiring the Biden administration to evaluate the 35 figures for sanctions.
Russian media outlets reported the proposed sanctions list in September although emphasized the process was in its early stages and that even if it is passed by Congress, it would still need to be backed by the administration of President Joe Biden.
The list had been provided to the U.S. government and the EU in February by the Anti-Corruption Foundation, or FBK, linked to jailed opposition politician Alexei Navalny, which has since been declared an extremist organisation by a Russian court.
Navalny's poisoning by Novichok nerve agent was blamed on the Kremlin although it denied responsibility.
In the aftermath of his poisoning and jailing, U.S sanctions were imposed but the opposition activist's group has alway called for tougher measures for those in the inner circle of President Vladimir Putin.
Meanwhile, on Wednesday, Russia's Deputy Foreign Minister Sergey Ryabkov called for a truce of sorts over a spat over staffing at the U.S. embassy in Moscow.
Consular services at the American mission have been hindered after Russia banned it from employing local staff as part of tit-for-tat sanctions.
"The Russian side stressed that hostile anti-Russian actions would not remain without retaliation, but Moscow did not seek further escalation," Ryabkov said in a statement reported by Tass.
The issue was discussed during a meeting with U.S. Under Secretary of State for Political Affairs, Victoria Nuland whose three-day visit to Moscow will also include talks with Putin's foreign policy adviser Yury Ushakov, according to the Kremlin.
In a statement to Newsweek, a State Department spokesperson said it did not generally comment on pending legislation and that talks in Moscow between Russian officials and Nuland "were open and useful."
"The U.S. and Russia agreed to another round of discussions and hope that continued talks may bring forth a resolution so that our mission in Moscow can resume its normal operations," the statement added.
This story has been updated to include a State Department response to Newsweek.