Russia State TV Calls for Moving 'Powerful' Weapons Closer to U.S.
The Kremlin's state-run television called for stationing Russian weapons and troops "closer" to the United States as President Vladimir Putin remains significantly isolated on the world stage following his internationally condemned invasion of Ukraine.
Putin launched the full-scale unprovoked assault on Russia's Eastern European neighbor on February 24, draw swift backlash from the international community. The U.S. and NATO allies have implemented harsh financial sanctions targeting Russia's economy and Moscow elite, as they've sent billions of dollars of military and humanitarian aid to Kyiv's forces fighting back against Putin's aggression.
State-run Russia-1 argued that Moscow should move military forces near to the U.S. as the conflict continues, citing a reported order from Nicaragua's President Daniel Ortega granting permission for Russian forces to remain in his country. The Central American nation is located about 2,100 miles south of the U.S. border, with the countries of Guatemala, Mexico, El Salvador and Belize positioned between Nicaragua and Texas.
Television host Olga Skabeyeva contended it was the "most unpleasant cherry atop the democratic cake for the United States" that Ortega "granted permission for "Russian troops, ships and planes to enter Nicaragua." Moscow's forces will reportedly be in the Central American nation in the second part of 2022 for "humanitarian purposes."
"What did you want? If American missile systems can nearly reach Moscow from the Ukrainian territory, it's time for Russia to roll out something powerful closer to the American city on a hill," Skabeyeva said. Video of the Russian television host's remarks with English subtitles was shared to Twitter on Thursday morning by Julia Davis, a columnist for The Daily Beast and the creator of the Russian Media Monitor.
Russia's Tass news agency reported Wednesday that Ortega "signed an order extending permission for presence of foreign military contingents, including the Russian one, according to the official government journal." Despite Skabeyeva's assessment, the Tass report said troops from the U.S. were granted permission by Ortega as well—in addition to forces from Venezuela, Honduras, Guatemala, the Dominican Republic, Cuba, Mexico and El Salvador.
In April, a panel of journalists and experts on Russia-1 laughed as they discussed the possibility of carrying out nuclear strikes against U.S. cities.
"Objects like the city of New York, a good city, but it would be gone," a panelist asserted in the discussion. "Completely gone with one rocket."
Those remarks came after Russia reportedly test-fired the nuclear-capable Sarmat missile from Plesetsk in the country's northwestern region and successfully hit targets in the Kamchatka Peninsula, some 3,700 miles away. Putin said at the time that the long-awaited weapon is "capable of overcoming all modern means of anti-missile defense."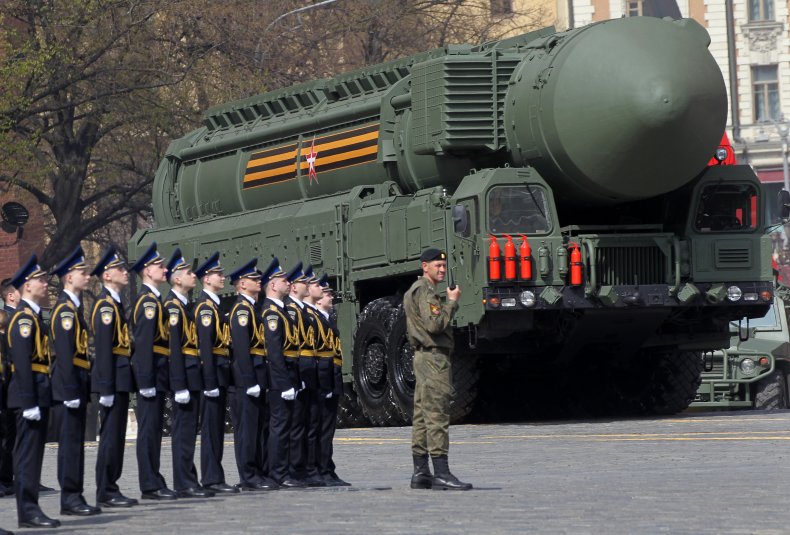 Although Putin and other Russian leaders reportedly believed that they would quickly take control of Ukraine and be welcomed with open arms by Russian-speakers in the country, they have faced fierce resistance. Russia has been forced to substantially walk-back its goal of toppling the government in Kyiv, instead focusing its military operations on the eastern Donbas region.
To justify the internationally condemned invasion, Putin has claimed that his forces are working to liberate native Russian speakers from "Nazi" leaders. In reality, Ukraine's President Volodymyr Zelensky is Jewish and had family members who died in the Holocaust genocide perpetuated by the German Nazis during World War II. Zelensky is also a native Russian speaker, who was mocked by his critics for his inability to speak Ukrainian without mistakes during his presidential campaign.
Newsweek reached out to the Russian foreign ministry for comment.