Russia State TV Stands by Nuclear Threat: Ireland is 'Collateral Damage'
On Sunday, a Russian state TV host refused to apologize for recently broadcasting a graphic that showed Ireland being destroyed during a simulated nuclear attack and instead referred to the country as "collateral damage" in a potential conflict.
Micheál Martin, Ireland's taoiseach or prime minister, had called on Russia-1 host Dmitry Kiselyov to apologize for airing an animated graphic on May 1 that depicted a strike off Ireland's coast that annihilated both Ireland and Britain. Kiselyov instead said an apology should come from British Prime Minister Boris Johnson for what the Russian host claimed was a "groundless threat" made against Russia by the British leader.
Kiselyov also brushed off the outrage from Martin and the Irish public.
"Ireland literally flew into a rage. Of course as a neutral country, it wasn't nice for Ireland to become collateral damage in Britain's clash with Russia," Kiselyov said on his program, according to The Irish Times.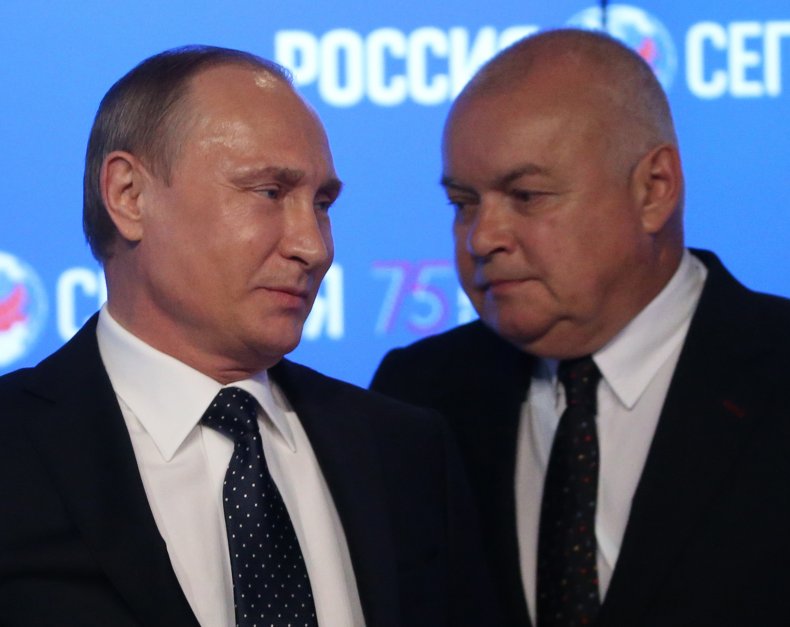 "The island is so small that just one Sarmat missile is sufficient to sink it once and for all," Kiselyov said on the May 1 show, referencing the nuclear-capable weapon Russia tested in April.
Martin addressed the original program while speaking with reporters days after it aired.
"I think it reflects a mindset that is worrying and not in touch with reality. I think there should be an apology forthcoming in relation to that," Martin said. "But the more fundamental point, I think, is that Russia should cease their hostilities in Ukraine."
Following the backlash from the May 1 segment, the Russian embassy in Dublin issued a statement that did not denounce Kiselyov but said the scenario presented in the graphic should never happen.
"The views and presentations in the TV show are that of the editors," the statement said. "The official position of Russia has always been that there can be no winners in a nuclear war and that it must never be unleashed."
The Irish Times on Monday wrote Kiselyov repeated much of the same rhetoric on Sunday, saying "the whole British archipelago was basically a sinkable island" and Russia possesses "every capability for such a nuclear retaliation."
The newspaper noted the television host also did say that the possibility of a nuclear war was not a desirable outcome.
"But we're not intimidating anyone. Talking about capabilities has an anti-war modality. As they say, let's not start. It will end badly. It's better to live in peace," Kiselyov reportedly said.
Newsweek reached out to Taoiseach Martin and Russia-1 for comment.