Ukraine may be battling for its sovereignty, but could Russian President Vladimir Putin be fighting for his presidency if the invasion he declared goes badly for him?
Senator Lindsey Graham invoked the downfall of Julius Caesar in calling for the Russian leader's assassination. "Is there a Brutus in Russia?" he said in a tweet which sparked condemnation from both Republicans and Democrats.
Away from any extra-judicial solution to Putin's aggression, tough Western sanctions and Moscow's failure to force a quick capitulation from Kyiv add to speculation over whether the Russian president faces as much of an existential battle as the country he invaded.
Fiona Hill, an ex-adviser on Russia to three U.S. presidents, seemed to think so.
She said it was not the oligarchs, disgruntled at their assets being seized, who might turn against him—rather an inner clique of people from intelligence, military and security services and that Putin would have to worry if "it looks like Russia is losing."
"If they have to kind of lay waste to Ukraine to basically get a success," "you might then start to get a backlash from those people who are thinking this has not gone as they intended," she told The Late Show on Wednesday.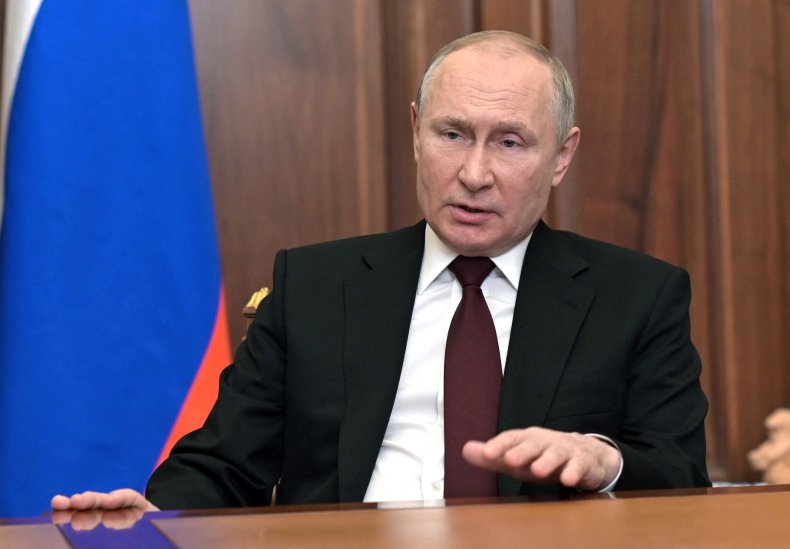 As the West strives to find an off-ramp for the Russian leader so he doesn't increase the brutality of the war if things don't go his way, the idea that growing casualties and economic hardship could spell the end for Putin appears so far unconvincing.
"There is almost no chance" that anyone from Putin's inner circle "would take it upon himself to seek to remove Putin from office," said David Rivera, assistant professor of government at Hamilton College in Clinton, New York.
"Once Putin has firmly settled upon a course of action on almost any issue, they would never dare to undertake a major effort to convince him to change course," he told Newsweek.
However, they might balk at a growing humanitarian crisis wrought by Putin's war.
This could convince them "that intra-Slavic fratricide—even intra-Russian fratricide—does not represent a proper or effective way to bring about integration and unity between the two countries."
"If brutal and bloody warfare drags on for months, then I can envisage this group of aging veterans going to Putin and collectively informing him that it was time both to stop the war and for all of them to step down from office," said Rivera.
This would need to be done "before things reached the point where they could no longer do so while also retaining their pensions and accumulated wealth and avoiding jail time."
Ian Johnson, assistant professor of military history at the University of Notre Dame, Indiana, believes that "the possibility of a coup is a faint one, but not impossible."
"Putin has surrounded himself with individuals he believes are incapable of succeeding him, but should the war go poorly over an extended period of time, Putin may face the prospect of removal," he told Newsweek.
"In more than a few instances in Russian history, perceived foreign policy disasters have triggered changes in national leadership—sometimes violently.
"Over the last 15 years, aggressive foreign policy moves have generally consolidated Putin's hold on power, rather than weakened his position," Johnson said.
Putin continues to denounce the administration of Ukrainian President Volodymyr Zelensky as Nazis and insists on the full "demilitarization" of the country.
He has insisted the "military operation"—the officially sanctioned term for the invasion—"is going according to plan." But his comments on Friday that Russia had no "ill intentions" towards its neighbor also carried a warning for the West not to increase sanctions, which are already biting.
With international isolation and—at least in certain circles—anger at the war, economic hardship could spur even more people out onto the streets against Putin.
This is what jailed opposition leader Alexei Navalny, for whom scores of Russians marched in 2021, has been calling for.
But with independent media outlets forced to close and, as of Saturday, over 8,200 people reportedly arrested across the country for protesting against the Ukraine war, opposing Putin, as Navalny would like, is a different proposition one year on.
So attention will continue to focus on whether someone close to Putin might stand up to him.
"We have a tendency to think that the inner circle of authoritarian leaders contains someone interested in knocking off that leader," said Tom Schwartz, history professor at Vanderbilt University, in Nashville, Tennessee. "We expressed that very strongly with Saddam Hussein."
"We simply are projecting our hopes into a situation in which it is very unlikely," he told Newsweek. "Russia is an autocratic dictatorship now and people are willing to oppose it but most of them go to jail. The security on the population is extraordinary.
"If it is a prolonged war, like Afghanistan, there could be moves toward reform of some sort but I don't see it lasting that long."
"Even though I admire the Ukrainian resistance, I think the Russians will eventually overwhelm them and then I think the situation will be one where Putin cuts his losses and leaves in some manner and weakens the Ukrainians," he said.
"I still don't feel we are looking at something that will topple or weaken the Russian state."