Russia's Unbeatable 'Kinzhal' Hypersonic Missile Compared to U.S. HIMARS
Russia's launch of six hypersonic missiles has caused trepidation on behalf of Ukrainian officials who have admitted their military lacks sufficient air defense systems.
The six Kinzhal or "Dagger" missiles were part of an overall 81-missile barrage Thursday that resulted in at least five civilian deaths. The Russian Defense Ministry has taken responsibility for the assault, referring to it as a "retaliatory strike" in response to Ukrainian attacks in the Bryansk region.
"This is an attack like I don't remember seeing before," Yurii Ihnat, a spokesman for the Air Force Command of Ukraine, said on Ukrainian state television Thursday morning. "So far, we have no capabilities to counter these weapons."
There may be at least one option, however, according to the Stratcom Centre which was established under the Ukraine Ministry of Culture and Information Policy.
"The American Patriot air defense system is capable of intercepting ballistic missiles," the Centre said. "That is why it is so important that this air defense system arrives in Ukraine as soon as possible."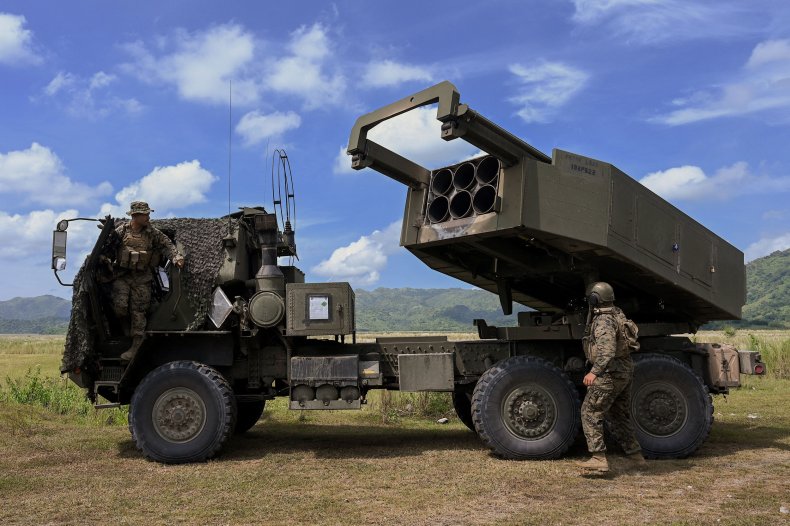 Kinzhal versus HIMARS
The Kh-47M2 Kinzhal is a nuclear-capable ballistic missile derived from Russia's ground-launched 9K720 Iskander-M missile, according to the Center for Strategic and International Studies (CSIS).
It has a payload of 480 kilograms and each missile can travel between 1,500 and 2,000 kilometers (932-1,243 miles).
"An aircraft's ability to launch from unpredictable directions would strain sectored (non-360 degree) radars, such as those currently deployed with the Patriot system," CSIS says. "Additionally, if the Kinzhal does indeed have antiship capabilities, it may also pose a threat to U.S. and NATO aircraft carriers."
John Erath, senior policy director at the Center for Arms Control and Non-Proliferation, told Newsweek that it remains "speculative" whether the Patriot system could adequately defend Ukrainian airspace.
Kinzhal missiles fly at a fast speed and are more difficult to shoot down compared to typical cruise missiles, he added. But it presents a double-edged sword for Russian forces because power comes at the cost of accuracy.
"If they want to hit targets in Ukraine, they either don't use these missiles or they have to slow these down because it ruins their advantage," Erath said.
While that diminishes the missiles' chances of successfully targeting infrastructure, for example, he said Russia could use them in a "terror role" to kill civilians and cause general destruction.
Aside from Patriot systems, which were approved by the U.S. in December to be sent to Ukraine, High Mobility Artillery Rocket Systems (HIMARS) have been a major part of Ukraine's repertoire for much of the duration of the ongoing conflict.
The U.S. began sending HIMARS, essentially heavy trucks with rocket pads on its back, to Ukraine's forces last summer and, as of March 3 of this year, has sent 38 HIMARS plus ammunition, according to Defense Department records.
The M142 HIMARS, made by U.S. defense manufacturer Lockheed Martin, are advanced wheel-mounted multiple rocket launchers, capable of firing several precision rockets on targets up to around 40 miles away.
HIMARS carries a single six-pack of GMLRS (Guided Multiple Launch Rocket Systems) rockets or one TACMS (Tactical Missile Systems) missile on the 5-ton truck, the manufacturer says.
They can "rapidly mass fire from a distance," said U.S. Army V Corps Commander Lieutenant General John S. Kolasheski, adding that they offer an "operational advantage over an adversary and is critical during large scale ground combat."
They are mainly artillery systems used for attacks rather than defense, Erath noted.
"If Javelin was the iconic weapon of the early phases of the war, HIMARS is the iconic weapon of the later phases," said retired U.S. Marine Corps Colonel Mark Cancian, a CSIS senior adviser.
Last summer, President Joe Biden wrote in a New York Times essay: "We are not encouraging or enabling Ukraine to strike beyond its borders. We do not want to prolong the war just to inflict pain on Russia."
Additional security assistance was signed off by the Department of Defense last month, prioritizing HIMARS ammunition.
The U.S. Army has begun offering HIMARS training to NATO allies.
On Thursday, the State Department announced it had approved the proposed sale of HIMARS launchers and related equipment to the Netherlands worth an estimated $670 million.
It must first be approved by Congress.
Update 03/10/23, 9:41 a.m. ET: This story was updated with additional background information.