Russian social media platform VKontakte is seeing pockets of anti-war and pro-Ukraine sentiment in longstanding groups focused on common interests such as art, sports, music and celebrities, despite the Kremlin's draconian crackdown on dissent and the media.
Dubbed the "Russian Facebook," VKontakte (or VK) reported having 97 million monthly users. According to the company's own figures, VK hosts 90 percent of internet users in Russia. Ukraine has banned VKontakte—among other Russian online platforms—since 2017, citing concerns over Russian cyberattacks.
Last month, Vladimir Kiriyenko—the CEO of VKontakte's parent company VK Group—was targeted for sanctions by the U.S. Treasury Department as part of "elites and families" close to Russian President Vladimir Putin. The tech executive's father Sergei Kiriyenko, also sanctioned by the U.S., serves as first deputy chief of staff of Russia's Presidential Office.
Lukas Andriukaitis, associate director of the Atlantic Council's Digital Forensic Research Lab, said VK has become a "wild, wild west of information" during the Ukraine invasion. The platform is experiencing an influx of narratives attacking Ukraine and the West, warmongering, and historical misinterpretations.
"My opinion is that predominantly it's still on the Russian side, and that's a completely different situation than from the English-language media outlets," Andriukaitis told Newsweek. "I'm personally shocked at how much the Russian propaganda is being crowned in the ocean of information, at least for now."
Andriukaitis said that while "no one really knows how the moderation on VK works," the overflow of information seems to be largely unregulated.
VK's moderation techniques are notoriously obscure, though users in Russia were previously arrested and jailed for their activity on the platform, including criticizing officials. Earlier this month, the Russian parliament passed a law that would punish those found to be spreading "fake" information with up to 15 years in prison.
Elizaveta Gaufman, assistant professor of Russian Discourse and Politics at the University of Groningen in the Netherlands, said that while VK may not be diligently moderated, it still presents opportunities for authorities to exert their power.
"VKontakte is actually quite stringently monitored because it is the social network that cooperates the tightest with the Russian security services," Gaufman told Newsweek. "And in most of the cases where you see people being prosecuted for reposting or posting something, this is usually the material that comes from VKontakte."
Amid the current surge in aggressively pro-Kremlin rhetoric surrounding Ukraine, posts and groups critical of Russia and Putin have cropped up, though some were subsequently made inaccessible in Russia or eventually taken down (though it is unclear by whom.)
Ukrainians have participated in the daily outpour of war-related posts on VK, sharing counter-propaganda messages aimed at Russian users, media of Ukrainian cities destroyed by Russian strikes, and images of Russian soldiers held as prisoners of war or killed in action.
However, anti-war undercurrents have also emerged in once apolitical VK "communities" (similar to Facebook groups) that brought users together over shared passions. One group of art aficionados, comprising over 247,600 members, shifted its tone following the beginning of Russia's military campaign on February 24.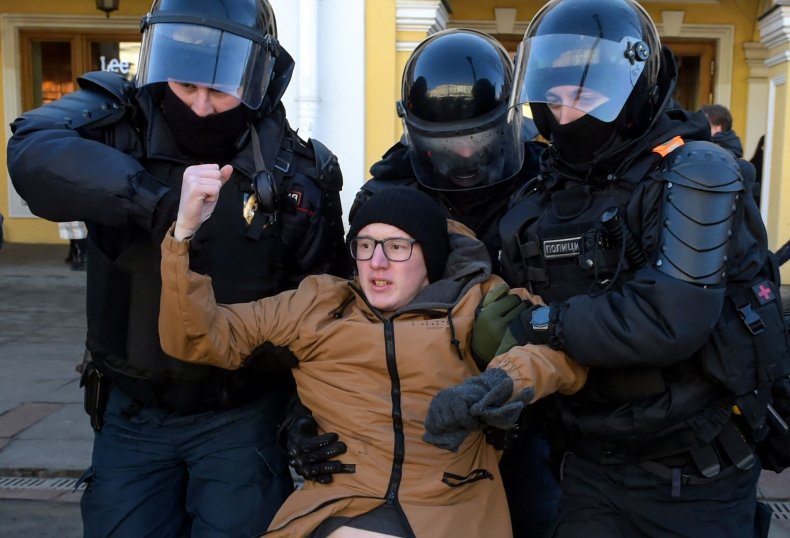 "This year our community would have turned eight years old, we all enjoyed running it," the group's administrator wrote. "But after Russia's invasion, many understood that you can no longer 'stay out of politics' when rockets are being fired at Ukraine."
They continued: "The first thing you want to do is share this with the community: 'Ukrainians are being murdered by Russians, people, what are you doing?' But all you hear in response is gloating, laughter and, at best, indifference.
"And they are also threatening to block our page, I get it, that's how things are over there—if someone shares an uncomfortable truth, they have to be silenced, destroyed, then everything is great again.
"Well, whatever, guys. There will be art, but after the war."
The group's content subsequently focused on historic artwork depicting the devastation of war, as well as photographs and videos of harrowing scenes from Ukraine.
A Bulgaria-based embroiderer named Zhanna Stribuk, who sells her patterns to a Russian-language VK group with over 8,000 followers, referred to Putin as "Putler"—a portmanteau of his name and Adolf Hitler's—and called for the now-ostracized leader to be brought to The Hague.
"To all who justify the Putler war, you have an unenviable fate," she wrote. "Your children are dying in a foreign land."
"Putin is the new Hitler," she continued. "His supporters are Hitlerites. I support Ukraine with all my heart. And I am sure that it will stand up and defend its independence."
Stribuk, who said her clientele includes Russians, reported being sent "angry messages" and encouraged those who disagreed with her stance to leave the group.
On a fanpage for "Mukhtar's Return," a Russian detective television show, the group's administrator—who appears to be Ukrainian—wrote a lengthy message calling on Russians to reevaluate their perspectives.
"This may be the last post in the group," they wrote. "We never permitted ourselves to advertise, did not touch political topics, tried to be as tactful and neutral as possible to everything that happens around us. Up to this point."
They continued: "My world turned upside down on February 24th. The bombing began, which continues to this day. The words that peaceful people will not suffer are lies. Many people have lost their homes, many are dead.
"Is it scary? Very. When you fall asleep and don't know if you'll wake up tomorrow. Will you have a home, will your loved ones be alive and well."
The admin stated that they have been spending time helping refugees from Ukrainian cities wrecked by bombing.
"Any doubts disappear that this is a war, and not something else, when you see hundreds of people, with small children, with older children," they wrote. "They cry, hug when you offer a warm blanket, tea and a sandwich.
"And they tell terrible stories that they have nowhere else to return, that they no longer have a home, it is destroyed."
On Monday, a Ukrainian food blogger who runs the group "From Odessa with carrots" addressed his 63,464 followers after being "constantly asked" if he is still alive.
"For 2.5 weeks, Russian 'liberators' free us from civilian buildings and shops, schools and hospitals," he wrote. "Our beautiful Kiev and Kharkov, Kherson and Nikolaev are subjected to daily shelling. Mariupol and Volnovakha are being wiped off the face of the earth.
"Until February 24, there was peace in the country. Then there was pain and shock. Now there is almost no pain. Only anger remains."
The admin concluded by stating that he hopes to carry on with his culinary hobby, but announced he would be closing comments to deter "bots and provocateurs."
Fanpages for celebrities such as Miley Cyrus, Paul McCartney, and Marina Diamandis shared their idols' supportive stances towards Ukraine, some in clear agreement. A group dubbing itself as Britney Spears' "largest fanclub" on VK shared a "No war" slogan to its 72,611 followers, as well as pro-Ukraine Instagram posts from Spears' fiancé Sam Asghari.
A digital artist whose VK group following is nearing the 15,000 mark has shared two anti-war drawings: A peace-themed portrait with the #StandWithUkraine hashtag, and another—liked at least 1,300 times and attracting over 12,000 views—of a forest landscape with the words "Fuck war" in Russian.
A group of electronic music fans with over 51,400 followers pinned a playlist of songs by Ukrainian artists at the top of its page.
"I strongly condemn the actions of the Russian and Belarusian authorities and want to wish the subscribers from Ukraine patience, strength and a peaceful sky above their heads," the post reads. "My thoughts and prayers are with you."
In a post liked over 2,500 times, another community dedicated to miscellaneous art and pop culture content shared a screenshotted tweet calling Marina Ovsyannikova—the journalist who stormed a Channel One live broadcast with an anti-war placard—a "heroine."
A page for Formula One fans, which praised drivers who protested the war, changed its group status to "Russian warship, go fuck yourself."
The phrase emerged as an anti-Russia slogan after a group of Ukrainian soldiers guarding Snake Island last month had allegedly made the remark to an incoming Russian navy warship that demanded they surrender.
Within the VK communities that expressed anti-war sentiment, at least some of the posts seemed to have reached users in Russia.
The reception among group members whose profiles list Russian cities as their locations was mixed: Many showed their support with likes, while others left angry reaction icons or began arguing underneath the few posts that didn't close their comments.