Fact Check: Did Vladimir Putin Face an Assassination Attempt?
As Russia's invasion of Ukraine falters, reports about the blame game in the Kremlin and even efforts to depose or otherwise remove Russian President Vladimir Putin from power are becoming more common.
The Russian leader has often been the subject of speculation, whether it is over his purported wealth, family ties, or health issues.
The latest bit of hearsay has made waves in the British tabloids on Monday, but are there any hard facts behind it?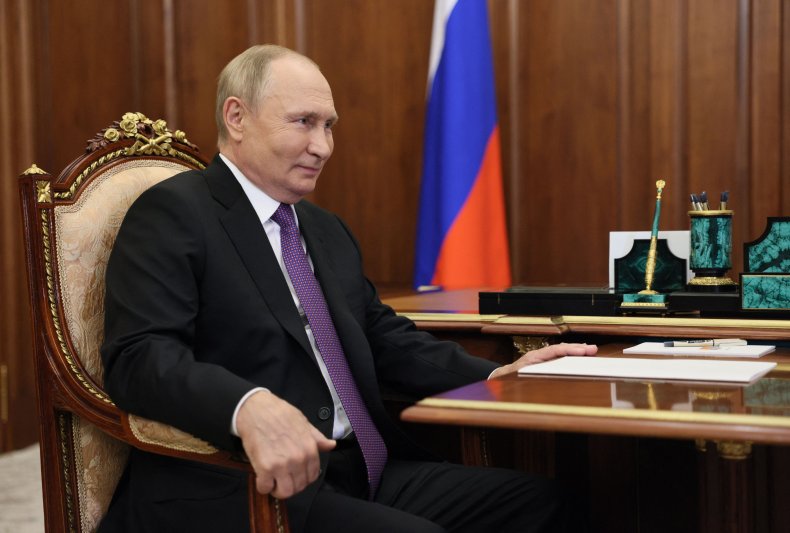 The Claim
Several English-language outlets, including the Mirror and the Daily Mail, published articles claiming that Putin faced an assassination attempt while his motorcade was driving through Moscow.
The reports cited an anonymous Telegram channel, but offered little other evidence in support of the story.
The source was a post on the Russian-language account of General SVR, which has more than 315,000 followers, and purports to have sources inside the Russian intelligence community.
The post, also shared on General SVR's Twitter account in English, which has far fewer followers, claimed that Putin, on the advice of his security team, sometimes travels in a decoy motorcade of five armored vehicles.
It said that, a few miles away from his residence, the first escort car was blocked by an ambulance, which the second car drove around without stopping. Then there was a "loud bang" by the front left wheel in the third car, which Putin was allegedly in, "followed by heavy smoke."
The car purportedly containing Putin continued to follow the lead car. The cortege, apart from the first car, reached its destination, SVR Telegram said.
The car drove to safety and Putin was unharmed, but there were a number of arrests among his security service, while his bodyguards have also disappeared, according to the account, which was widely cited in the press and on social media.
It also said that only a small group of people from the presidential security detail had known about the president's movements in the cortege and that three of them had "disappeared."
It added that information about the incident "is classified" and that the head of the president's bodyguard and several others "have been suspended and are in custody."
The Facts
There is no reliable or verified information publicly available to confirm the alleged attempt on Putin's life, even as the General SVR Telegram channel's claims have received more than 312,000 views as of Thursday morning, and were reported by the U.K. newspapers, including The Mirror, Mail Online and The Express.
There has been widespread skepticism about the claims made by the Telegram channel, which regularly posts alleged insider information about Putin and the Kremlin, but offers no evidence to support their veracity.
The identity of the account holder of General SVR is unknown and has been linked to a number of different actors, from Ukraine's intelligence agencies to a former Russian Foreign Intelligence Service official, although neither of these has been confirmed.
Some also suspect it to be a Russian security services operation, perhaps as a way of weeding out moles in the president's circle.
Regardless, it is frequently quoted by media outlets, and has helped stoke a number of claims about Putin's alleged ill health, including that he had undergone surgery for cancer.
It is worth noting that, with its lack of moderation or oversight especially in closed groups, Telegram became a popular platform for misinformation and conspiracy theories.
Ukrainian racing car driver Igor Sushko tweeted that the claims about the assassination attempt were "unverified" and that it "could be someone's wishful thinking to start planting the seed in everyone's head."
Meanwhile, Olga Lautman, a senior fellow at the Center for European Policy Analysis and co-host of the Kremlin File podcast, tweeted that "the assassination attempt rumor is coming from the weird telegram channel that is most likely run by Russian intel and has Putin dead 10x over."
"Be careful with spreading info that has no sources or attempts to generate panic," she added.
Newsweek has contacted the Kremlin for comment.
The Ruling
Unverified.
FACT CHECK BY NEWSWEEK
In lieu of any confirmation of the alleged incident, there is no substantive evidence to suggest it actually took place, though it cannot be entirely ruled out.
Many have expressed doubt about the veracity of claims, which come from a single anonymous source, the General SVR Telegram account.
Although claims of an assassination attempt on Putin have been widely shared on social media and picked up by some media outlets, at this point it remains in the realm of speculation.