Russian Media Warns Anyone Who Protests Will Be Drafted Into the Military
Russia has reportedly warned that those who protest Vladimir Putin's decision to call up reservists to fight in Ukraine will be drafted into the military.
Protests are planned to take place across the country on Wednesday evening, opposing Putin's decree to partially mobilize Russia's armed forces.
Russian media outlets have warned that anyone taking part in "illegal rallies" will be subject to military conscription, according to Samuel Ramani, an associate fellow at the Royal United Services Institute for Defence and Security Studies.
Top Kremlin propagandist Vladimir Solovyov shared a post on Telegram outlining the measures.
It said that all participants in these rallies would be referred to Russia's Internal Affairs Ministry after detention and then drafted.
"They will check the documents immediately on the spot, identify them, detain them and send them to the Internal Affairs bodies," the post said, according to a Google translation.
"Then, with the participation of representatives of the military registration and enlistment office, the draft category will be determined. Those who do not immediately fit the first category will be registered for subsequent conscription."
Pro-Kremlin activist/blogger Ilya Remeslo and website URA.ru have also said protesters could be drafted.
In a pre-recorded address that aired on Wednesday morning, Putin announced a partial mobilization aimed at boosting his forces in Ukraine.
An estimated 300,000 reservists could be called up.
Putin also said that he was willing to respond to what he described as the West's "nuclear blackmail."
"If Russia feels its territorial integrity is threatened, we will use all defense methods at our disposal, and this is not a bluff," he said.
Russia had "lots of weapons to reply," he added.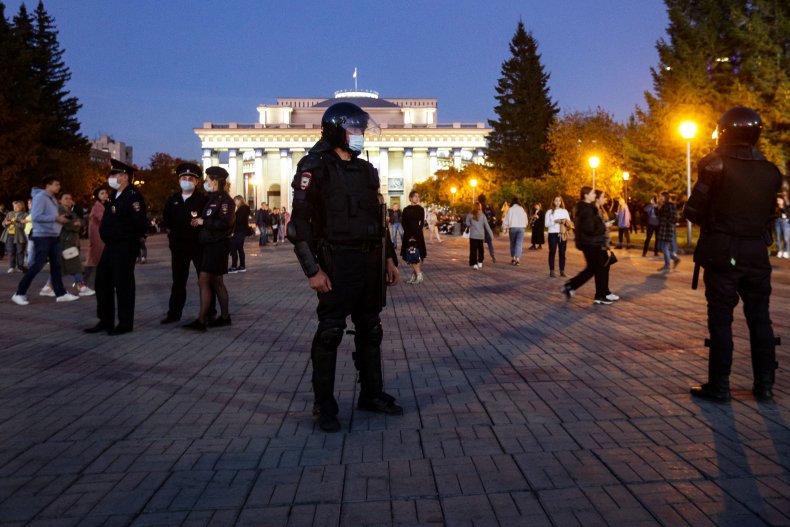 The U.S. ambassador to Ukraine has described Putin's announcement as a sign of Russia's "failure."
"Sham referenda and mobilization are signs of weakness, of Russian failure," Bridget A. Brink wrote on Twitter.
"The United States will never recognize Russia's claim to purportedly annexed Ukrainian territory, and we will continue to stand with Ukraine for as long as it takes."
Flights from Russia to Armenia, Turkey and Georgia sold out minutes after Putin's announcement of a partial mobilization, Russian online newspaper Lenta reported.
The website of Russia's rail network operator also reportedly crashed on Wednesday.
Russian Railways' web page was down, according to the Down for Everyone or Just Me website.
Russian Railways has issued a statement denying Russian state media reports that men of military age are required to have certificates showing their military service status before buying tickets.