Russia Will Host World Cup With Its Worst Team Ever
A week before the soccer World Cup kicks off, Russia's national team has dropped to its lowest ever ranking, becoming officially the worst rated team in the tournament they will host.
The latest rankings by world soccer governing body FIFA see Russia's national squad continuing its downward spiral in international standings, dropping to 70th place. That's three behind Saudi Arabia—the second worst team that will compete in the World Cup and, coincidentally, Russia's opponent for the tournament's first match.
The results rank Russia, who qualified automatically by virtue of hosting the tournament, far below many teams that competed for a place in qualifiers and lost out to the world's top sides. Among them are the United States (ranked 25th in the world) and several regulars in the final stages of the tournament such as the Netherlands (ranked 17th) and former winners Italy (ranked 19th), who failed to qualify at the last hurdle.
Related: Russians are hilariously trolling their new World Cup slogan
Russia's so-called Sbornaya has struggled in international tournaments since the breakup of the Soviet Union. Then, the team boasted several world-renowned players, including arguably the most lauded goalkeeper in international soccer—Lev Yashin. The Soviet team's best performance came in 1966, when Yashin lead the side to a fourth-place finish in the World Cup, but Russia has only qualified for the tournament three times since 1994 and dropped out at the earliest possible stage every time.
Russian President Vladimir Putin has also tried to lower expectations for the national side, saying earlier this week that "unfortunately the national team has not delivered a big result in recent times."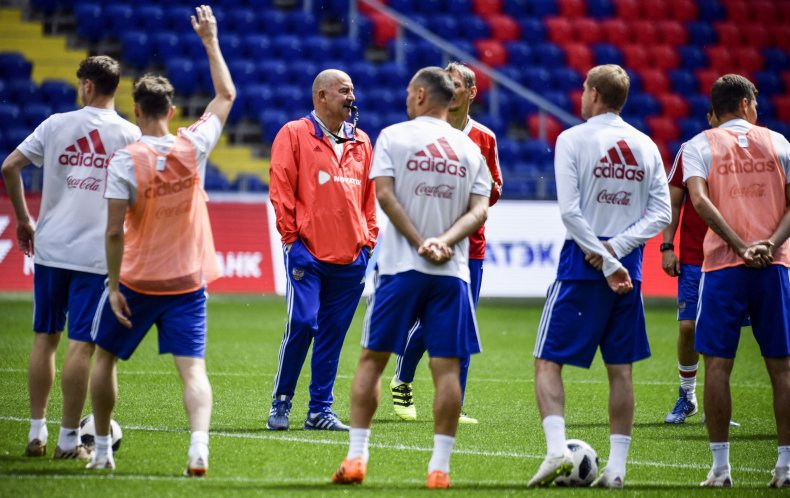 Although the violent faction of Russian football fans known as "ultras" grabbed headlines for fighting with English fans at the team's last international tournament in 2016, the squad also frequently inspires apathy and criticism from other Russians.
The team's winless run in 2016 resulted in widespread ridicule at home, which amplified after two of the players were filmed partying in Monte Carlo. Almost a million people have signed a petition to disband the national side as punishment.
Traditionally hosts of past tournaments have performed well, overachieving on home soil. Russia's group, with Saudi Arabia, Uruguay and Egypt, is collectively the lowest-ranked one in the tournament. However the team is heading into it off the back of five losses and a draw in its last six international games. Russia's only win in its last 10 outings against other international squads was against New Zealand a year ago.
Russian coach Stanislav Cherchesov's side will hope it has better luck against a Saudi team that is also not a bookies' favorite to do very well, next Thursday, kicking off the tournament at Moscow's Luzhniki stadium.