YouTube has been accused of curbing political opposition in Russia after access was temporarily restricted to links to a project by Kremlin critic Alexei Navalny that targeted President Vladimir Putin.
As he languishes in prison, the impact that Navalny can make on Putin hangs in the balance, especially after his key lieutenant Leonid Volkov disbanded his political network to pre-empt Russian authorities ruling it an extremist organization.
Volkov insisted last week he was still optimistic Navalny allies could make gains against the dominant United Russia party in September's parliamentary elections.
The key to that is "Smart Voting," a tactical method in which people are urged to vote for opposition figures no matter how unpalatable, as long as they were not in the ruling party.
First used in 2018, the method was effective in unseating pro-Kremlin figures and the hope was there would be similar success this time around.
But the independent news outlet, Sota.Vision complained that YouTube had removed its Smart Voting hyperlink from a video of opposition protests from August 2019 on its channel. Sota said on Telegram that it had been accused of violating rules on "spam, deception and fraud."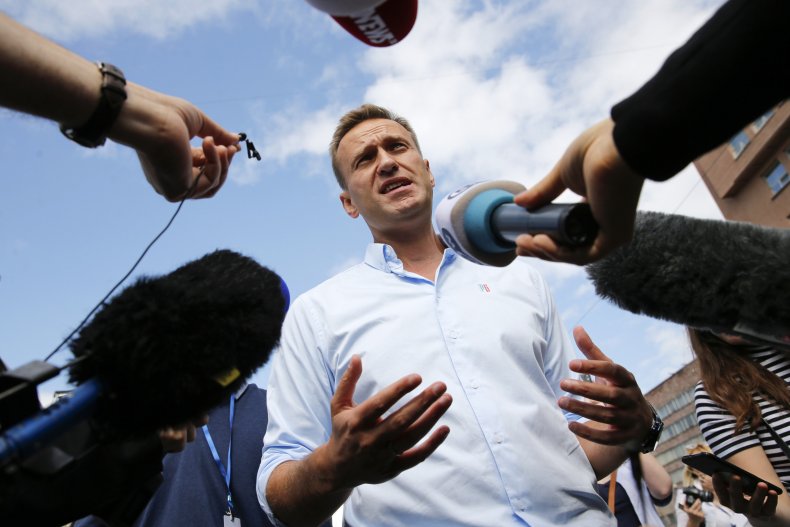 Opposition politician Ilya Yashin and the Kremlin-critical newspaper Novaya Gazeta said they had received similar hyperlink deletion notifications from YouTube, which is owned by Google.
Novaya Gazyeta said YouTube had suspended it from uploading videos and streaming live, while Yashin said that he was a victim of a complaint by Russia's media watchdog Roskomnadzor, tweeting, "@GoogleRussia are you alright there. Are you now a branch of state censorship in Russia?"
All three said that YouTube then withdrew its claims and apologized. Yashin later tweeted "good news. YouTube admitted it made a mistake and has withdrawn all its claims towards my channel."
Novaya Gazyeta said it was informed by YouTube that the decision to restrict access to its content was wrong, and that "unfortunately, sometimes we make mistakes. We apologize for the inconvenience caused and thank you for your understanding."
In a statement to Newsweek, a Google spokesperson said that the videos were accidentally removed "due to a mistaken spam policy violation and they have since been reinstated."
"With the massive volume of videos on our site, sometimes we make the wrong call," the statement said, adding that if a video has been removed mistakenly, "we act quickly to reinstate it."
"Occasionally, a video flagged by users or identified by our spam team is mistakenly taken down. When this is brought to our attention, we review the content and take appropriate action, including restoring videos or channels that had been removed."
However, the incident comes as the Kremlin adopts a strategy to attack global platforms they consider to be the main enablers of opposition protests. TikTok, Twitter, and Facebook have been fined in Russia after content they hosted linked to pro-Navalny protests in January.
"I think to some extent it reflects a very difficult and tricky relationship between the Russian opposition and YouTube," Andrei Soldatov, an investigative journalist and Russian internet expert said of the latest spat.
"YouTube is the most important thing right now for the Russian opposition, given the numbers of viewers of the Navalny channel," he told Newsweek.
"The problem is that the Russian authorities have been bombarding all the different departments of Google with a lot of requests," he said, adding that like other major platforms in more authoritarian countries, the tech giant rejected government requests to hand over account details of users.
"Sometimes they cooperated with the Russian authorities by taking down some videos because that helped them withstand the pressure from the Russian authorities."
"Now it is getting more dramatic because of the Twitter story," Soldatov said, referring to the Russian authorities' move in March to slow down the microblogging site because it had not removed content it deemed illegal.
Russia threatened to block the site completely in a move seen as a clampdown on free speech.
"Once the Kremlin made the show that they are ready to block at least one global platform— they raised the stakes for everybody else," Soldatov said.
"After the Twitter story, we do not know the position of global platforms," he said, "and we do not know the extent of the talks between global platforms and the Russian government."
A Google spokesperson said it was "not the case" that the Russian government had put pressure to remove videos, adding "any requests we get from government in any country are disclosed on our transparency report."
Newsweek has contacted Roskomnadzor for comment.
The graphic below provided by Statista shows Vladimir Putin's time in power.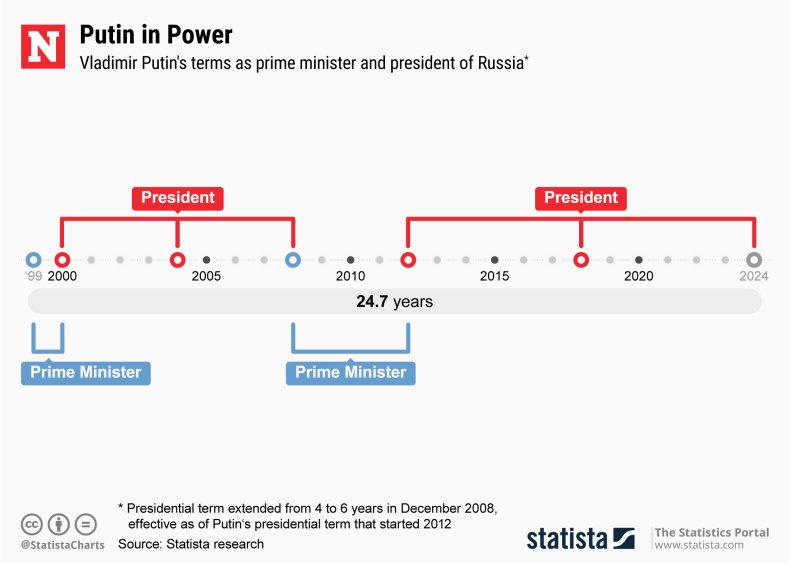 The story has been updated to include a further statement to Newsweek from Google.