Why Turkish Media Is Blaming the CIA for the Russian Ambassador's Assassination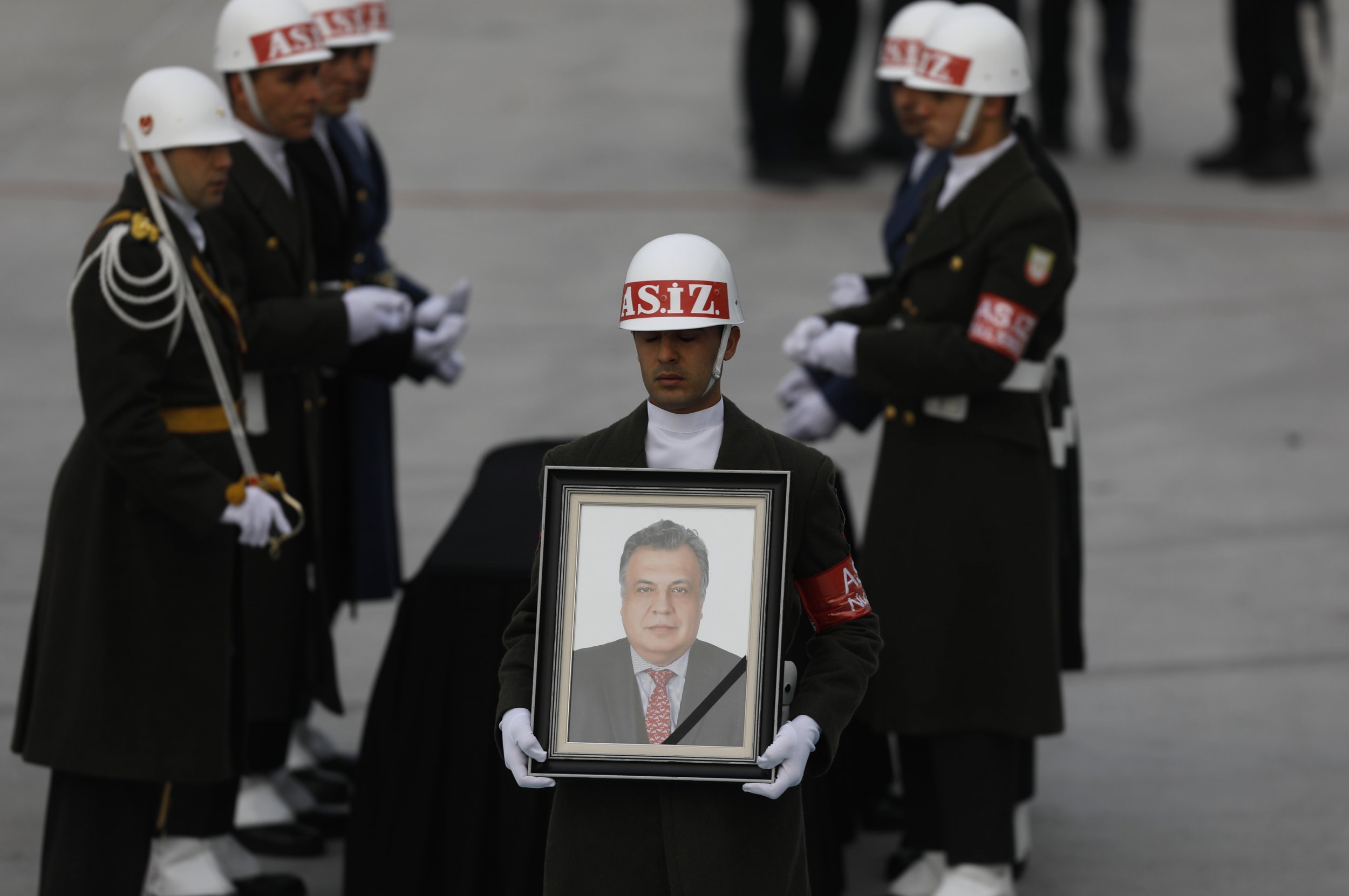 Newspapers in Turkey supportive of President Recep Tayyip Erdogan have accused the CIA and a "Western alliance" of masterminding the assassination of Russia's ambassador to Turkey, Andrei Karlov, on Monday. Popular dailies elaborated on the statements of Erdogan and Russian President Vladimir Putin, who have both described the assassination as a "provocation" aimed at disrupting the recent collaboration between Russia and Turkey over Syria, in particular the deal concerning the evacuation of civilians from Aleppo. "We must know who directed the killer's hand," Putin said at a televised meeting at the Kremlin on Monday.
Despite the anti-Russian sentiment voiced by hundreds of Turks who protested outside the Russian consulate in Istanbul last week—reflecting growing national anger over the actions of Putin's forces in Aleppo—mainstream newspapers have been quick to deflect blame to Western powers for the assassination, channeling Erdogan's hardening rhetoric against Western inaction in Syria. Pro-government papers Yeni Şafak and Yeni Söz explicitly blamed the CIA while Takvim described Karlov's killer, off-duty policeman Mervut Mert Altintaş, as the "envoy" of a "Western alliance." Popular dailies have emphasized the reactions of Russian officials to the murder; Yeni Şafak reported that Senator Franz Klintsevich, deputy chairman of the upper chamber of the Russian Parliament's defence and security committee, blamed NATO for the attack: "It is highly likely that representatives of foreign NATO secret services are behind it. What has happened is a true provocation, a challenge. It is a challenge for Russia."
There has been a rush to connect Altintaş with the Pennsylvania-based Islamic cleric Fetullah Gülen, whom the Turkish government has accused of masterminding a failed military coup on July 15, and who is currently subject to an extradition request to stand trial in Turkey. Since July, authorities have blamed a terrorist network labeled FETÖ—the Fetullah Terror Organisation—for a raft of crimes committed both prior and post-coup attempt, and newspapers such as Sabah, Aksam and Star have already linked Altintaş to the organization despite evidence that the policeman's name did not appear on intelligence services' lists of FETÖ suspects.
Reactions to the attack on Turkish social media have varied wildly, showing a country split between outrage and support for Erdogan's current foreign policy. The hashtag #TurkishPeopleLoveRussia trended on Twitter as thousands of government supporters voiced their condemnation of Karlov's murder on social media. Meanwhile, religious nationalists have shown support for Altintas, labeling him a "martyr" and asking their followers to perform the Islamic funeral prayer, Salat al-gha'ib . While analysts have predicted that the assassination, far from negatively affecting Russian-Turkish relations, might in fact strengthen the current alliance in the face of perceived Western provocation, the domestic repercussions of Erdogan's support for Putin in the wake of recent attacks on Aleppo may be serious.