Russian Anger at Vladimir Putin Can 'Explode' Any Time: Alexei Navalny Aide
Russian President Vladimir Putin's "grave mistake" to invade Ukraine may yet foment popular or elite rebellion, Leonid Volkov, chief of staff of jailed opposition leader Alexei Navalny, has told Newsweek, as Moscow's offensive stalls and international sanctions bite.
He said Putin, will "pay a price for his mistake," and has "very clearly shortened his term" thanks to the bungled invasion.
"Before this war, we could expect Putin to be able to keep this stable stagnation going for 20 more years," Volkov said. "Now, I can't believe it. I can't imagine how it would be possible."
Volkov will speak at the 14th annual Geneva Summit for Human Rights and Democracy in Geneva on April 6. Ahead of the event, he told Newsweek that Navalny's organization sees Putin's invasion of Ukraine as a historic misstep that could open the door to a new Russia.
"This situation presents an opportunity for the country—not only our movement—to get rid of Putinism, to go through some process of purification, or 'de-Putinization,' similar to the process that Germany went through after World War II, and to become a much stronger European country," Volkov said.
"I believe very much that this war will actually present us with new opportunities, which are better than 20 or 30 more years of stagnation under Putin," he said. "In Russia, we say: 'It's better to have an end which is a nightmare, than to have a nightmare without an end.' That's where we are now."
Russia's invasion of Ukraine began on February 24. The offensive was designed to quickly capture key Ukrainian cities, including Kyiv, and decapitate the country's leadership.
This failed, with Russian forces quickly running into serious tactical and logistical difficulties. Highly motivated Ukrainian units inflicted severe casualties on the invaders, while European Union and NATO nations mobilized to impose unprecedented sanctions on Moscow, Putin and his key allies.
Russian brutality has cemented international support for Ukraine and its President Volodymyr Zelensky. Evidence of suspected war crimes is building, particularly in previously occupied areas from which Russian forces have withdrawn in recent days.
Russia's forces are now pivoting to the eastern Donbas region in a bid to save their "special operation." War has ravaged the eastern portion of Donbas since Moscow fomented separatist revolt there in 2014, after annexing Crimea.
Russian troops will likely seek to occupy the entire region on behalf of the Kremlin-aligned self-described people's republics that control the territories.
Battlefield reports make grim reading for Moscow. Russian forces have made ground, particularly in the south, but at high cost. The Ukrainians claim to have killed more than 18,000 invaders and destroyed hundreds of armored vehicles and aircraft. U.S. estimates put the Russian death toll at between 7,000 and 15,000. Russia has given much lower figures.
At home, rumblings of discontent will have disconcerted Putin. More than 15,000 people have been arrested for anti-war protests in Russia. Moscow passed a new law criminalizing "fake" information about—i.e. criticism of—the invasion, with violators facing 15-year jail terms. Russia's remaining independent media organizations have been shuttered.
Volkov—who lives in exile in Lithuania—told Newsweek that Putin's crackdown makes it difficult to gauge the sentiment on the Russian street. Public polls, which show broad support for the war, are "pure and simple propaganda," he said.
Honesty with a pollster could land a Russian in jail for 15 years. "How can such a poll be conducted? It's ridiculous," Volkov said. To believe their results, he added, leads to "very stupid and dangerous thinking."
"How many people would protest in London, for example, for whatever reason—pro-Brexit, anti-Brexit—if they know they will very likely be arrested, lose their job?" Volkov asked. "It always pisses me off when Western people from Western democracies try to assess the situation inside Russia using the standards of Western democracies."
A lack of sustained protest—and a steady drip of pro-war survey results—do not tell the whole story, Volkov said. "Putin made all public expression of dissent impossible…What's the actual mood? We don't know. But what we know is that while he made public expression of dissent impossible, of course that dissent itself has not gone."
"People are unhappy with the economic situation and people are of course unhappy with thousands of Russian soldiers dying for nothing," Volkov said.
Putin's authoritarian response, he explained, "is like sweeping the dust under the carpet. It can explode at any time, for whatever reason. But we do not have any measurement tools to assess this now."
Newsweek has contacted the Russian Foreign Ministry to request comment on Volkov's remarks.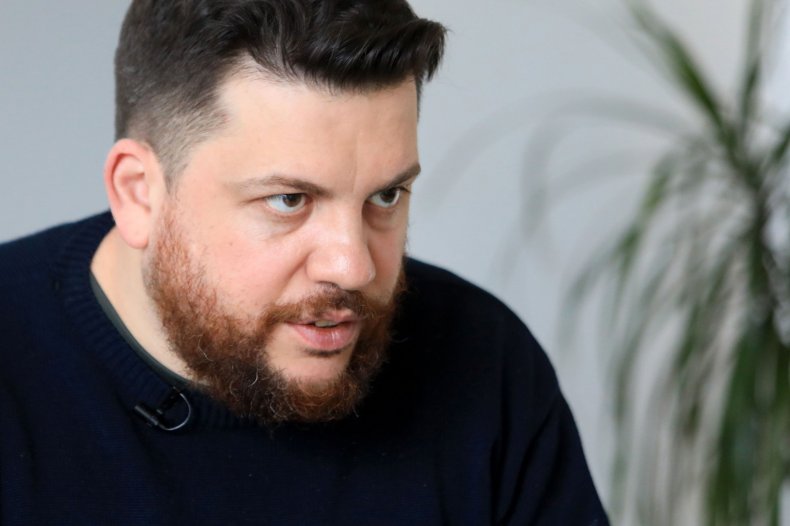 Western sanctions have targeted Putin and the oligarchs seen as close to him.
"Many of them have been shocked," Volkov said of Russia's elites, who sit perennially in the crosshairs of Navalny's banned Anti-Corruption Foundation. "Now, of course, they're not only shocked but they also feel very much scared."
"They did not want this war, they wanted to spend time on their yachts with their young mistresses," Volkov said. But those who jump ship risk prosecution or even death. Russian oligarchs who break with the Kremlin tend to drastically shorten their life expectancies, he said.
"The mood there is, according to our sources, quite depressed," Volkov said. "If someone dares to leave that ship, it could also cause a domino effect."
The West, and the U.S. in particular, should seize the moment, Volkov argued. "I believe the West should be much more proactive—reaching out to them, providing them with security, providing them with exit strategies."
Navalny and his team at the Anti-Corruption Foundation have been exposing the excesses of Putin and his allies for years. A 2021 exposé on Putin's palace on the Black Sea coast garnered more than 125 million views on YouTube. A 2017 investigation into then-Prime Minister Dmitry Medvedev earned 45 million views and prompted protests across the country.
Volkov said he welcomes Western sanctions on the Kremlin's inner circle but wishes they had come sooner. "On one hand, of course, I'd like to celebrate, but there is no mood for celebration," he explained.
"If they did it pre-emptively, this could have prevented the war," Volkov said. "This could have created a lot of leverage."
"I'm happy to finally say they're doing what we urged them to do for so many years. But it will not help to return the lives of those killed in Kharkiv, in Mariupol and in other beautiful Ukrainian cities…Had the West applied 10 percent of the current sanctions pre-emptively, I bet the war wouldn't have started at all."
The sanctions will cause "a lot of collateral damage" to normal Russians, Volkov said, with the measures undermining the Russian opposition, as well as the state.
Visa and Mastercard's decisions to suspend operations in Russia have blocked foreign but not domestic transactions, for example, meaning the Russian diaspora and exiles cannot support embattled independent media and anti-Putin organizations, Volkov said.
The decision by Facebook and Google to halt advertising in Russia also hampers the opposition's efforts to push back on Kremlin disinformation. "Our online advertisement was always a very efficient tool to fight propaganda," Volkov said.
"In general, the sanctions make everyone's lives much worse in the country," he said. "These sanctions have created a large number of new Russian millionaires. These are people who were billionaires before. This is good news. But also the poorest went into poverty. And this is a big problem."
Still, Volkov said the severity of the situation makes such measures necessary. "Everything that could be applied to stop the war should be applied," he said.
"Of course, if there were selective sanctions which would be selective enough to punish only those who support Putin and his vision, it would be good to apply those. But apparently they don't really exist."
"So I see the logic and I accept the logic of broader sanctions that target not only Putin's friends and supporters, but also pretty much everyone in the country where my parents live and many of my friends live. I don't wish bad luck for Russia…the value of human life is higher than anything else."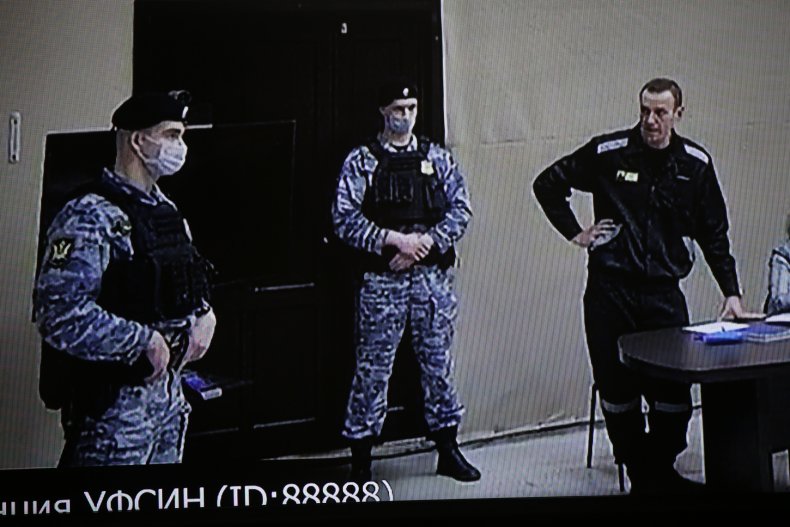 The Kremlin is trying to dissuade further Western support for Ukraine with nuclear brinkmanship, hints of aggression against Europe's eastern flank and threats to starve the continent of Russian fossil fuels, he said. Volkov said the West must be resolute.
"The logic of fearing him is completely flawed," he explained. "If you don't do something because you fear him, then what will you do when, after Ukraine, he demands Finland, Poland, Baltics, whatever?"
As for whether Putin would resort to his nuclear option, Volkov said: "He's bluffing."
Putin's Ukraine gamble has changed the calculus of the opposition and of the jailed Navalny, who last month was sentenced to another nine years behind bars on fraud charges his team say are fabricated and politically motivated.
"It was no surprise," Volkov said of the extended sentence. "He is President Putin's personal prisoner. His sentence was always a life sentence…Putin can't allow Navalny to be set free in Russia while Putin is in the Kremlin. There's not enough space in Russia for both of them."
"For Alexei, if he manages to survive this imprisonment, the recent news actually is good news," Volkov said. "The chances that Putin will be ousted by his elites, or by some type of popular uprising, because of the economic devastation or because of the military loss, have significantly grown."
"Alexei realizes this perfectly, and he's in a very good mental condition. He works a lot, he sends us a lot of news ideas. He discusses with us all our projects. He is fine, as far as you can be fine while in prison."
Of course, the 45-year-old remains in mortal danger, he said. Navalny survived an assassination attempt by Russia's Federal Security Services in 2020. "He's still in custody of people who tried to kill him a year-and-a-half ago," Volkov said.
Before the invasion, international attention and outrage may have somewhat deterred another attempt on Navalny's life. But the situation has now changed, Volkov warned.
"We have to admit that Putin doesn't really care about what other world leaders would say," he said. "To some extent, after February 24 [the date on which Russia invaded Ukraine], we have that Putin's hands are untied in this regard."
Volkov said the danger won't stop Navalny. "Will Alexei make his life expectancy longer by silencing himself? Of course not," he said. "So we will continue to do what we have to do. He continues to speak up and to do what he has to do. The risks have grown, that's very clear. But it doesn't affect our modus operandi."
Volkov's daughter, Maya, was born just 20 minutes before Navalny's latest sentence was handed down last month. Her arrival, Volkov said, is emblematic of the opposition's search for optimism and motivation despite the pressure they are under.
"Our modus operandi is to create as many troubles as possible," Volkov explained.
Putin's media crackdown and criminalization of groups, including the Anti-Corruption Foundation, require his opponents to be agile.
"The key for our political survival, and physical survival as well, has always been flexibility," Volkov explained.
"In a matter of a few days, we converted our whole organization into a huge media publishing house," he said, noting how he—a mathematician by training—and some of the organization's lawyers had quickly transitioned into YouTube presenters putting out multiple videos per day.
The group's IT manager, Volkov said, is now also the makeup artist for their videos.
"We are now operating as a huge YouTube media," Volkov said. "We are reaching 30 to 40 million users a week. We consider this to be our contribution to this world war against Putin."
Volkov said there are three fronts in the war: military, economic and information. It is on the latter that he and his colleagues are fighting.
The goal, he said, is "talking to Russian people to change their attitude, to explain, to counter the propaganda, to make them understand what's actually going on and to strip Putin of popular support in the country."
"This is where we decided to dedicate all our resources," Volkov explained. "This is something that could actually stop the war."