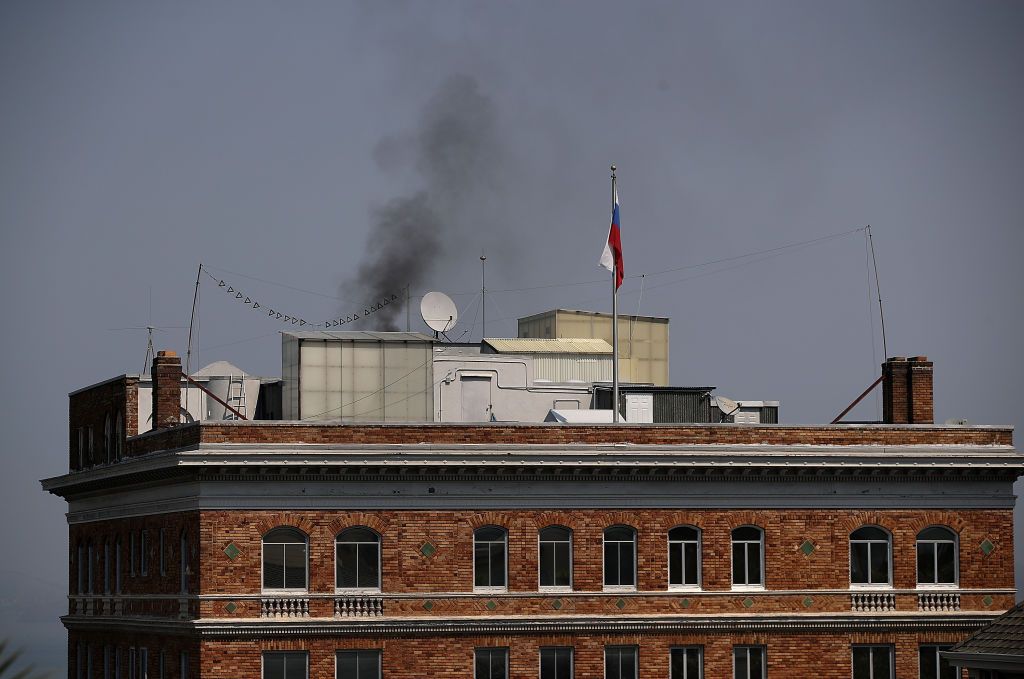 Black smoke was spotted rising out of the chimney of the Russian consulate in San Francisco on Friday, a day after President Donald Trump ordered it to close.
Russia was told to close the consulate, as well as two diplomatic annexes in New York and Washington, by Saturday.
The San Francisco Fire Department sent a crew to investigate but was ultimately turned away by consulate workers.
In the process, an Associated Press reporter heard people who came from inside the consulate tell firefighters that everything was fine and that the smoke was the result of "unidentified objects" being burned in a fireplace.
Mindy Talamadge, a spokeswoman for the fire department, confirmed to AP that the firefighters were sent to the consulate and determined the smoke was coming from the chimney.
Talamadge also noted it was a hot day in the city, with temperatures reaching 95 degrees by noon, and she was unsure of what they might've been burning.
"It was not unintentional. They were burning something in their fireplace," Talamadge told the AP.
Some on social media speculated that consulate workers were burning documents.
The Trump administration's decision to order Russia to close the consulate, the oldest in the U.S., comes amid heightened tensions between Washington and Moscow.
In late July, Congress voted overwhelmingly in favor of new sanctions against Russia for its interference in the 2016 election. Trump ultimately agreed to sign the bill imposing the sanctions, albeit somewhat reluctantly.
Moscow retaliated by ordering the expulsion of 755 U.S. diplomats. Trump controversially thanked Russian President Vladimir Putin for doing this but later claimed he was being sarcastic.
The decision to close the consulate and two diplomatic annexes was made directly by the president, press secretary Sarah Huckabee Sanders told reporters.
In a statement on the move, the U.S. Department of State said, "The United States hopes that, having moved toward the Russian Federation's desire for parity, we can avoid further retaliatory actions by both sides and move forward to achieve the stated goal of both of our presidents: improved relations between our two countries and increased cooperation on areas of mutual concern. The United States is prepared to take further action as necessary and as warranted."
While speaking with students on these recent developments in Moscow on Friday, Russian Foreign Minister Sergey Lavrov said Russia would "respond harshly to things that damage us."