Russian Forces Launch Large-Scale Artillery Drill in Crimea
The Russian armed forces have launched parallel artillery drills in annexed Crimea, two breakaway regions in neighboring Georgia and a number of Russian regions nearby.
The military drills, which centered around controversial Russian military deployments near the Black Sea and Caspian Sea, have kicked off less than a day after Vladimir Putin's reelection as Russia's president.
On Sunday, Russia went to the polls for the first time since the annexation of Crimea from Ukraine in 2014—a maneuver that reversed Putin's dwindling popularity at the time. Russia's control of the region is still regarded as illegitimate by western governments and several leaders protested the decision to conduct the Russian national vote there.
Related: U.S. air force has "no business" above Black Sea, Russian general says
The Russian military has rallied around 8,000 troops across 19 different training ranges nonetheless; as well as Crimea, it is conducting drills in Abkhazia and South Ossetia, which are still internationally recognized as part of neighboring Georgia.
The forces are practicing several live fire maneuvers from rocket launchers, self-propelled artillery and antitank missile systems, the Ministry of Defense said in a statement. Each artillery unit has been given around 1,000 rounds of ammunition to fire as part of the drills.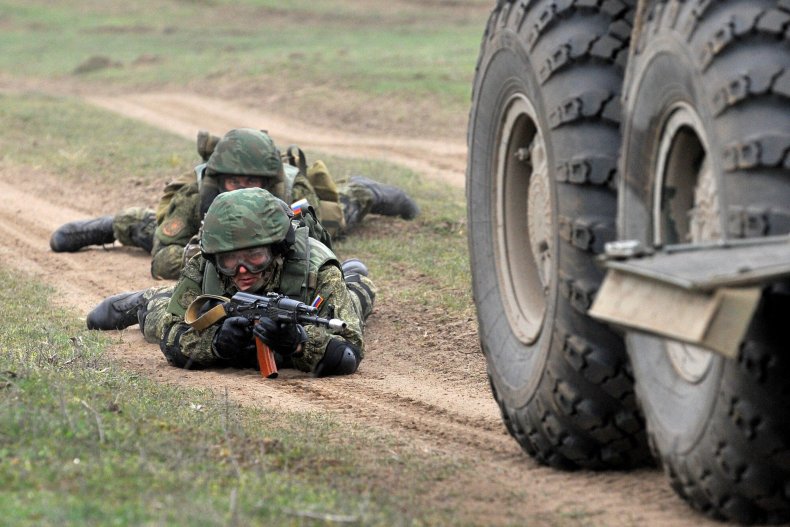 After claiming victory in Sunday's vote, Putin vowed to make domestic problems such as the lack of economic growth as a top priority, possibly even ahead of defense, in his next term. The Kremlin has shown no sign of acting in a conciliatory way with regard to Crimea, which Putin's spokesman Dmitry Peskov has repeatedly said is a non-negotiable issue for Russia.
The Black Sea is an area where Russian forces have experienced and prompted some of the tensest encounters with U.S. and allied militaries in post-Soviet times. While Moscow and its satellite states once dominated the sea's coastline during the Cold War, two of its then allies, Bulgaria and Romania, have since joined the Western NATO alliance, while ex-Soviet states Ukraine and Georgia have expressed an interest in joining.
Last month the U.S. sent two missile destroyers to dock in its allies' Black Sea ports in a move that aimed to help "desensitize" Russia to the presence of its ships there. The Russian air force has warned that if the U.S. wants to avoid hazardous intercepts in the region, it should halt deployments.