How Russian Media Is Reporting on First Anniversary of Ukraine Invasion
A year has passed since Russian President Vladimir Putin gave the order to invade neighboring Ukraine. However, there is deafening silence across Russia's media platforms today, with many notably failing to mention the occasion.
Few prominent Russian figures have published official comment on the anniversary, although former President Dmitry Medvedev said on Friday that he believed Russia will be victorious in the war.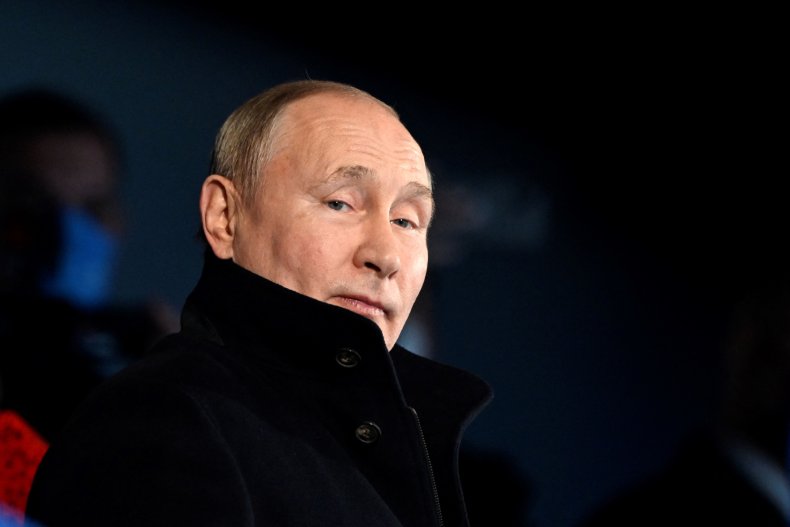 Putin himself hasn't issued a statement on Friday. However, on Tuesday he delivered a delayed address to the Federal Assembly in Moscow. In his nearly two-hour speech, which was supposed to take place last year, Putin took a swipe at the West, but failed to mention a single Russian victory in war.
Instead, he made several questionable statements and ramped up his nuclear rhetoric—something one U.S. think tank assessed was likely intended to distract from his trivial address.
A Newsweek search of both state-run and pro-Kremlin Russian news outlets found little to no mention of the anniversary of what Putin still calls a "special military operation in Ukraine and, similar to Putin's speech, no mention of the leader's perceived battlefield victories in the country.
RIA Novosti
The Russian state-owned news agency published several pieces focusing on the 12-point peace plan unveiled by China on the morning of the first anniversary of the war.
China has served as one of Russia's closest allies throughout the conflict, and the nation has also attempted to play neutral in the ongoing war.
The peace proposal includes plans to uphold the sovereignty of both forces, abandon a "Cold War mentality." It also calls for a stop to all "unilateral sanctions," referring to the sanctions imposed by the U.S. and Ukraine's other allies in response to the invasion.
Meanwhile, peace talks between Russia and Ukraine have stalled—Ukrainian President Volodymyr Zelensky has repeatedly pushed his own 10-point plan of Ukrainian demands, including restoring all Ukrainian territory, but it has been rejected by Moscow.
The news agency also published a piece including a statement from Russia's Foreign Ministry warning the U.S., NATO, and Ukraine against "provocation" in the breakaway Moldovan region of Transnistria.
Tass
Tass, another state-run news agency, reported on several developments on the anniversary of the war, including the U.K.'s decision to expand sanctions against Russia, Russian troop movements in the war-ravaged city of Bakhmut, and China's peace proposal for the conflict.
Rossiyskaya Gazeta
The newspaper published by the Russian government similarly highlighted the foreign ministry's warning about Transnistria, but also published a list from the ministry of "Russophobic rhetoric from representatives of the West in 2022-2023."
"In fact, a total war has been declared on everything connected with Russia," the Russian Foreign Ministry said on its Telegram channel.
The newspaper's "Editor's Choice" section included an overview of Putin's address to parliament on Tuesday, and on how education will change in Russia after the leader's speech.
Komsomolskaya Pravda
The pro-Kremlin tabloid focused on developments in Bakhmut, China's 12-point peace plan, and the weapons Russia has in its arsenal.
Argumenty i Fakty

The popular weekly, unlike the state-run outlets, did choose to run several features looking back on the past year of the war, including a piece on "life under sanctions" and Russia's economy a year on, on how Russia's army has changed since February 24, 2022, and on how Russia's foreign policy has changed in the past 12 months—but the outlet also failed to mention any successes Russia has had in the war.
Do you have a tip on a world news story that Newsweek should be covering? Do you have a question about the Russia-Ukraine war? Let us know via worldnews@newsweek.com.