Russian Offensive Doomed to Fail, Retired U.S. General Predicts
Russia's "unprepared army" will fail to launch a successful offensive that has long been predicted for the coming weeks, said a retired U.S. general.
Discussing Russia's attacks in the eastern Donetsk region of Ukraine, retired Lt. Gen. Mark Hertling, former commanding general of U.S. Army Europe, wrote on Twitter on Wednesday that "any offensive, carried out by an unprepared army, is always a failure."
Ukrainian officials have said they believe Russia will time a fresh offensive in eastern Ukraine to coincide with the first anniversary of the outbreak of full-scale war. Next week will mark 12 months since Russia launched its invasion on February 24, 2022.
But Western analysts have evaluated Russia's army to be unprepared for such a push in the eastern Donbas region. On Sunday, the British Defense Ministry said the Russian army was suffering from a lack of trained personnel and resources along from the front lines as well as from poor coordination.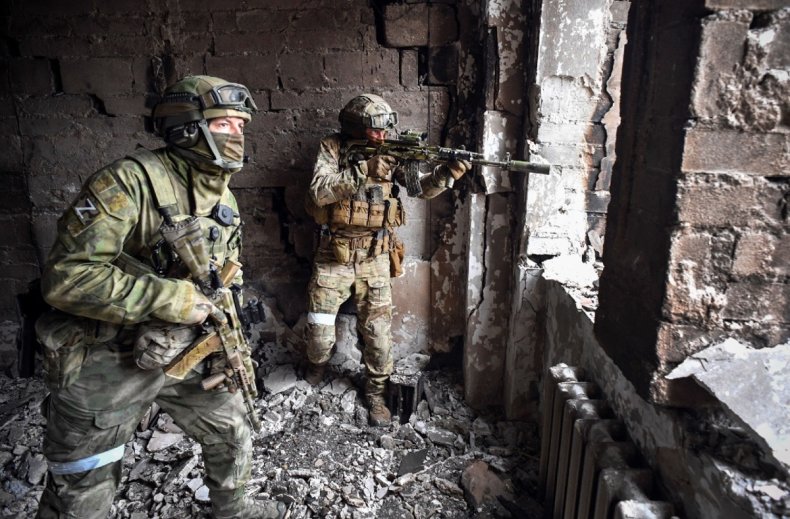 Moscow's "untrained forces" have been "given shoddy equipment," placed under "poor leadership" and have been deployed to the front lines "without an understanding of what they were to do," Hertling said.
He argued Russian forces were hurrying to mobilize, whereas Ukraine was making preparations for planned offensives in the coming weeks and months.
Moscow's recruits in eastern Ukraine are "not ready for any kind of offensive, large or small," according to Hertling, making them "cannon fodder."
Reports of a poorly equipped Russian army have long circulated. One Russian soldier, cited by The Guardian, said in the fall that "the [Russian] army has nothing, we had to buy all our gear ourselves."
Newsweek has contacted the Russian Defense Ministry for comment.
British Defense Minister Ben Wallace told the BBC on Wednesday that around 97 percent of Russia's army was now committed in Ukraine.
On Wednesday, the Institute for the Study of War said Wallace's information aligned with its belief that the Russian military needed "significant reconstitution before regaining the ability to conduct effective maneuver warfare."
Moscow likely lacks "combat-ready reserves" able to carry out a large-scale offensive for Russia, said the U.S.-based think tank.
Alongside efforts to mobilize, Putin is using missile strikes to force Kyiv's soldiers to defend both their front lines and their populations through air defense systems, Hertling argued.
Fresh rounds of missile strikes hit parts of Ukraine on Thursday, Kyiv said. Ukraine's air force reported that critical infrastructure had been targeted by Russian forces.
Russia launched 32 missiles across Ukraine, including eight "Kalibr" missiles from the Black Sea, the air force said. Half were shot down by Ukraine's air defense systems.
But Andriy Yermak, the head of Ukrainian President Volodymyr Zelensky's office, said the country's anti-aircraft defense "coped with most of the enemy missiles and UAVs [unmanned aerial vehicles]."