Russian Pranksters Claim to Have George W. Bush as Latest Victim
A pair of well-known Russian pranksters claim to have tricked former U.S. President George W. Bush into speaking to them about the ongoing Russian invasion of Ukraine.
Vladimir Kuznetsov and Alexei Stolyarov posted a brief video to the Russian video sharing site Rutube on Tuesday that appears to show Bush speaking to the duo about the conflict. Kuznetsov and Stolyarov, who are also known as Vovan and Lexus, have made headlines in the past for pranking high-profile individuals including musician Elton John and Turkish President Recep Tayyip Erdoğan.
The pair were previously accused of working for the Kremlin, which they denied in remarks to The Guardian in 2016. Bush has been vocal about his opposition to the Russian invasion, calling it the "gravest security crisis on the European continent since World War II" after the first attack in February.
In Tuesday's 43-second video, Bush says: "I wanted Ukraine into NATO." The video, backed with dramatic music, shows clips of Bush throughout his presidency, along with violent images of war. "I thought for a while Russia would be more cooperative and then Putin changed dramatically," Bush says, referring to Russian President Vladimir Putin.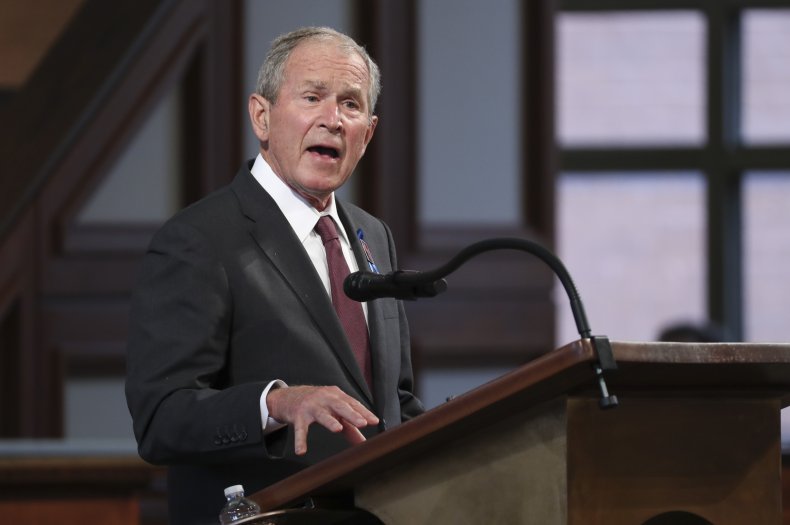 "Your mission is to destroy as many Russian troops as you can," Bush adds.
It's unclear who Bush is speaking to in each of these snippets, but at one point, the former president appears to say the phrase "Glory to Vovan and Lexus" in Russian. He later says "I'm very proud of you"—though it is again unclear to whom he's speaking. The video ends with the pranksters on camera.
The full video of their conversation with Bush will reportedly be released on Thursday as part of the New Horizons educational marathon, according to Russian news site RBC. The event is taking place this week in Russian cities including Moscow and St. Petersburg. Russian Foreign Minister Sergei Lavrov delivered remarks at the event on Tuesday.
Kuznetsov and Stolyarov have a long reputation as pranksters. In 2016, they reportedly convinced Ukrainian prisoner Nadezhda Savchenko to give up her hunger strike. Phone calls and a fake letter apparently convinced Savchenko's lawyer, Mark Feygin, that then Ukrainian president Petro Poroshenko had personally requested that Savchenko end the strike.
When the deception was discovered, Feygin accused the pranksters of working for the Kremlin and threatened to sue. Savchenko was a Ukrainian pilot accused of killing two Russian journalists. She was convicted and sentenced to 22 years in prison but was later released in a prisoner swap.
"We work for ourselves, for nobody else," Stolyarov told The Guardian in 2016. "People are always offering us to get involved in their dirty games. I was offered $100,000 to secretly prank an MP. But we refuse."
Kuznetsov told the newspaper: "We only choose the subjects we are interested in ourselves" and that they were interested in whether Savchenko "would agree to admit her guilt."
Newsweek reached out to former President Bush's office for comment.