Russian Ship Made Famous at Snake Island Evacuates Crew After Blast
A Russian warship famously cursed out by Ukrainian border guards has been seriously damaged, with both countries' militaries offering conflicting explanations.
The Russian military said Tuesday that naval cruiser Moskva was evacuated in response to an explosion. However, Ukrainian officials said its military had struck the cruiser that was made famous after border guards told the Russian warship's crew to "go f*** yourself." The disparate explanations are another instance of both sides offer differing accounts in a conflict that's been clouded by disinformation.
A fire detonated ammunition on Moskva, causing its entire crew to flee the cruiser, Russian news agency TASS reported Tuesday, citing the country's defense ministry. The news outlet said the ship was "seriously damaged" and that the fire is under investigation. RIA Novosti, a government-backed Russian news outlet, offered a similar account.
The report contrasts with those given by Ukrainian officials.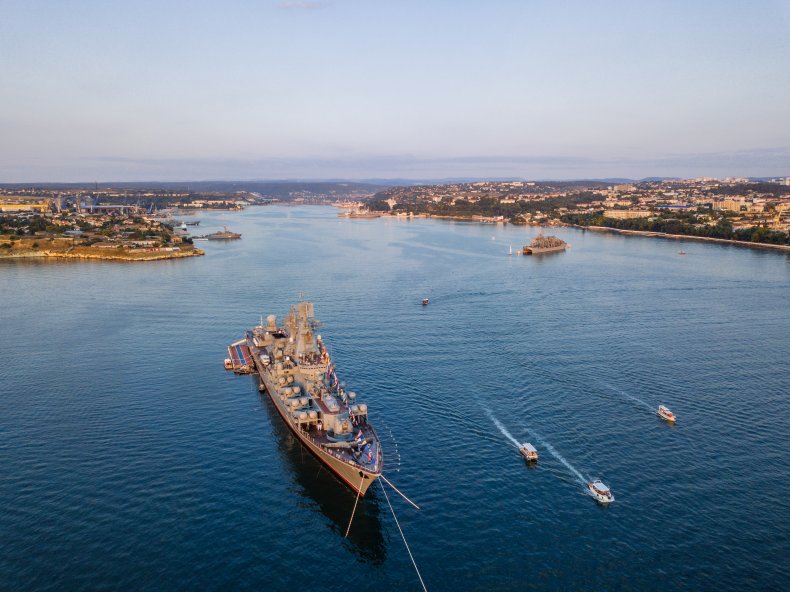 "Neptune missiles guarding the Black Sea caused very serious damage to the Russian ship," Maksym Marchenko, head of Ukraine's Odesa regional administration, said on Telegram. "Glory to Ukraine!"
Marchenko said a Neptune missile was fired by Ukrainian forces off the coast of the Black Sea, sticking the cruiser, the name of which translates as "Moscow."
Anton Gerashchenko, an adviser to Ukraine's Ministry of Internal Affairs, also said on Telegram that the ship almost sunk after being struck by the missile.
A successful missile strike against Moskva, flagship of Russia's Black Sea Fleet, would be a significant victory for Ukraine's military.
Moskva is a Soviet-era ship that serves as the lead ship of Project 1164 Atlant and was originally launched in 1983 as Glory. According to state media, the ship's main armament is a 16 P-1000 Vulkan missile launcher.
The ship has played a key role in Russian military operations in the Mediterranean Sea. In 2015, Moskvawas dispatched as part of four ships to waters near Syria to participate in military exercises. Last year, the ship launched a guided-missile cruiser as a warning to NATO, which was conducting exercises in the region.
After Russia launched its invasion of Ukraine in late February, a group of 13 Ukrainian border guards on Snake Island refused to surrender, telling Moskva to "go f*** yourself."
The now-viral moment was held up as a symbol of Ukraine's refusal to yield to Russia's larger military. The border guards were believed to have died in the confrontation with the Moskva. But it was later discovered they had survived after being captured and were returned to Ukraine in a prison exchange.
Newsweek has reached out to the Pentagon for comment.