Former F-16 Pilot Says Russian Su-35 Jets 'Junk' Compared to U.S. Plane
The Russian Su-35 multi-role fighter jet is "junk" compared to the United States F-16 Fighting Falcon fast jet, according to a former U.S. Air Force pilot.
The Su-35 is a "typical Russian machine" that "looks good," but "deep down, it's not that good of a plane," Retired U.S. Air Force Lieutenant Colonel Dan Hampton told Voice of America in a Ukrainian language interview. "It looks good at air shows, but my personal opinion is that it's junk," he added.
Both the Su-35 and the F-16 are multi-role, often single-seat fighter jets. Russia's Su-35s have been used in Moscow's war against Ukraine, but the NATO-standard F-16 fast jets have not taken to Ukraine's skies.
The U.S. has so far vetoed Kyiv's repeated calls for the advanced jets. Earlier this week, Poland confirmed it would send MiG-29 fighters to Ukraine, and on Friday, Slovakia's prime minister said 13 MiG-29 jets would arrive in Ukraine. White House National Security Council spokesperson John Kirby said on Thursday that Warsaw's decision "doesn't change our calculus with respect to F-16s."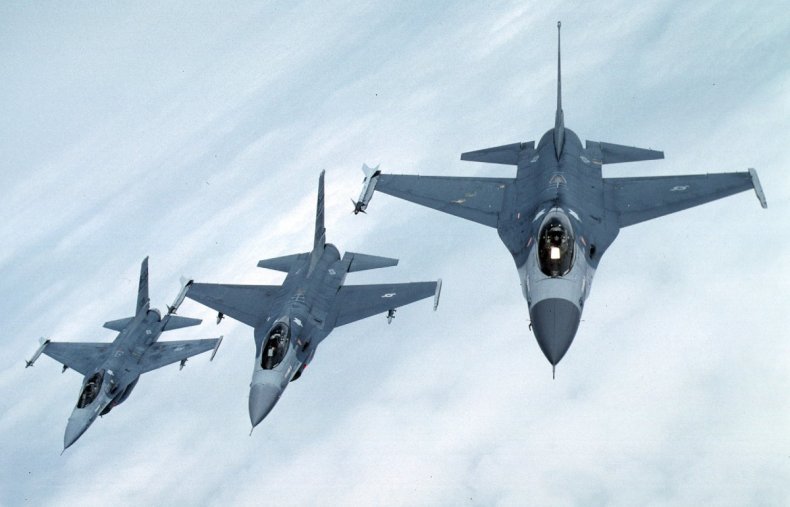 On the first anniversary of the outbreak of full-scale war in Ukraine on February 24, President Joe Biden said he was "ruling it (sending F-16s) out for now." Ukrainian President Volodymyr Zelensky, "doesn't need F-16s now," he added.
The F-16s could "make a huge difference in the war," Hampton said, but their success would depend on the pilots in the cockpit. The F-16 "is a very different type of modern fighter than [Ukrainian pilots] are used to, he explained, adding it takes "time to train and get used to and master a new type of aircraft, especially one as advanced as the F-16."
The U.S. has confirmed that two Ukrainian pilots traveled to Arizona for "a familiarization event" intended to assist Ukrainian pilots in becoming "more effective," and to "advise them on how to develop their own capabilities," a military official said.
The United Kingdom also committed to expanding its training program for Ukrainian military personnel to include fighter jet pilots. This "will ensure pilots are able to fly sophisticated NATO-standard fighter jets in the future," Downing Street said on February 8.
The Russian Su-35 is a "very large" twin-engine aircraft, which is "easy to see, easy to pick up on radar, and easy to shoot at with a long-range missile," Hampton said.
"Our planes are more durable. I wouldn't bet in combat on the Su-35 or any Russian-made aircraft," he said.
The "highly maneuverable" and "high-performance" F-16 aircraft is used for air-to-air and air-to-surface attacks, according to the U.S. Air Force. An all-weather aircraft costing between $14.6 million and $18.8 million, F-16 variants have "superior accuracy" and can defend against enemy aircraft.
The F-16V is touted by defense contractor Lockheed Martin as the "most technologically advanced fourth-generation fighter in the world," with some fifth-generation capabilities. The Su-35 is similarly hailed by Russian state export organization Rosoboronexport as a fourth-generation jet with fifth-generation elements.