Russian Supersonic Bombers to Patrol Arctic 500 Miles From Alaska
Russia plans to send several supersonic strategic bomber planes to its subarctic territories as it continues to test its military grip in the high north, a top air force official said.
The Kremlin has openly said it seeks to reverse years of neglect toward its military capabilities in its vast northern territories. In the past year, this has resulted in an increase of encounters between Russian and U.S. military jets near the Bering Strait, the most recent of which saw Russian Cold War–era Tu-95 bombers intercepted near Alaska last week.
Moscow is now looking to send even more formidable aircraft to its frigid northeastern neighborhood. Sergey Kobylash, commander of Russia's long-range aviation, told the military newspaper Krasnaya Zvezda that the supersonic Tu-160 will deploy there this year.
"At the moment, the Arctic has a strategic significance to use because we are harnessing the use of new aerodromes and developments, which allow ensuring the safety of the country in the context of our marine borders," said Kobylash.
Related: Here Is What a New Russian Base in the Arctic, Launched by Putin, Actually Looks Like
Russia recently flew a modified version of the Tu-22 bomber to the subarctic airfield in Anadyr for the first time last year, according to Kobylash. The more modern Tu-160 will attempt to repeat the journey to the town: a 500-mile flight from Nome, Alaska.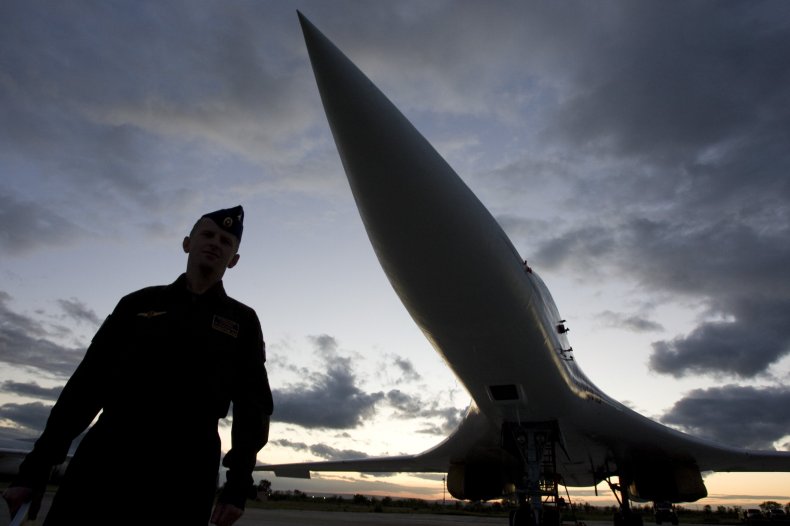 Russian President Vladimir Putin has unveiled two multipurpose bases in lands adjacent to the Arctic Circle since 2015, and four more are to follow. Experts likened Russia's rebuilding of bases and airfields in arctic territories to a restoration of the Soviet-era Arctic triangle spanning the Kola and Kamchatka peninsulas. Whether any of these facilities will be operating near full capacity in times of peace is not clear.
Some of the upgrades have focused on Russia's northeast, in the direction of the U.S. and Canada, where Moscow has deployed a new radar and sent anti-submarine aircraft to explore a new route through the North Pole, a journey not carried out since the Soviet Union's collapse.
"With the increase in the range, the array of objectives also increases," said Kobylash, playing down the need for the U.S. government to be worried about Russian pilots' behavior in the air.
Last week's intercept by U.S. F-22 followed several instances of the activity that began last May and have since become more common.
"We regularly encounter them, especially during air patrolling," Kobylash said. "Near the borders of their countries, the aviation of these countries have the same right to escort us as we do to patrol flights."