Russians Fleeing Putin's Order Will Have to Sign Form Condemning War at Bar
One bar in the South Caucasus nation of Georgia is making Russians sign a form expressing their disdain for Russian President Vladimir Putin's actions upon entering.
Georgia is one of the countries, along with Turkey and Armenia, that some Russians are fleeing to following Putin's announcement of partial military mobilization. On Thursday morning, there was a 6-mile traffic jam leading to the Georgian checkpoint in Verkhnii Lars.
Even prior to the mobilization announcement, Dedaena bar in the Georgian capital of Tbilisi forced Russian citizens desiring to enter the establishment to fill out a "visa."
"Citizens of Russia need a visa to enter Dedaena bar because not all Russians are welcome," says the visa, according to the bar's website. "We stand for equality and unity, but we need to make sure, that brainwashed Russian imperialists do not end up in our bar. Please support us by filling up a visa application, so nobody has to hang out alongside a**holes. Thanks for understanding."
Entrants must sign their names and surnames, acknowledging they are Russian citizens visiting Georgia and that they plan to show "respect" for their host country.
They must then check a series of boxes rebuking Russia's actions toward Georgia and Ukraine, with statements that read:
I didn't vote for Putin, he is a dictator
I condemn Russian aggression to Ukraine
Crimea is Ukraine, so are other disputed territories
Abkhazia and Tskhinvali regions are Georgia
20 percent of Georgia are occupied by Russia
Every 12th Georgian turned into a refugee due to Russian invasion
I like the phrase "Russkii Voennii Karabl, Idi Na Xui"
Slava Ukraini ("Glory to Ukraine")
The phrase "Russkii Voennii Karabl, Idi Na Xui" translates to "Russian warship, go f**k yourself." It is a reference to the $750 million Russian warship that was sunk by Ukrainian forces in April near Snake Island.
The bar's "code of conduct" also instructs Russian patrons to use English or Georgian to communicate with staff, not to pay in rubles, and not to discuss politics "while being drunk."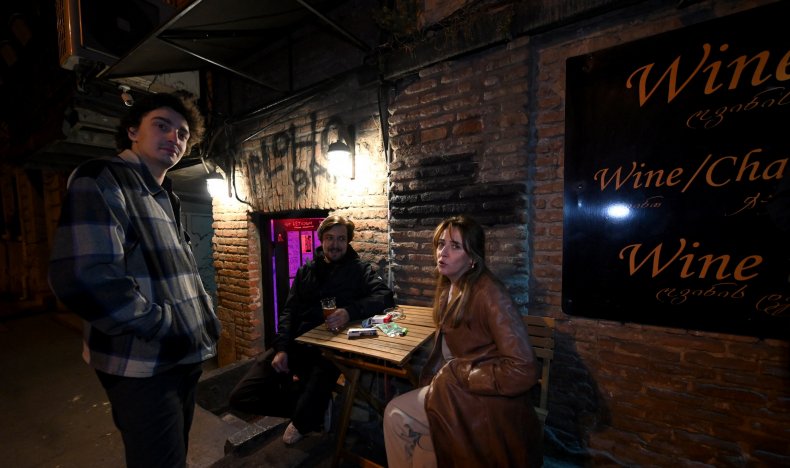 Data Lapauri, owner of the Dedaena bar, told The Moscow Times that "Russians who are coming to Georgia should never forget they are coming to a place that is under attack from their country."
Lapauri acknowledged that the policy may seem "extreme" but believes in the message behind it, saying, "I don't want to have someone who supports the war in Ukraine and voted for Putin at the bar that I own. We don't want to serve the occupiers."
The online magazine Resident Advisor reported that when the bar's policy was instituted on August 4, it almost immediately received backlash in the form of thousands of negative Google reviews, threatening private messages and hundreds of negative comments on Instagram posts.
Lapauri told the publication that Google reviews shot up past 10,500—a dramatic increase from the 400 or so reviews the business received since its 2018 opening. He said reviews or comments at one point were being posted every second.
In August, the Center for European Policy Analysis reported that the approximate 250,000 Russians going to Georgia, a country of about 3.7 million people, has increased tensions and security concerns.
The Netgazeti news website reported in March that the Bank of Georgia instituted its own checklist of sorts at the onset of Russia's February invasion of Ukraine.
To open a bank account, citizens of the Russian Federation must "condemn Russian aggression in Georgia and Ukraine" and "agree that Russia is an occupier that invaded Georgia in 2008 and Ukraine in 2014 and 2022."
They must also agree to never share Russian state propaganda and be "ready to help fight it."
A nightclub in Tbilisi called Bassiani has reportedly prevented all Russians from entering due to their nationality, reported Russian Life. That is "even if Russians have lived" in Georgia and possess residence permits.
Newsweek reached out to Dedaena, the Bank of Georgia and Bassiani for comment.