Russia's Envoy to U.S. Says Ukraine War Crime Claims Threaten Peace Talks
Moscow's envoy in Washington has reiterated his country's claims that Ukraine faked a massacre alleged to have been carried out by Russian troops in the city of Bucha and told Newsweek that such accusations could threaten to unravel ongoing peace talks between the two nations.
"Every day, the Ukrainian authorities are scaling up their anti-Russian disinformation campaign, spreading new baseless accusations about alleged atrocities and war crimes of the Armed Forces of the Russian Federation," Russia's ambassador to the United States, Anatoly Antonov, told Newsweek.
"Judging by such rhetoric," he added, "the leadership of Ukraine is guided not so much by the concern about civilians as by the desire to consolidate its image of a 'victim' and smear our country."
The U.S. and European allies who also support Ukraine as it attempts to fend off the incursion launched February 24 by Russian President Vladimir Putin have reacted strongly to reports, including images and footage, purporting to show slain civilians, some appearing to have been killed execution-style, lining the streets of Bucha, located less than two dozen miles from the capital Kyiv (spelled Kiev by Russia).
The fallout has led President Joe Biden to double down in branding his Russian counterpart a "war criminal" and call for him to face international justice.
But Antonov said that "the reaction of some countries to the tragic events in Bucha is shocking" as "they did not bother with figuring out what had happened and just blamed the Russian military for everything." In his view, "they totally ignored the inconsistencies indicating that the action was fabricated."
For one, he argued, "on March 31, Mayor of Bucha Anatoly Fedoruk stated the complete withdrawal of Russian troops and did not say a word about the civilians gunned down." And yet, he added, "the first accusations appeared in the Western media only on April 3."
"It is hardly believable that the dead bodies were lying on the streets for four days and no one paid attention," Antonov said.
Days prior to the reports emerging, he said that "representatives of the Security Service of Ukraine and the national police came to Bucha on April 1."
"They announced their intention to cleanse the territory from Russia's accomplices," Antonov said. "Ukrainian radicals even called for shooting citizens who did not have special identification marks. The Russian Defence Ministry also has evidence about the planned terrible crimes of the Ukrainian authorities in the Sumy and Kiev regions."
He then warned of more to come.
"We know for sure that the Kiev regime is preparing further provocative materials about the death of civilians in the Kharkiv region allegedly as a result of the actions of the Armed Forces of the Russian Federation," Antonov said. "People get paid $25 each for participating in the staged filming."
Newsweek was unable to independently verify the claims.
But as a battle for the narrative of the conflict drags on alongside deadly clashes on the ground, the Russian diplomat said negotiations in which both sides have hailed varying degrees of progress may too come into question.
"All this is happening at the very moment when the Ukrainian Side has expressed its readiness to declare its non-nuclear, non-aligned and neutral status," Antonov said. "This is extremely important for all countries."
"Against this background," he added, "the sincerity of Kiev's statements about the desire to seek ways of a diplomatic solution to the crisis raises great doubts."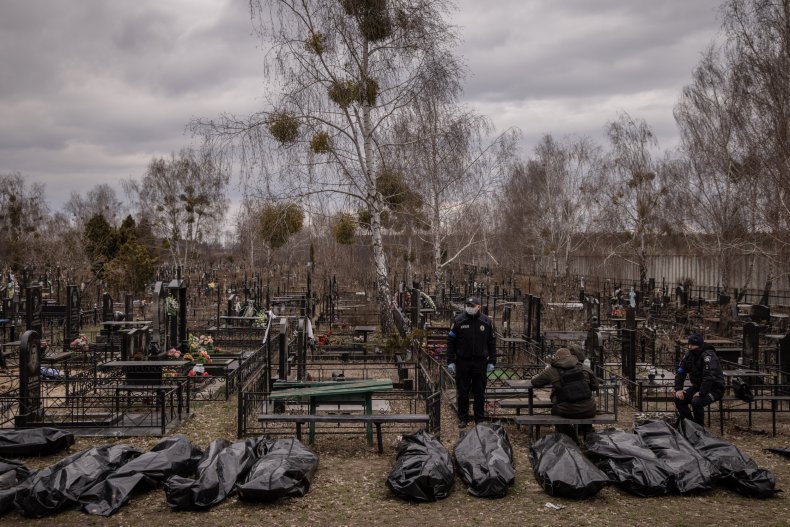 Ukrainian officials have roundly rejected Russia's reaction to the events in Bucha and other Ukrainian cities.
On Tuesday, President Volodymyr Zelensky presented what he argued to be evidence of atrocities committed by Russian soldiers during an address to the United Nations Security Council in which he said Russian forces had "killed and tortured" at least 300 people in Bucha before withdrawing as part of a broader plan to refocus on the eastern Donbas region, where pro-Moscow separatists have been active since 2014.
The Ukrainian leader visited Bucha himself on Monday and he too expressed that the events there only made diplomacy more difficult.
"It is very difficult to talk," Zelensky said at the time. "It is very difficult to negotiate when you see what they did here. Every day we find people in barrels, cellars and elsewhere, some strangled, clearly tortured."
As Ukrainian officials collect evidence of what they say amounts to "genocide," Zelensky urged Russian officials to "think faster" about a solution that could bring about an end to a conflict, something he said could only be achieved through a direct meeting between him and Putin.
The Kremlin has teased the idea of a potential meeting between the two men, but Russian officials have argued such a gathering could only take place after both sides had come to an agreement on addressing Moscow's demands. These include Ukraine ending its bid to join the U.S.-led NATO alliance and declaring the country would never seek nuclear weapons as well as recognizing Russia's eight-year control over the Crimean Peninsula in the south and the independence of the breakaway Donetsk and Luhansk People's Republics in the east.
Ukrainian officials have expressed an openness to the first two points, but Zelensky's administration has been hesitant to offer territorial concessions.
Meanwhile, the Biden administration has vowed to provide even more weapons to Ukraine, most recently in the form of a $100 million package of javelin anti-armor systems announced Tuesday. The State Department said the latest aid brought the total amount of U.S. military assistance to Ukraine since the war broke out to $1.7 billion and the total since Biden took office to $2.4 billion.
While Biden has repeatedly vowed not to send U.S. troops into Ukraine, the president has also sought to inflict economic pain on Moscow through a growing list of sanctions, which White House Press Secretary Jen Psaki told reporters Wednesday have had "an unquestionable, significant impact on Russia's economy."
And when it comes to gathering evidence to identify the perpetrators of potential war crimes, Psaki also said the U.S. "will continue to assist in every way possible with these efforts to track down data, additional information and contribute to the international effort to do just that."
But she warned Bucha was likely not the last of its kind.
"Remember, the scenes we're seeing in Bucha are from events and atrocities that didn't happen yesterday. They happened some time ago. Right?" Psaki said. "And there will be more of those, which our secretary of state and our national security adviser have also predicted, unfortunately, because there are a lot of areas of the country where Russia has invaded and committed atrocities, no doubt, which we have not yet had visual access to."