Russian President Vladimir Putin announced that 14 military units across the country will receive an upgrade to their nuclear-capable missile forces by the end of the year.
Speaking to defense ministry officials in the Black Sea city of Sochi on Tuesday, the Russian leader said that Moscow's nuclear forces were of "key significance" and that the upgrade of over a dozen missile regiments should take place before the end of December.
"Over the last few years, we have done a lot for the strengthening of the armed forces," Putin said, according to state news agency Tass. "In accordance with the state armament program this year, we will continue replacing the Topol rocket complexes that are completing their service life with the newest Yars."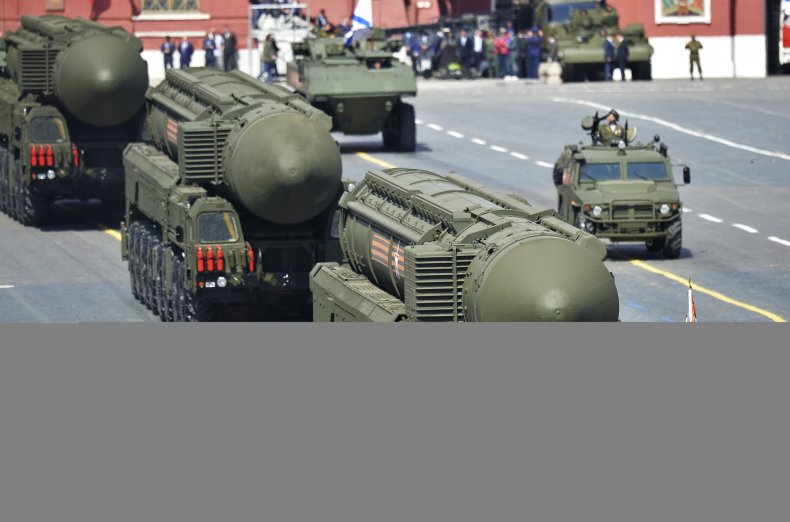 The Yars is a recent multiple-warhead version of the road-mobile Topol intercontinental ballistic missiles and can be stored in a silo as well as on a vehicle, according to IHS Jane's 360. Its introduction into service has been gradual since 2010, as Moscow looks to revamp the ICBM arsenal that currently has five different kinds of missile in operation.
Besides missiles, Russia will bolster the aviation aspect of its nuclear triad this year, as Putin announced that "modernized missile-carrying bombers Tu-95MS and Tu-160 armed with modern cruise long-range missiles Kh-101 and Kh-102" would be introduced.
Related: Vladimir Putin shows off all his best weapons to Netanyahu in Moscow
Putin also urged defense officials to begin work on a new S-500 anti-missile system that can hit targets at "super-high altitudes, including near-the-Earth space."
The Kremlin has dismissed the idea that it is looking to spark an arms race with the U.S., but its repeated advertisement of prospective nuclear-capable arms has served as a mixed signal.
Putin himself took the unusual step of dedicating the latter half of his pre-election, state of the union address to a presentation of arms, including the much-anticipated Sarmat 2 heavy ICBM. Russian state media channels have hyped the prospective missile by noting its destructive capabilities to European countries or U.S. states, which could be devastated by a hit. Animated footage that Putin used during the presentation appeared to show warheads dropping on Florida.
The presentation was the subject of some mockery by Russians online because of its poor use of animation and clear break with the first half of the speech, which cited development and social services, not defense, as a priority.
Arms experts also panned the presentation of the weapons as a big reveal but without much new information about them. Eagle-eyed bloggers noted that the government had not even produced new simulations of the prospective arms, because some animation dated back to 2007.