Vladimir Putin Shows Off His Best Weapons To Netanyahu in Moscow
Israeli Prime Minister Benjamin Netanyahu observed a military parade marking the defeat of Nazi Germany alongside Russian President Vladimir Putin in Moscow on Wednesday.
Although Putin and Netanyahu are at odds over the former's backing of Iran and his pro-regime stance in the Syrian civil war, the Israeli leader said relations between Moscow and Israel remained strong.
"The meetings between us are always important, and this one is especially so," Netanyahu said in a video message reported by The Jerusalem Post. "In light of what is currently happening in Syria, it is necessary to ensure the continued coordination between the Russian military and the IDF," he said, referring to the Israeli Defense Forces.
But despite Netanyahu's statement, relations between Russia and Israel over Syria are complex. Moscow has backed Syrian President Bashar al-Assad since 2015, while Israel has carried out attacks against Syrian government targets. Assad is also supported by Israel's archenemy, Iran, and Hezbollah, the Lebanese militant group that fought a war with the Israelis as recently as 2006.
After the U.S.-led strikes on regime targets allegedly involved in targeting civilians with chemical weapons, Russia threatened last month to upgrade Syrian defenses, something Israel vehemently opposes.
Related: Vladimir Putin's new bulletproof limo cost $192 million and took six years to make
Netanyahu's visit on Wednesday is his first trip to Russia since the strikes. His appearance at the parade added a symbolic element to the meeting, said Micky Aharonson, former foreign relations head at the Israeli prime minister's National Security Council.
"The parade will show new weapons systems like robotic vehicles, new hypersonic missiles, and the prime minister of Israel will be actually sitting there and watching some weapons systems he requests Russia to avoid sending to the enemies of Israel. The S-300 and S-400 systems, for example," she told the Israel Project podcast. "These weapon systems are already on Syrian soil, but they are in Russia's hands, so they are Russia-Israel coordinated."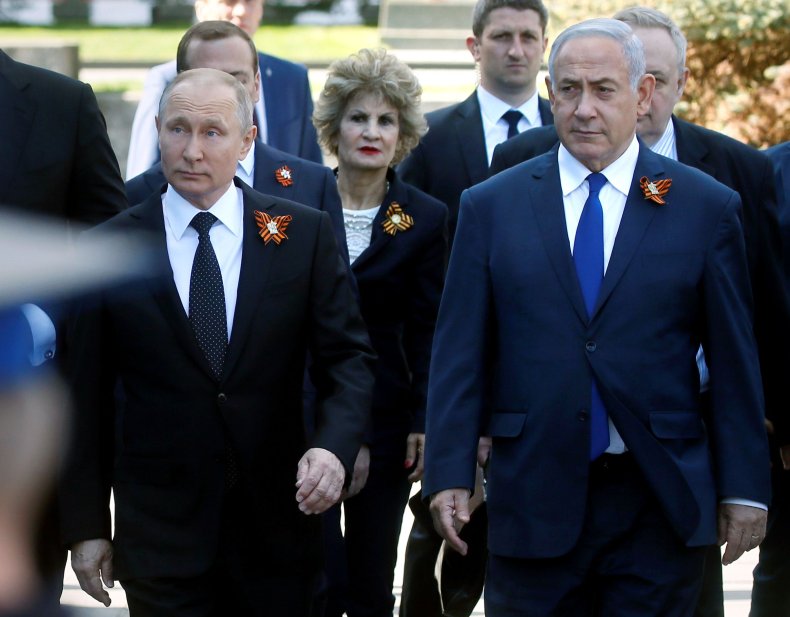 The Russian military currently has S-300 and S-400 anti-air defenses, designed to defend against incoming jets and missiles, at its bases in Syria. The Assad regime's own defenses were provided by Russian but are much older. Moscow has tested more than 600 items of new equipment in Syria, and some are expected to roll out on the Red Square this week, providing a first glimpse for potential buyers. The Uran-6 "robot sapper" and the Uran-9 remote-controlled tank are among them.
Another customer of Russian arms is Iran. Although the U.S. has officially announced it is returning to diminished-trade terms with Iran by nixing the international nuclear deal, other countries continue to support it. Russia, one of Tehran's most significant providers, is among them.
The Iranian military has already acquired an S-300 from Russia and has purchased Soviet-made fighter jets, tanks and other missiles in the past. Iranian officials have reportedly expressed an interest in upgrading to new Russian warplanes and tanks. The Israeli government has urged Russia against striking new deals to bolster Iran's armed forces.