Russian Defense Minister Sergei Shoigu Sidelined by Putin, Ridiculed: U.K.
Russian Defense Minister Sergei Shoigu is regularly ridiculed and sidelined by President Vladimir Putin, as the war against Ukraine has stalled, British intelligence said Monday.
Russian officers and soldiers with first-hand war experience have likely routinely mocked Shoigu for his "ineffectual and out-of-touch leadership" as Russian progress has slowed, the U.K.'s defense ministry said in an intelligence update on Twitter.
Shoigu, who is 67 and originally from Russia's remote Tuva region, became the Kremlin's minister of emergency situations around the time of the collapse of the Soviet Union.
He is the longest-serving minister in the Russian government.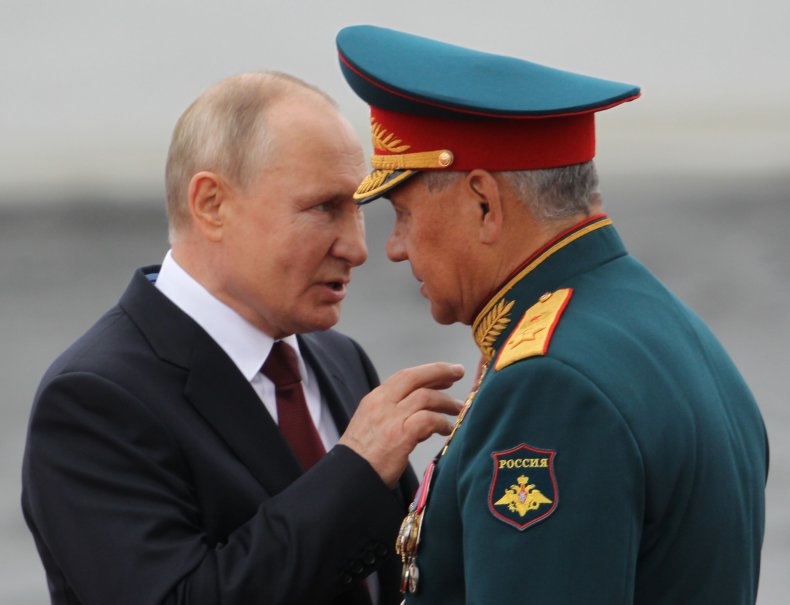 He was chosen by Putin to be defense minster in 2012, despite having no military background or combat experience. He oversaw Russia's annexation of Crimea in 2014.
"Shoigu has likely long struggled to overcome his reputation as lacking substantive military experience, as he spent most of his career in the construction sector and the Ministry of Emergency Situations," the intelligence update said.
The ministry, citing recent independent Russian media reports, suggested Shoigu is now being sidelined within the Russian leadership, with operational commanders briefing Putin directly on the course of the war.
As Ukraine marked its Independence Day on the six-month anniversary of Russia's war against Ukraine on August 24, Shoigu said Russia's military campaign in Ukraine had deliberately slowed to reduce civilian casualties.
"Everything is being done to avoid casualties. Of course, this slows down the pace of attacks. But we are doing this deliberately," Shoigu told a defense ministers meeting of the Shanghai Cooperation Organization (SCO) in Uzbekistan.
Shoigu said what Putin calls a "special military operation" in Ukraine has progressed as planned, and that Russia will achieve all its desired objectives.
He added that the conflict is being prolonged by countries such as the U.S. supplying weapons to Ukraine.
"The goal of the U.S. and its collaborators is to warn other states that pursue an independent foreign policy and the strategic attrition of Russia to eliminate competition," he said.
Those remarks were classed by the British defense ministry as "deliberate misinformation." The ministry said at least six generals of Putin's forces have been sacked by the Russian leader for failing to make advances quickly enough.
Tatiana Stanovaya, founder of political consulting firm R.Politik, in an interview with the Financial Times in March, weighed in on how Putin may view his defense minister amid the ongoing war.
"He's a good soldier who does what he's told—he reliably serves Putin and the motherland," said Stanovaya. "But Putin doesn't have much faith in his professional abilities—they're not that close."
The war is now in its sixth month, with no end in sight.
Ukrainian President Volodymyr Zelensky said in a Sunday night video address that Ukraine will regain control of all Ukrainian territories currently occupied by Russian forces.
Newsweek has contacted Russia's foreign ministry for comment.