Ruth Bader Ginsburg Quoted Twice in Supreme Court Roe v. Wade Ruling
Late Supreme Court Justice Ruth Bader Ginsburg was quoted twice in the draft U.S. Supreme Court opinion that could potentially overturn Roe v. Wade, which leaked this week.
On Monday, Politico obtained a draft copy of a draft majority opinion written by Supreme Court Justice Samuel Alito that calls to overturn the 1973 decision in Roe v. Wade that legalized abortions in the U.S. The ruling also called for the 1992 decision in Planned Parenthood v. Casey, which upheld Roe v. Wade, to be overturned.
In his draft decision, Alito cited past comments made by Ginsburg, who was known as an advocate for women's rights.
In one portion of the decision, Alito cited comments Ginsburg made in 1992 in the New York University Law Review, where she argued that Roe "halted a political process that was moving in a reform direction and thereby, I believe, prolonged divisiveness and deferred stable settlement of the issue."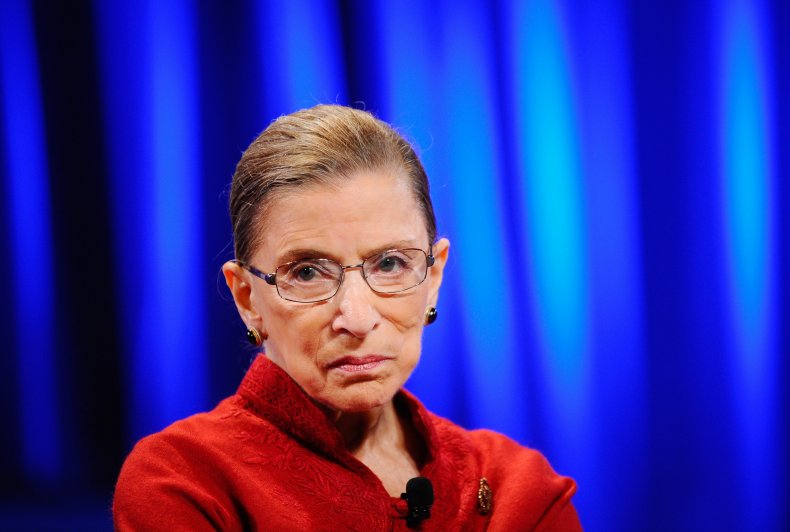 Alito also cited comments from Ginsburg made during the Timbs v. Indiana case where the Supreme Court ruled that the "Eighth Amendment's prohibition against 'excessive fines' applies to the states under the Due Process clause of the Fourteenth Amendment," according to the Constitutional Accountability Center.
In the draft, Alito cited Ginsburg's rulings in Timbs, where she wrote that the "Eighth Amendment's protection against excessive fines is 'fundamental to our scheme of ordered liberty' and 'deeply rooted in this Nation's history and tradition.'"
The comments cited by Alito in the draft are not the only remarks Ginsburg made about her views towards Roe v. Wade. In 2013, Ginsburg spoke to the University of Chicago Law School and said, "Roe isn't really about the woman's choice, is it?"
"It's about the doctor's freedom to practice...it wasn't woman-centered, it was physician-centered," she added.
Mary Hartnett, who co-wrote Ginsburg's biography My Own Words, told the New York Times in 2020 that the former Supreme Court Justice was under the belief that Roe v. Wade "would have been better to approach it under the equal protection clause."
The draft from Monday is subject to change, but if it were to become official, each state would have the ability to create laws to ban abortions.
Following the leak on Monday, President Joe Biden issued a statement saying, "my administration argued strongly before the Court in defense of Roe v. Wade."
"If the Court does overturn Roe, it will fall on our nation's elected officials at all levels of government to protect a woman's right to choose. And it will fall on voters to elect pro-choice officials this November," Biden said. "At the federal level, we will need more pro-choice Senators and a pro-choice majority in the House to adopt legislation that codifies Roe, which I will work to pass and sign into law."
Newsweek reached out to the Supreme Court for comment.