Ruth Bader Ginsburg's Warning About Roe v. Wade Came True
The misgivings from late U.S. Supreme Court Justice Ruth Bader Ginsburg regarding Roe v. Wade and its susceptibility to come under attack may have ultimately been proven right given the revelations around a leaked opinion draft from the Supreme Court.
The alleged internal document, obtained by Politico, shows that the conservative-majority SCOTUS has provisionally approved to strike down the landmark 1973 ruling that ensures abortion is a constitutional right across the country, along with a subsequent 1992 decision, Planned Parenthood v. Casey, which largely upheld the decision.
While it may seem unlikely, Ginsburg, the pioneering advocate for women's rights who died in September 2020 at age 87, was a frequent critic of Roe v. Wade, especially its framing and the speed in which it was pushed through.
In a much-quoted lecture she gave at New York University in 1992, Ginsburg noted how Roe was an example of how "Doctrinal limbs too swiftly shaped...may prove unstable."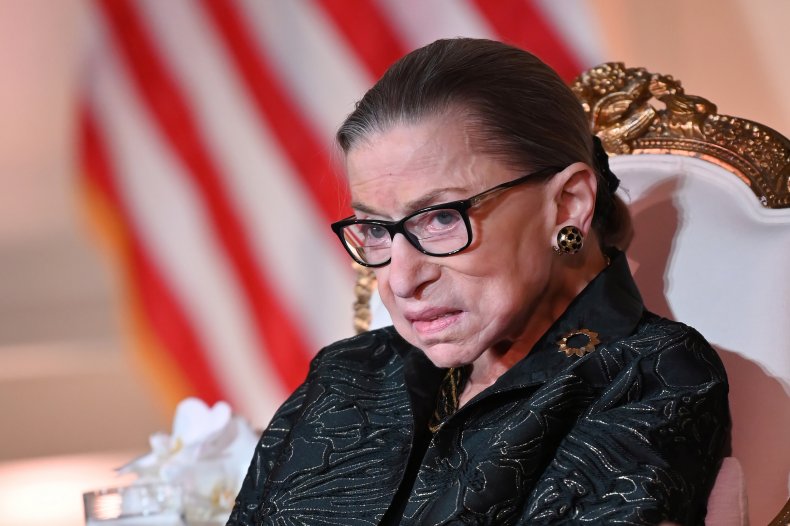 Ginsburg was in essence disagreeing with Roe's base argument that the right to abortion was based on the privacy of a woman with her doctor, and not a violation of equal protection as guaranteed by the Constitution.
The majority draft opinion, which may still change ahead of the Supreme Court's final ruling around late June, was written by Justice Samuel Alito, who states that the sweeping decision to legalize abortion nationwide was "egregiously wrong from the start."
"Its reasoning was exceptionally weak, and the decision has had damaging consequences. And far from bringing about a national settlement of the abortion issue, Roe and Casey have enflamed debate and deepened division," Alito added.
Speaking to The New York Times in September 2020, Mary Hartnett, a law professor at Georgetown University who co-wrote the Ginsburg biography My Own Words, said Ginsburg believed "it would have been better to approach it under the equal protection clause" so Roe v. Wade would be less vulnerable to attempts to have it disbarred.
"Roe isn't really about the woman's choice, is it?" Ginsburg told the University of Chicago Law School in May 2013. "It's about the doctor's freedom to practice...it wasn't woman-centered, it was physician-centered."
Ginsburg also expressed concerns in the 1992 NYU lecture that the sweeping nature of Roe v. Wade should have originally focused on striking down a Texas law that "intolerably shackled a woman's autonomy" by only allowing abortion to be performed if the mother's life is in danger.
"Suppose the Court had stopped there, rightly declaring unconstitutional the most extreme brand of law in the nation, and had not gone on, as the Court did in Roe, to fashion a regime blanketing the subject, a set of rules that displaced virtually every state law then in force," Ginsburg said.
"Would there have been the twenty-year controversy we have witnessed, reflected most recently in the Supreme Court's splintered decision in Planned Parenthood v. Casey? A less encompassing Roe, one that merely struck down the extreme Texas law and went no further on that day, I believe and will summarize why [it] might have served to reduce rather than to fuel controversy."
If the draft opinion is confirmed and not changed, it would mean each state would be free to decide whether to restrict or ban abortion.
As noted by The Washington Post in August, a number of anti-abortion activists have since used Ginsburg's comments to argue that Roe v. Wade and Planned Parenthood v. Casey should be overturned.
"Far from bringing peace to the controversy over abortion, Roe and Casey have made matters worse," Mississippi Attorney General Lynn Fitch wrote in a brief attempting to pass a law that would ban virtually all abortions in the state after just 15 weeks while citing Ginsburg's own words.
Towards the end of her life, Ginsburg was criticized for not retiring from the Supreme Court so she could be replaced by a liberal judge under Barack Obama's presidency, ultimately helping to keep Roe v. Wade in place.
Speaking to The Post, Mary Ziegler, a law professor at Florida State University and author of Abortion and the Law in America: Roe v. Wade to the Present, suggested that the attempts to use Ginsburg's objections to oppose the 1973 ruling would never have occurred while the judge was still alive.
"Can you imagine the dissent she would write?" Ziegler added.
During her talk to the University of Chicago Law School in May 2013, Ginsburg was asked what she believed would happen if Roe v. Wade was overturned.
The judge added that several states in the U.S. would never ban the procedure, which means that poor women from anti-abortion states would be the ones who suffer the most.
"If you have the sophistication and the money, you're going to have someplace in the United States where your choice can be exercised in a safe manner," Ginsburg said. "It would mean poor women have no choice. That doesn't make sense as a policy."
Correction 05/04/2022, 6:55 a.m. ET: This article has been amended to correct Ruth Bader Ginsburg's name.