Salvador Ramos Asked Cousin for Details About School Before Texas Shooting
Salvador Ramos, who allegedly shot and killed 19 students and two teachers at a Uvalde, Texas, elementary school on Tuesday, asked his second cousin for details about the school one week earlier.
Ramos opened fire at Robb Elementary School in one of the deadliest school shootings in recent years. In the aftermath, many people have raised questions about what could have been done to prevent the shooting—with people looking back at what could have been red flags, assessing the response from law enforcement or considering changes to gun policy.
Ramos' cousin, Shelby Celeste Salazar, told the Daily Mail in an interview on Friday that just days before the shooting, Ramos reached out to her son, a third-grader at the school, to ask what time students were dismissed for lunch.
But at the time, she did not think too much of the question, she said.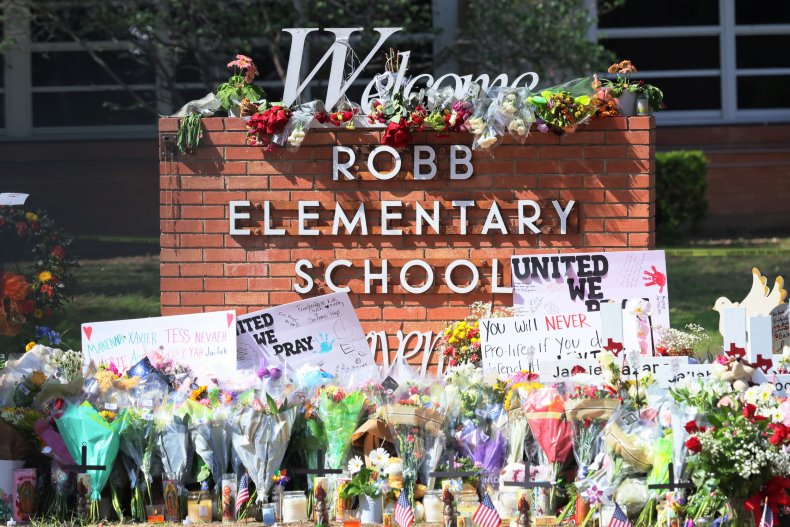 "I thought nothing of it when they were talking about school and his grade and lunch. I mean you don't just assume someone will do something like this, you know?" she said.
One week later, Salazar's son was in class when Ramos began opening fire, but did not suffer any injuries, she said.
"I don't know why he would have targeted an elementary school. I mean, he didn't know how to drive, so I really do not know. I'm at a total loss for words," she said. "He knew my baby went to school there. I can't grasp this...I just saw the news with text messages and started freaking out."
Salazar and her children were living with Ramos and his grandmother, Celia Gonzales, who Ramos allegedly shot before heading to the school, she told the Daily Mail. She said he had previously been kicked out of his mother's house.
Gonzales has been recovering from the shooting in a local hospital since Tuesday. Ramos was shot and killed by police, who managed to breach the classroom.
Following the shooting, some of Ramos' relatives have spoken out. His mother, Adriana Reyes said she was "surprised" by the shooting and that the two had a good relationship, despite him living with his grandmother.
"My son wasn't a violent person. I'm surprised by what he did," she told the Daily Mail. "I pray for those families. I'm praying for all of those innocent children, yes I am. They [the children] had no part in this."
Attention has also turned to the response of local law enforcement, who authorities said did not engage with Ramos out of concerns they would be shot, prompting widespread criticism that they did not do enough to prevent him from shooting his victims.