Bernie Sanders Slams Donald Trump in MLK Day Speech, Says the President 'Aggressively Attempted to Divide Us'
Senator Bernie Sanders strongly criticized President Donald Trump in a speech marking Martin Luther King Jr. Day that contrasted the president with the renowned civil rights activist.
"Today, we say to Donald Trump: We are not going back to more bigotry, discrimination and division," Sanders, an independent politician from Vermont, said during a rally for the National Association for the Advancement of Colored People (NAACP) in South Carolina on Monday, as The Hill first reported. "We are going forward, toward a nondiscriminatory society where, as Dr. King reminded us, we judge people not by the 'color of their skin, but by the content of their character.'"
Sanders accused Trump of failing to bring Americans together, arguing that the president has instead "purposely and aggressively attempted to divide us up by the color of our skin, by our gender, by our nationality, by our religion and by our sexual orientation."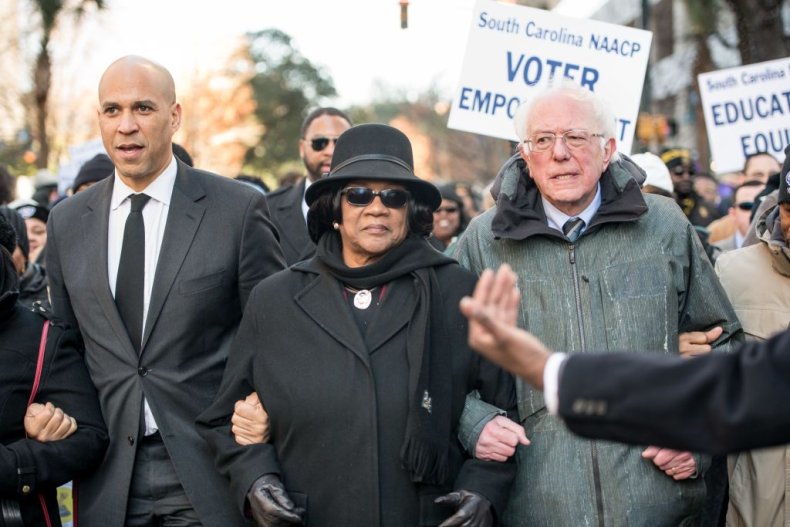 The progressive senator is expected by many supporters to run for president in 2020. He has been a regular critic of Trump since the 2016 presidential campaign, when he ran against former Secretary of State Hillary Clinton for the Democratic nomination.
Throughout his long political career, Sanders has remained a prominent progressive voice in Washington, championing social issues before they were accepted by the mainstream political establishment. During the civil rights era, he was active with the movement and was arrested while demonstrating alongside black Americans.
In his Monday remarks, Sanders also raised the issues of criminal justice reform, education and creating jobs. He took aim at Trump's proposal to build a border wall between the U.S. and Mexico, arguing that funds required for such an expensive project could be used instead to "put people in this country to work building the affordable housing we desperately need."
Former Vice President Joe Biden, who served under President Barack Obama, also attacked Trump in a speech at a breakfast to honor MLK hosted by the National Action Network. He argued that "forces of darkness" persist within the U.S., arguing "they have been deliberately reawakened again," Fox News reported.
Biden, who is also weighing a possible 2020 presidential run, then pointed to Trump's response following a 2017 white supremacist rally in Virginia that left one counterdemonstrator dead and dozens injured. Instead of condemning the protestors associated with the Ku Klux Klan and neo-Nazi groups, Trump insisted there were "very fine people on both sides."
"Having a president of the United States make a moral equivalence between those who are spreading the hate and those who are opposing it," Biden said, "no president since the Civil War has ever, ever, ever uttered words like that."
Prominent Democrats pointing to the clear distinction between Trump and MLK stand in contrast to Vice President Mike Pence, who on Sunday argued that the president was similar to the civil rights icon. His comments have been widely criticized and discredited by historians and activists. Princeton University professor Julian Zelizer told CNN on Monday morning that Trump's policies are actually "antithetical to absolutely everything Martin Luther King fought for."