A new poll showed that Sarah Palin has emerged as a favorite to win the race for an Alaska congressional seat days after former President Donald Trump endorsed her.
In the poll from Must Read Alaska, 31 percent of respondents said that they would vote for Palin. Al Gross, who has Democratic support but identifies himself as an independent, was not too far behind, with 26 percent of respondents saying they would vote for him.
Palin, who formerly served as governor of Alaska and was selected as the late Senator John McCain's running mate for the 2008 presidential election, announced her congressional bid at the beginning of the month. Trump's endorsement soon followed, setting her apart from other Republican hopefuls.
He described her in a statement as a "wonderful patriot" and a "true America First fighter.
"Sarah Palin is tough and smart and will never back down, and I am proud to give her my Complete and Total Endorsement, and encourage all Republicans to unite behind this wonderful person and her campaign to put America First!"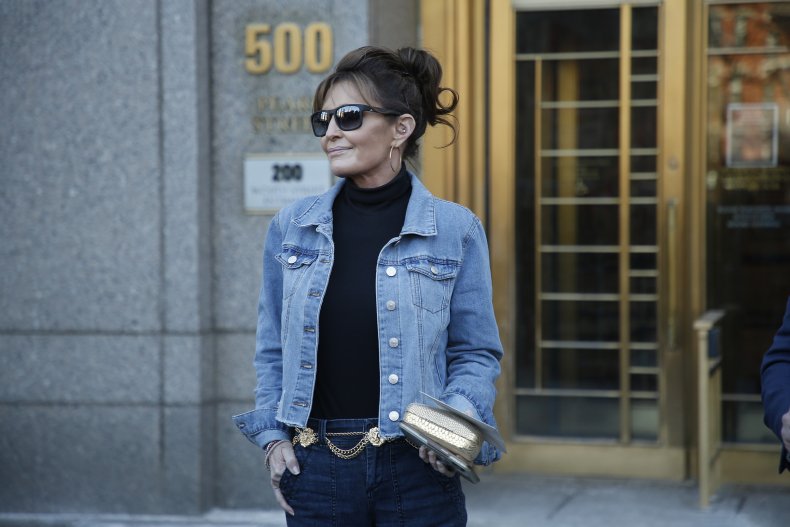 Trump's support for Palin appeared to be divisive among survey respondents as 29 percent said that they would be more likely to vote for Palin if they knew Trump supported her, 48 percent said they were less likely and 23 percent said it made no difference, Must Read Alaska reported.
The House seat opened with long-serving Republican Representative Don Young's sudden death last month.
When announcing her candidacy a couple weeks later, Palin described herself as a fighter against the "radical left" and said that America is "at a tipping point."
"As I've watched the far left destroy the country, I knew I had to step up and join the fight," she said in a statement.
She added that she entered the race to "win it and join the fight for freedom alongside other patriots willing to sacrifice all to save our country."
The Must Read Alaska poll results were formed by 955 people likely to vote in the 2022 primary. Palin was 10 percentage points ahead of fellow Republican candidate Nick Begich, who was selected by 21 percent of respondents.
Christopher Constant, Josh Revak and Tara Sweeney received much smaller shares of the votes. The candidate pool is actually much wider, but the survey included only those whose chances in the election were more feasible.
Just 4 percent said they would vote for a candidate who was not listed, and 6 percent said they were undecided.
Poll respondents were more divided on how they viewed Palin in comparison to Begich. For Palin, 37 percent said their opinion of her was favorable, 51 percent said it was unfavorable and 12 percent said they had no opinion.
For Begich, 28 percent said their opinion of him was favorable, 30 percent said it was unfavorable and 42 percent said they had no opinion, according to Must Read Alaska.
Newsweek reached out to Palin's team for comment.
Update 4/11/22, 4:06 p.m. ET: This story was updated with additional information and background.