Saudi Arabia has warned its citizens that spreading "fake news" is against the law, issuing a reminder of what kind of punishments were in store amid widespread rumors that the kingdom was behind the killing of a prominent critic abroad.
Saudi Arabia's Office of Public Prosecution, which regularly updates its Twitter account with notices about penalties for various offenses, tweeted Saturday about the consequences of "producing rumors or fake news that would affect the public order or public security or sending or resending it via social media or any technical means." Such a crime carries a sentence of "imprisonment for five years and a fine of 3 million riyals," which is about $799,455.
In addition, "producing, sending or disseminating information or images that offend the reputation of a person or institution, defame others and harm them in any way, through social media or any digital means" is punishable "by up to one year in prison and a fine of 500,000 riyals," around $133,242.
The messages came as Saudi Arabia attempted to crack down on growing speculation that it was involved in the disappearance of Jamal Khashoggi, a Saudi media commentator who fled the kingdom last year and was last seen entering Riyadh's consulate in Istanbul earlier this month.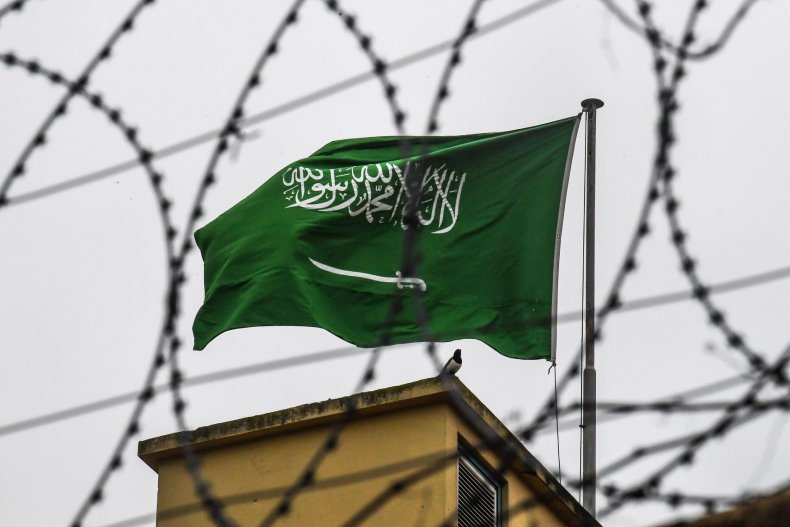 Khashoggi was allegedly seeking to finalize a divorce from his estranged wife back in Saudi Arabia when he entered the consulate on October 2. His Turkish fiancée, Hatice Cengiz, alerted local authorities when he failed to emerge. Turkish investigators released footage of Khashoggi walking in the building but claimed they could find no evidence of him leaving.
A number of Western outlets have quoted Turkish officials as saying they believe that Khashoggi was murdered in the consulate and then dismembered, with some sources going as far as to say they had video and audio proof that he was killed. Saudi Arabian officials, including King Salman and Crown Prince Mohammed bin Salman, have fiercely denied any connection to Khashoggi's vanishing, and Interior Minister Prince Abdulaziz bin Saud called the accusations "lies and baseless allegations."
Khashoggi often criticized the conservative Saudi government and Prince Mohammed, who has overseen purges of top officials and leads the country's war against the Zaidi Shiite Muslim Houthi rebel group in Yemen in his role as Riyadh's defense minister. Khashoggi's writings had been featured in major outlets such as The Washington Post, shining a negative light on the kingdom as Prince Mohammed attempted to improve its global standing with reforms at home.
Prince Mohammed said he would allow Turkish officials to search the consulate premises. However, what looked to be a cleaning crew was spotted entering the building Monday, prompting further suspicions.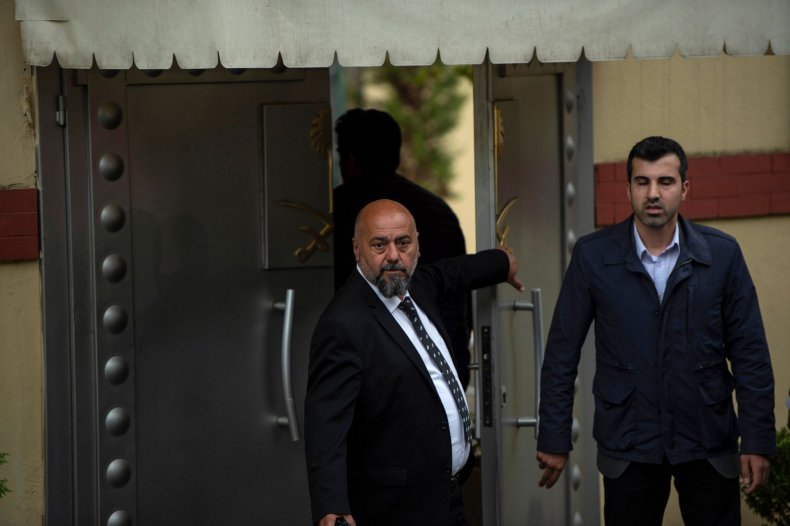 President Donald Trump, a close ally of the Saudi royal family, has said he would consider "severe punishment" against the kingdom should it be found responsible for the death of Khashoggi, who was a U.S. resident. However, he cautioned against canceling lucrative military contracts between the two countries as legislators called for tougher measures. Trump also suggested Monday that "rogue killers" might have been responsible for Khashoggi's alleged demise, rather than the Saudi government.
In a tweet published that same day, Trump said he had spoken with King Salman, "who denies any knowledge of whatever may have happened 'to our Saudi Arabian citizen'" and was "working closely with Turkey to find answer." The Republican leader said he was "immediately sending" Secretary of State Mike Pompeo "to meet the King."
The Trump administration has neither appointed nor nominated an ambassador to Saudi Arabia, and the president often relies on his son-in-law and senior adviser Jared Kushner to handle affairs related to Riyadh.