Saudi Crown Prince Depicted Holding Chainsaw in Posters As Arab Journalists Protest First Trip Since Khashoggi's Killing
Saudi Arabian Crown Prince Mohammed bin Salman has faced a backlash from Tunisian and Egyptian journalists and activists protesting the monarch's visit to their countries, in the wake of his alleged role in the killing of fellow journalist Jamal Khashoggi last month.
Prince Mohammed was set to land Tuesday in the Tunisian capital of Tunis, where a large banner hanging Monday from the Tunisian National Journalists Syndicate building depicted the royal holding a chainsaw with a message reading "No to the desecration of the revolutionary land of Tunisia." The Saudi leader, once hailed in the West as a reformer, has been widely accused of ordering the murder of Khashoggi, a critic who fled the kingdom before being slain and dismembered within Riyadh's consulate in Istanbul, Turkey.
The Saudi government and royal family have conceded that the kingdom's agents were behind the killing, but they have denied that the crown prince had any role in the operation and instead sought the death penalty for some of those allegedly involved. Still, Prince Mohammed's first trip abroad since the affair went down last month has been met with some opposition.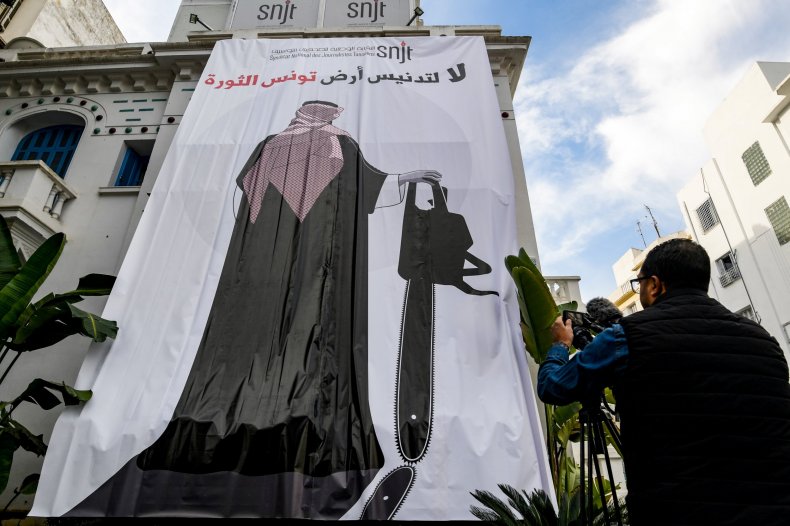 While Prince Mohammed started his tour with staunch allies the United Arab Emirates and Bahrain, he then went to Egypt, where his reception was more mixed. Egyptian President Abdel Fateh al-Sissi has presented himself as a close partner to Saudi Arabia, but this relationship has at times proved controversial at home, especially after the military leader handed over two Red Sea islands to the kingdom, apparently as part of the fulfillment of a decades-old military agreement.
The liberal Egyptian opposition bloc Civil Democratic Movement issued a statement saying that Prince Mohammed was "not welcome" in the country, according to Al Jazeera. Dozens of Egyptian journalists signed a joint statement condemning the monarch as "the primary suspect in the murder of Khashoggi," according to Middle East Eye.
Resistance was even more pronounced in Tunisia, where the so-called Arab Spring movement of regional protests began in late 2010 before spreading across North Africa and parts of the Middle East, leading to the ousting of Tunisian President Zine El Abidine Ben Ali and Egyptian President Hosni Mubarak early the following year. Saudi Arabia, which largely put down protests at home, granted asylum to Ali and went on to support insurgencies in Libya and Syria.
"We will take a stand against this visit using all forms of protest," Sakina Abdel Samad, a member of the Tunisian National Journalists Syndicate, said at a press conference Monday alongside 11 other civil society groups, according to Bloomberg News.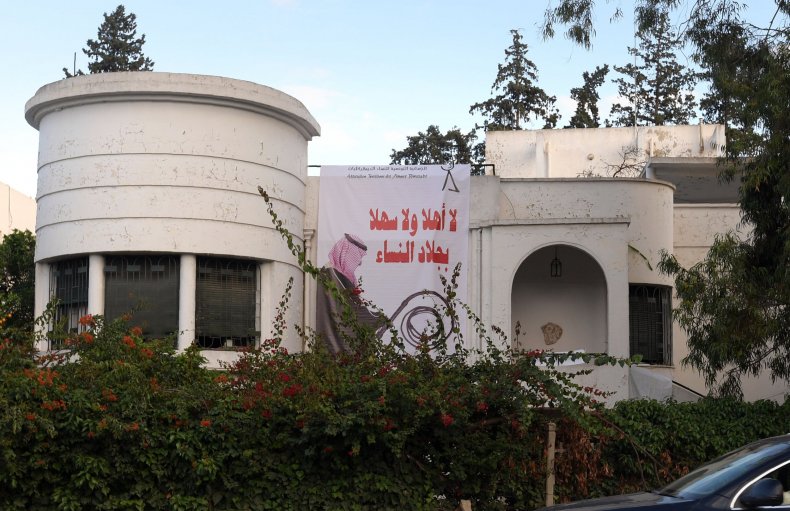 Other signs branded Prince Mohammed a "war criminal" over his role overseeing the Saudi-led war against the Zaidi Shiite Muslim rebel group known as Ansar Allah, or the Houthis, in Yemen, where the kingdom has been increasingly accused of killing scores of civilians. Tunisia's Democratic Women Association hung a banner featuring Prince Mohammed with a whip and words stating that "the torturer of women" was "not welcome," a reference to Saudi Arabia's troubled human rights history at home.
One group calling itself the "Youth Against the Visit of Mohammed bin Salman to Tunisia" issued a social media call for a protest Monday on Avenue Habib Bourguiba "out of our belief in the solidarity with peoples against oppression and dictatorship."
Back in the United States, however, President Donald Trump has defended Saudi Arabia and Prince Mohammed, despite the fact that "it could very well be that the Crown Prince had knowledge of this tragic event" of Khashoggi's death. Trump argued Tuesday that the U.S. military relationship with Saudi Arabia, the kingdom's role as a leader in the global energy markets and its shared interest in isolating Iran made it a necessary partner.