U.S. Does Not Need Saudi Arabia Military Sales As Much As Donald Trump Says, Reports Show
Reducing U.S. military sales to Saudi Arabia would have a relatively minor effect on the defense industry, whose gains from such transactions have been exaggerated by President Donald Trump, according to recent reports.
Analysts at Cowen Research, a division of the U.K.-based Cowen, Inc. financial services firm, have found that the impact in the U.S. of cutting military assistance to Saudi Arabia "would be limited in duration and scope, and big-ticket buys of missile defense systems would not be impacted," as CNBC reported Monday.
The report came as Trump faced pressure to penalize the kingdom due to its involvement in the killing of Jamal Khashoggi, a local journalist who fled his country only to be killed in Riyadh's consulate in Istanbul, and the controversial war it has led against a Zaidi Shiite Muslim rebel group, known as Ansar Allah or the Houthis, in Yemen. As the backlash against Saudi Arabia grows, a number of European countries have already begun to scale back their relations with the kingdom and its de facto leader Crown Prince Mohammed bin Salman.
Trump has defended his close relationship with Saudi Arabia due to its position as the top U.S. weapons exports partner, but Cowen Research found that even the defense firms most heavily invested in Saudi Arabia would likely stand to lose little should Washington take action.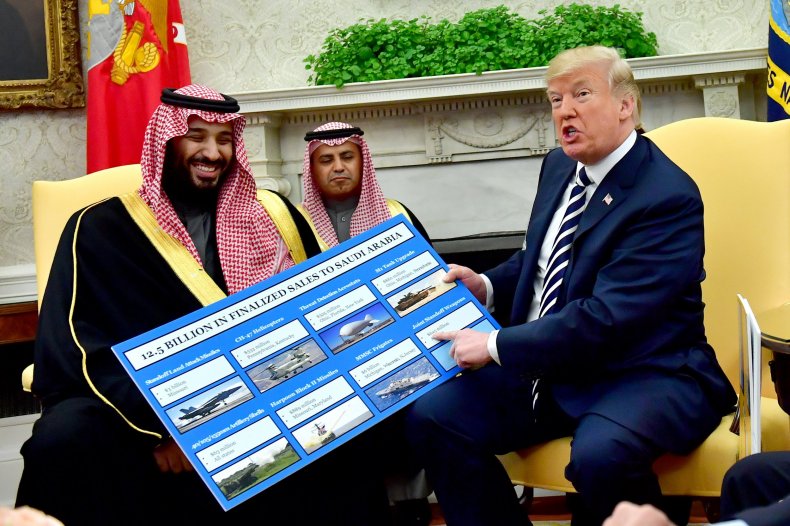 The president responded Tuesday to criticism of ongoing U.S. support for Riyadh by issuing a statement in which he proclaimed he was "standing with Saudi Arabia," despite the fact that "it could very well be that the Crown Prince had knowledge of this tragic event" of Khashoggi's killing. Even if this were the case, he argued that "our relationship is with the Kingdom of Saudi Arabia," an ally in their shared fight against Iran, which he devoted much of the statement to condemning.
Trump also repeated his claim that "the Kingdom agreed to spend and invest $450 billion in the United States" during his trip there last year, calling this "a record amount of money" that "will create hundreds of thousands of jobs, tremendous economic development, and much additional wealth for the United States." He also claimed that $110 billion of this "will be spent on the purchase of military equipment from Boeing, Lockheed Martin, Raytheon and many other great U.S. defense contractors," arguing that canceling such a deal would benefit Russia and China.
Cowen Research's findings detailed how canceling certain deals with Saudi Arabia would actually affect some of the biggest U.S. defense firms. Lockheed Martin—which has the biggest exposure to the kingdom with potential sales of the Terminal High Altitude Area Defense (THAAD) system as well as Patriot Advanced Capability-3 missiles, Black Hawk helicopters, munitions, C-130 aircraft and littoral combat ships on the line—would only see a loss of about 1.5 percent in its projected revenue in 2019.
Raytheon, which primarily sells defensive equipment that was said to be unlikely opposed by potential congressional restrictions, faced about $500 million, or less than 2 percent, of its revenue in at-risk items, which were mostly munitions and missiles. Boeing, which was set to sell some $1.7 billion worth in equipment—including F-15 jets, Chinook and Apache helicopters—would only see a loss of about 1.5 percent of its total sales.
As for Trump's figures on U.S.-Saudi deals, they have been disputed by a number of experts. On the same day that Trump released his statement justifying his ongoing support for Saudi Arabia, the Washington-based Centre for International Policy published a report challenging Trump's $110 billion deal claim as "wildly exaggerated."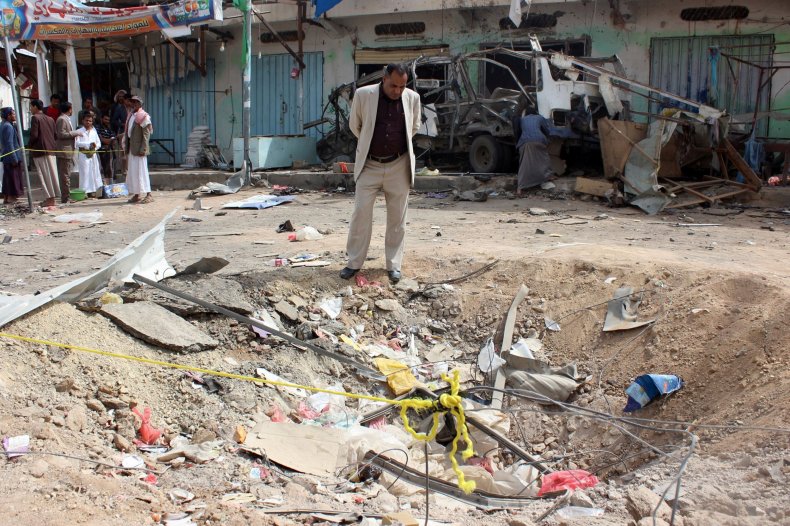 "The White House has issued a list of deals adding up to $110 billion, but most of them were either notified to Congress during the Obama administration, or are projections far into the future of potential sales that are unlikely to ever occur," the report, authored by expert William Hartung, found. "In hard numbers, the State Department estimates that the Saudi regime has signed $14.5 billion in letters of offer and acceptance (LOA's) for new weaponry and support equipment since President Trump took office."
Such letters were not signed contracts, the report noted. While Hartung conceded that mapping out the exact number of jobs such arrangements would create was a difficult endeavor, he came up with a figure also drastically lower than the one provided by the president.
"If we take a generous approach and include all jobs created in direct assembly and production of components, along with the jobs induced by the spending of wages by workers employed in assembly or component production, the $2.5bn in annual arms deliveries to Saudi Arabia would create 17,500 jobs in any given year," the report found, adding that even 40,000 jobs "would equal less than three one-hundredths of one percent of the total U.S. labor force of over 160 million people."
Coincidentally, 40,000 jobs—the figure initially cited by Trump in his meeting last year with Crown Prince Mohammed—was the same number of U.S. jobs lost due to a drop in tourism to the country since Trump took office, according to a report published in January by the Commerce Department's Bureau of Economic Analysis.