President Donald Trump has released a statement bashing Iran and defending Saudi Arabia in response to mounting domestic pressure to blame the kingdom for its role in journalist Jamal Khashoggi's murder.
Trump's statement, titled "Statement from President Donald J. Trump on Standing with Saudi Arabia" and released Tuesday by the White House, began by noting, "The world is a dangerous place!" and blamed Iran for its role in "a bloody proxy war against Saudi Arabia in Yemen, trying to destabilize Iraq's fragile attempt at democracy, supporting the terror group Hezbollah in Lebanon, propping up dictator Bashar Assad in Syria (who has killed millions of his own citizens), and much more."
The president argued that Iran has "killed many Americans and other innocent people throughout the Middle East" and "states openly, and with great force, 'Death to America!' and 'Death to Israel!'" Trump said, "Iran is considered 'the world's leading sponsor of terror,'" a title ascribed to it by Washington.
In contrast, Trump claimed that Saudi Arabia "would gladly withdraw from Yemen if the Iranians would agree to leave" and "would immediately provide desperately needed humanitarian assistance." He also noted that Riyadh "has agreed to spend billions of dollars in leading the fight against Radical Islamic Terrorism."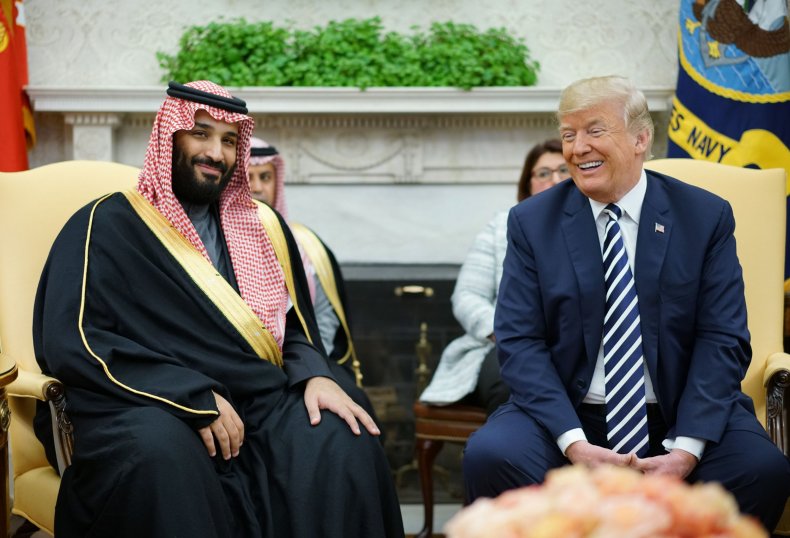 Revolutionary Shiite Muslim Iran has denied providing the Zaidi Shiite Muslim rebel group known as Ansar Allah, or the Houthis, with military assistance, but Iran and the rebels are politically aligned against the conservative Sunni Muslim kingdom of Saudi Arabi. This has led a three-and-a-half-year war against the insurgents in Yemen. The conflict has garnered international criticism for Saudi Arabia due to widespread allegations of war crimes.
Riyadh's latest scandal, however, involved the death of Khashoggi, who fled the kingdom last year and went on to criticize the government in prominent news outlets abroad. He was killed in October by Saudi agents in the kingdom's consulate in Istanbul. Though Saudi Arabia initially denied any involvement, it later conceded that its officials were responsible and has sought to sentence five of them to death.
Saudi Arabia has continued to argue, however, that Saudi Crown Prince Mohammed bin Salman had no role in ordering the killing, something that the CIA is preparing to dispute, according to U.S. officials cited by numerous outlets, including The New York Times, The Washington Post and Reuters. Trump himself has publicly considered that the young royal who is charged with running the kingdom may have been behind the murder, but he appeared to doubt this in Tuesday's statement, which cited Saudi Arabian accounts of the slain writer being connected to a banned Islamist organization.
"Representatives of Saudi Arabia say that Jamal Khashoggi was an 'enemy of the state' and a member of the Muslim Brotherhood, but my decision is in no way based on that—this is an unacceptable and horrible crime. King Salman and Crown Prince Mohammad bin Salman vigorously deny any knowledge of the planning or execution of the murder of Mr. Khashoggi," Trump wrote.
"Our intelligence agencies continue to assess all information, but it could very well be that the Crown Prince had knowledge of this tragic event—maybe he did and maybe he didn't!" he added.
Despite the ongoing U.S. investigation into the case, Trump said, "We may never know all of the facts surrounding the murder of Mr. Jamal Khashoggi." He followed, "In any case, our relationship is with the Kingdom of Saudi Arabia."
"They have been a great ally in our very important fight against Iran. The United States intends to remain a steadfast partner of Saudi Arabia to ensure the interests of our country, Israel and all other partners in the region. It is our paramount goal to fully eliminate the threat of terrorism throughout the world!" Trump wrote.
The Republican leader finally noted that members of Congress were pushing him to punish Saudi Arabia, but he argued that he would only accept congressional proposals that "are consistent with the absolute security and safety of America."
"After the United States, Saudi Arabia is the largest oil producing nation in the world," Trump's statement concluded. "They have worked closely with us and have been very responsive to my requests to keeping oil prices at reasonable levels—so important for the world. As President of the United States I intend to ensure that, in a very dangerous world, America is pursuing its national interests and vigorously contesting countries that wish to do us harm. Very simply it is called America First!"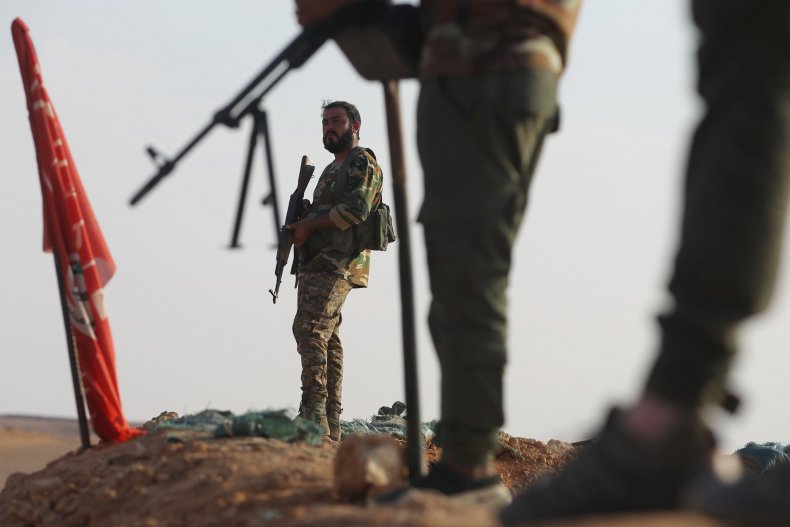 Trump's ongoing support for Saudi Arabia, which came in spite of European efforts to cut ties to the kingdom, coincides with a transatlantic dispute over his decision to abandon a 2015 nuclear deal with Iran. Trump pulled the U.S. out of the agreement in May, reimposing sanctions against Tehran despite its adherence to the accord, which was also signed by China, France, Germany, Russia and the United Kingdom.
These powers have entered into negotiations to salvage the deal, which the Trump administration has argued enabled Iran to divert billions of dollars in unfrozen assets toward supporting militant groups abroad. Iran has mobilized paramilitary organizations in support of local government forces combatting the Islamic State militant group, or ISIS, in Iraq and a rebel and jihadi uprising in Syria, where ISIS was also present.
The U.S. has sided with the Iraqi government against Al-Qaeda since overthrowing Saddam Hussein in 2003 and—​along with Saudi Arabia and other regional allies—helped support insurgents trying to oust Assad since 2011, both in response to allegations of war crimes by the respective leaders. Since 2014, however, the U.S. has devoted efforts to battling ISIS in both countries and has compared Iran-sponsored Shiite Muslim forces there to the global Sunni Muslim militant network they both were fighting.
Though the Pentagon's stated role in Syria officially remained limiting to defeating ISIS, Washington has said the U.S. military would not leave Syria until Iranian and pro-Iran groups were expelled.
On Thursday, James Jeffrey, the State Department's special representative for Syria engagement, warned that Iran "will create a new Daesh if we don't get at the underlying problem," referring to an Arabic acronym for ISIS. In tackling Iran, Jeffrey said, "we have no better partner" than Saudi Arabia.