President Donald Trump's town hall on Thursday was followed by a spike in people searching for host Savannah Guthrie on Google alongside shocking and derogatory terms including "c****," as well as tweets calling her a "b****."
The event was broadcast on NBC and moderated by the Today co-anchor after Trump refused to debate democratic presidential hopeful Joe Biden virtually, following the president's COVID-19 diagnosis last week.
Guthrie's tough approach to the proceedings drew both criticism and praise from viewers. She pushed the president on topics including his retweeting of an unfounded conspiracy theory that Osama bin Laden's killing was a hoax, as well as his taxes, and knowledge of the far-right QAnon conspiracy theory whose followers believe he is working to save the world from a satanic cult.
Some viewers angered by Guthrie took to Twitter to vent their frustration, using the demeaning term "b****." This came amid a rise in Google searches related to Savannah Guthrie in the past day featuring gender language, including "Savannah Guthrie b****," Savannah Guthrie is a b****," and "Savannah Guthrie is a c***." The search terms were highlighted by Google Trends, a website that gathers data on words being used by its users.
In contrast, search terms in the past day used for George Stephanopoulos, the host of Biden's ABC town hall on Thursday, related to questions about his political affiliation. After the presidential debate held on September 29, for which host Fox News host Chris Wallace was criticized for letting the candidates repeatedly interrupt each other, searches appeared critical but not as violent as those related to Guthrie. They included "Chris Wallace sucks" and "fire Chris Wallace." Similarly to searches related to Stephanopoulos, users wanted to know what political party Wallace supports.
A similar pattern emerged after last week's vice presidential debate between Senator Kamala Harris and Vice President Mike Pence, when top searches alongside her name included words that objectified her, such as "nude." The top related for Pence, meanwhile, were associated with a meme, his net worth, and political track record.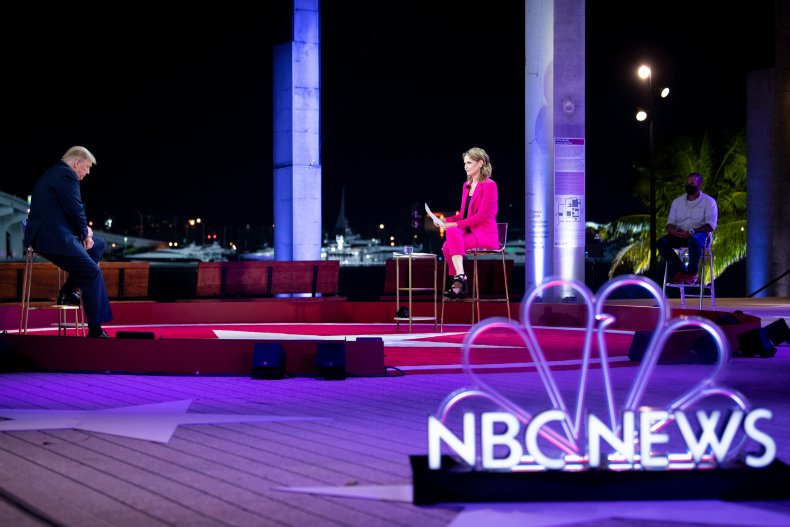 Sylvia Shaw, senior lecturer in English Language and Linguistics at the U.K.'s University of Westminster told Newsweek via email she believes people used search terms such as "b****," and "c***" in order to seek out similar or more extreme denigrations of Guthrie. "I suppose this is part of the febrile political polarization in the run-up to the U.S. election right now—with a sexist twist!"
Asked whether words such as "b****" and "c***" are used to attack high profile women who are perceived to be assertive, Shaw said some see it as a problem when women enact authority in the public sphere because doing so is "traditionally and stereotypically associated with men."
Shaw, the author of Women, Language and Politics, said: "Assertive men tend to be praised for their performances, but assertive women are always criticized."
This leads to "double-binds" for women when they are expected to act with authority, as Guthrie was as the moderator of the town hall, according to Shaw. "If they are assertive this is seen as being 'too much' and negative evaluations follow, but if they are not assertive they are seen as incompetent and weak (further aspects of gender stereotyping that they must avoid)," she said.
Of course men in the public sphere also phase criticism. But they are denigrated differently, said Shaw, with women often subjected to explicit sexual references "which serve to position them into a servile sexual and/or domestic space." She gave the example of a heckler who demanded Hillary Clinton iron his shirt in 2008.
"Anecdotally, women MPs [members of parliament in the U.K.] I have interviewed tell me that young women often say to them that they'd never go into politics because of the hostile media coverage and publicity that they get," she said.
Deborah Cameron, professor of language and communication at the University of Oxford, U.K., told Newsweek she also sees attacks on Guthrie as stemming from "the extreme polarization of current U.S. politics." She said she believes a male questioner who had behaved in the same way would have been similarly attacked using insulting or abusive language, but different terms. This would have likely been reflected in the language against a host if they were if the host had been Black, Latinx, disabled, gay, she said.
"Guthrie's critics were able to weaponize sexism and sexist language because she's a woman, but I don't think their anger was really about​ her being a woman, it was primarily because she made Trump look bad rather than good," said Cameron.
Research suggests that hostile sexism motivates some Trump supporters, Jennifer M. Piscopo, associate professor of politics at Occidental College, told Newsweek, pointing to a study published in the journal Group Processes and Intergroup Relations. "Trump himself has a history of reacting poorly to being pressed on the issues by women," she said, using the example of a 2015 interview with Megyn Kelly. She said it was therefore not surprising Guthrie was attacked and viewed in this way.
Newsweek has contacted the White House for comment.
"Yet to be honest, as a woman journalist, for Guthrie this is likely not new—one study estimated that prominent women journalists receive 200 abusive tweets a day," said Piscopo. "In this election alone, Guthrie is the latest in a long line of women to be abused on-line and to have abusive and embarrassing searches done about her person, from Kamala Harris to Gretchen Whitmer."
David McGuire, a researcher of human resource development at the U.K.'s Glasgow Caledonian University, has studied the use of gendered language in the speeches of Trump and Clinton during the 2016 presidential election. He told Newsweek: "The spike in offensive searches on Google in relation to Savannah Guthrie highlights the continued objectification of women in public life."
About the writer
Kashmira Gander is Deputy Science Editor at Newsweek. Her interests include health, gender, LGBTQIA+ issues, human rights, subcultures, music, and lifestyle. Her work has also been published in the The Independent, The Independent on Sunday, The i Newspaper, the London Evening Standard and International Business Times UK.