Schumer Urges Opposition to Gorsuch for Supreme Court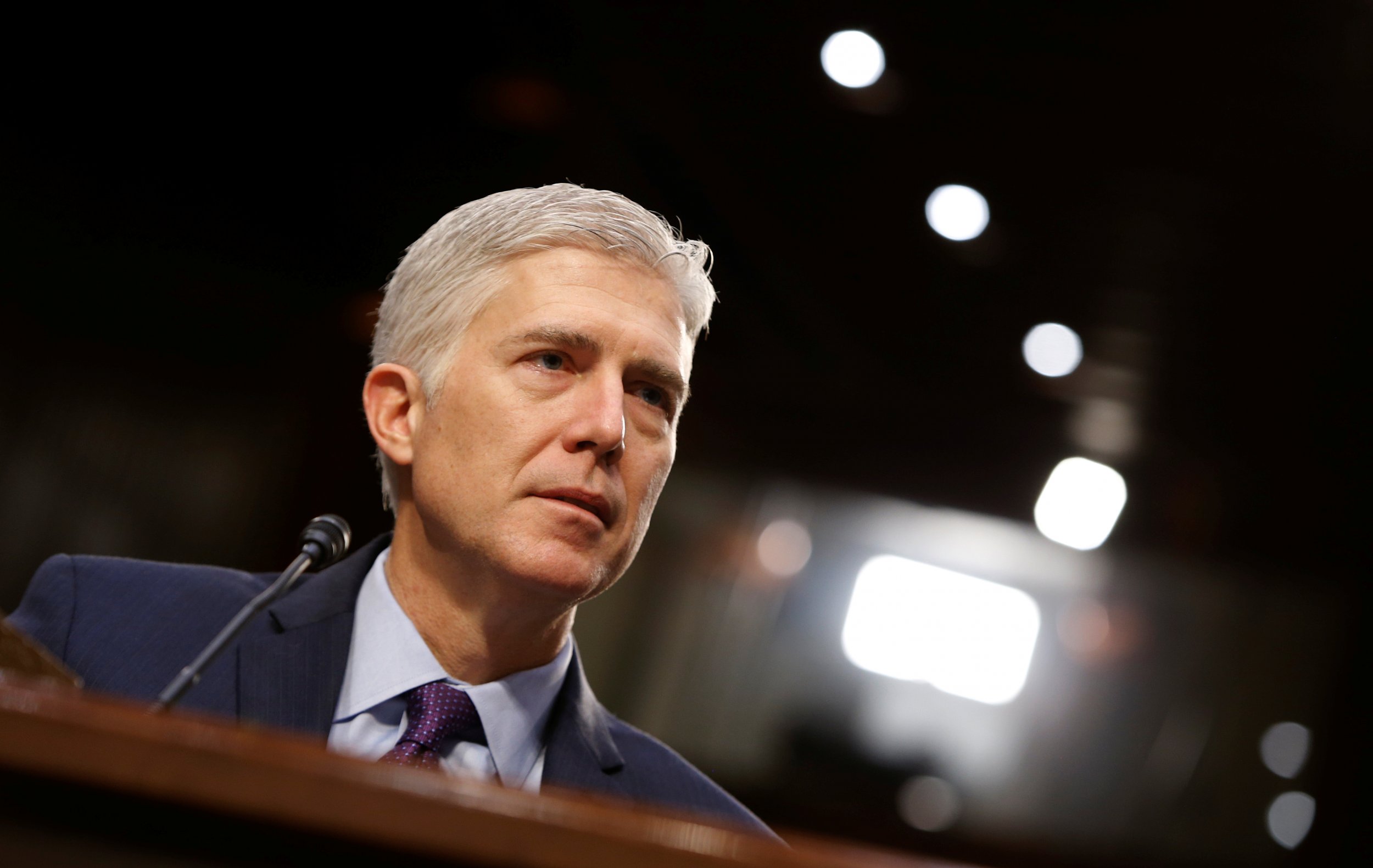 Chuck Schumer, the Senate's leading Democrat, on Thursday vowed to oppose President Donald Trump's Supreme Court nominee, Neil Gorsuch, arguing the judge didn't convince him during hearings that he'd be an independent check on the current White House. His comments came after Gorsuch completed about 20 hours of testimony before the Senate Judiciary Committee on Capitol Hill this week.
Related: Why the NRA is betting big on Neil Gorsuch
"I cannot support Judge Neil Gorsuch's nomination to the Supreme Court. His nomination will have a cloture vote, he will have to earn 60 votes for confirmation. My vote will be 'no.' And I urge my colleagues to do the same," Schumer said on the Senate floor Thursday morning.
He added: "To my Republican friends who think that if Judge Gorsuch fails to reach 60 votes we ought to change the rules I say: If this nominee cannot earn 60 votes, a bar met by each of President Obama's nominees, and President Bush's last two nominees, the answer isn't to change the rules—it's to change the nominee."
Gorsuch told committee senators that he would be independent from Trump, and mentioned being offended by Trump's attacks on federal judges who ruled in cases related to his business. "When anyone criticizes the honesty or the integrity or the motives of a federal judge, I find that disheartening. I find that demoralizing," he said.
Before Trump nominated Gorsuch in January, Schumer had repeatedly warned that he would filibuster, or block, any nominee who was outside of the mainstream and didn't appeal to both Democrats and Republicans. Democrats are still fuming after President Barack Obama's Supreme Court nominee, Judge Merrick Garland, didn't get a hearing throughout 2016. Republicans denied Garland a hearing because they argued the seat once held by the late Justice Antonin Scalia shouldn't be filled in a presidential election year. Many Democrats still view the replacement seat as one stolen from Obama.
If Democrats filibuster, the majority Republicans—at Trump's urging—have threatened to invoke the nuclear option, which would lower the number of votes needed to confirm Gorsuch to a simple majority. A Supreme Court seat is a lifetime appointment.
Earlier Thursday, Politico reported that a number of Senate Democrats are looking to strike a deal with the GOP in return for allowing Gorsuch to be confirmed—namely that Republicans wouldn't move to kill a filibuster for the next possible Supreme Court vacancy under Trump, who could significantly alter the balance of the court. As Schumer said in his floor speech Thursday, the Senate's decision "will echo through the lifetime tenure of that Judge—through a generation of Americans." During his term, the 45th president could also have other opportunities related to the Supreme Court, as three sitting justices are in their late 70s and early 80s, as well as to nominate hundreds of federal judges.
The likely confirmation of Gorsuch, who much like Scalia is considered a strict originalist, would only restore the Scalia-era balance to the nine-justice court. But Trump, who lost the popular vote in the November election, stands to have influence over the country's judicial branch and the rulings it will make for decades to come, including on some of the most controversial issues, such as gun rights, abortion, voter laws and religious liberty.
Gorsuch has not written extensively on some of the most controversial issues facing the top court, and Democrats this week tried to pin him down, but mostly to no avail. Throughout the four-day hearings, Democrats criticized his ruling against a truck driver whose employer fired him for fleeing his vehicle to avoid freezing to death. "It is absurd," Representative Al Franken (D-Minn.) said on the second day of hearings Tuesday, "to say this company is in its rights to fire him because he made the choice of possibly dying from freezing to death or causing other people to die possibly by driving an unsafe vehicle."
Speaking to Gorsuch, he added, "It makes me question your judgment."
Among other issues, Democrats scrutinized his past opinions in cases involving children with disabilities and their quality of education. As the debate was taking place Wednesday, all eight of the Supreme Court justices sided with a special-needs Colorado student, saying public schools may have to pay disabled students' costs for private education if the public system is inadequate for a child's needs. Their ruling struck down Gorsuch's earlier decision from the 10th Circuit Court of Appeals in Denver. Gorsuch defended his opinion, saying he and the other judges on the court followed previous legal rulings in their decision.
By Wednesday, Democrats seemingly acknowledged the likelihood of Gorsuch's confirmation, as many of them shifted to arguing for certain issues.
Thursday marked the fourth and final day of the hearing. The committee is expected to vote on Gorsuch on April 3, and then the nomination will head to the full Senate.