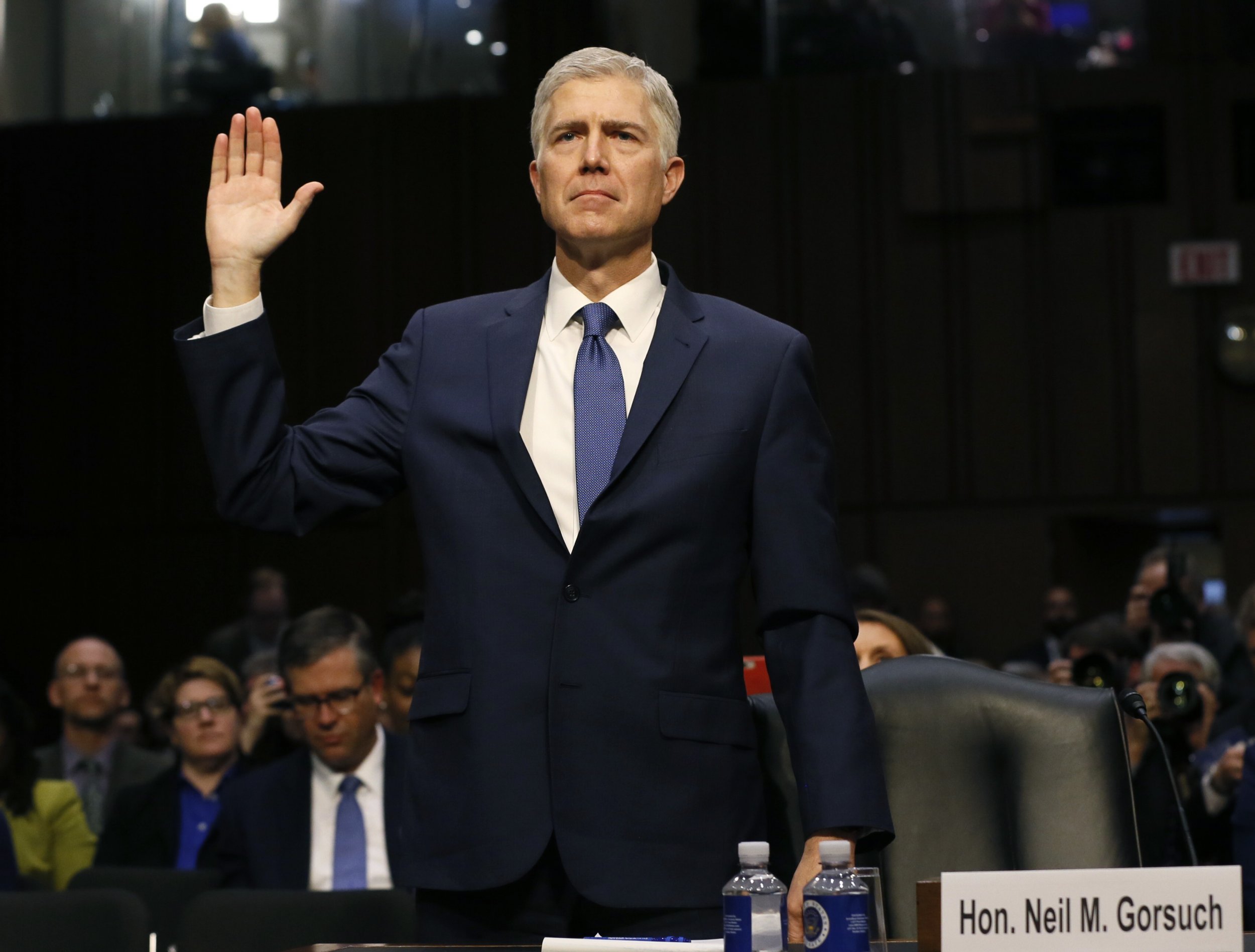 Opening day was Monday for the Senate confirmation hearing of federal Judge Neil Gorsuch, President Donald Trump's pick to replace the late Justice Antonin Scalia on the U.S. Supreme Court. Much like Scalia, the Colorado-based Gorsuch is known for his consistent conservatism and strict originalist interpretation of the Constitution. That includes the Second Amendment, and gun groups have given Gorsuch a strong endorsement: The National Rifle Association has described the judge as an "outstanding choice," and its leader, Wayne LaPierre, joined Trump to plan for Gorsuch's confirmation a day after the nomination.
Related: Neil Gorsuch's SCOTUS nomination: What now?
Two months after he took the oath of office, this is arguably Trump's biggest week as president, with the Gorsuch hearing taking place at the same time as FBI Director James Comey testifies about his agency's investigation into possible Russian interference in the U.S. election. Trump nominated Gorsuch less than two weeks into his presidency, and predicted the 49-year-old judge with the 10th Circuit Court of Appeals would be "approved very, very quickly" to fill the seat left open after Scalia's unexpected death in February 2016.
If confirmed, Gorsuch is expected to restore the Scalia-era balance to the nine-justice court: five conservative and four liberal justices. The court, which has the final word on hundreds of issues that affect Americans daily, is currently divided between four conservatives and four liberals. The NRA Freedom Action Foundation is just one organization working to shift that divide, airing a nearly $1 million advertising campaign across the country emphasizing the Supreme Court's impact on the Second Amendment. The group's 30-second spot, about which McClatchy reported last week, references the strict opposition to gun rights of four sitting justices, Ruth Bader Ginsburg, Stephen Breyer, Sonia Sotomayor and Elena Kagan.
In its landmark decision in District of Columbia vs. Heller almost a decade ago, the Supreme Court recognized an individual's right to keep guns at home for self-defense; Scalia wrote that opinion. Since then, the justices have declined to review dozens of cases that could have impinged upon gun rights. If confirmed, Gorsuch would be the youngest justice, meaning he could have many years to shape the high court—and he could work to shift the balance on the issue. Some view him as the possible tie-breaking vote.
In opening remarks at the Senate Judiciary Committee hearing on Monday morning, the committee's ranking member, Senator Dianne Feinstein (D-Calif.), noted that it's the Supreme Court's role to decide whether the NRA and other organizations "will be able to block commonsense gun regulations, including those that keep military-style assault weapons off our streets." Gorsuch has not written extensively on some of the most controversial issues facing the top court, including gun rights, but in 2012, he wrote that "the Second Amendment protects an individual's right to own firearms and may not be infringed lightly."
In one case, Gorsuch sided with a Colorado police department after an officer killed a 22-year-old man with his stun gun in 2006. He ruled the officer didn't use excessive force. Gorsuch also argued in favor of a convicted felon, who appealed his conviction for possessing a gun and said he shouldn't be held accountable because he didn't know he was considered a felon.
Gorsuch also once decided a case based on procedural grounds rather than acknowledge that convicted domestic abusers don't enjoy the same gun rights as law-abiding citizens, the Law Center to Prevent Gun Violence said. That is a view generally shared by conservatives.
Advocates of stronger gun laws fear Gorsuch's confirmation in what could be a pro-gun Trump era. The president took his first significant step on behalf of gun rights advocates just more than a month into his administration, when he signed off on the repeal of an Obama-era regulation that prevented certain Social Security recipients with mental health conditions from buying guns. And Trump's interior secretary, Ryan Zinke, on his first day in office rescinded a ban on lead-based ammunition and fishing tackle.
Related: Gorsuch'​s late mother almost annihilated the EPA
Gorsuch is a Denver native and has degrees from the University of Oxford, Harvard Law School and Columbia University. He began his legal career in the early 1990s, as a law clerk to Supreme Court Justices Byron White and Anthony Kennedy. He is married, has two daughters and lives in Boulder, where he is an adjunct law professor at the University of Colorado.
If his nomination passes through the Senate Judiciary Committee, it would then move to the full U.S. Senate for a vote. Sixty votes are needed to confirm Gorsuch.
First, he has to testify in front of senators who are looking to pin down his judicial philosophy on a variety of issues. Democrats are expected to grill Gorsuch on Trump's so-called travel ban and his willingness to stand up to the president. Senator Richard Blumenthal (D-Conn.), for example, has threatened to filibuster if Gorsuch doesn't sufficiently answer his questions. Still, we likely won't hear much substance from Gorsuch: Supporters say he probably won't be argumentative because he doesn't have controversial rulings that he needs to defend.
If Democrats filibuster, the majority Republicans at Trump's urging have threatened to invoke the nuclear option, which would lower the number of votes needed to confirm Gorsuch, to a simple majority. Democrats are still fuming after President Barack Obama's Supreme Court nominee, Judge Merrick Garland, didn't get a hearing during his last year as president. Many view the Scalia replacement seat as one stolen from Obama, while Republicans argued that the seat shouldn't be filled in a presidential election year. What's more, the NRA opposed Garland's confirmation.
Since Gorsuch's nomination in January, the NRA isn't the only special interest group to air ads in support of—and in opposition to—Gorsuch. The Judicial Crisis Network, for example, in a minute-long spot titled "The Ginsburg Rule," highlights the Supreme Court justice's refusal to answer questions during her own confirmation hearing in 1993.
Senator Chuck Grassley (R-Iowa), who chairs the Senate Judiciary Committee, said the Gorsuch committee vote will take place on April 3.