Scosche FlyTunes Adds Bluetooth to Any Device With a Headphone Jack
Whether you prefer the window or aisle on a plane, at some point you've probably attempted to get up from your seat, only to be jerked back by the wired headset you forgot to remove that was still plugged into your armrest. Or maybe it was the clumsy person next to you in your row, delaying your trip to the lav for what may have been a crucial extra 10 seconds.
Scosche's FlyTunes lets you ditch that archaic cord—which may have been unintentionally wrapped under your seatbelt and over the blanket—without asking you to sacrifice your in-flight entertainment. Even better, plugging this device into your armrest allows you and a buddy to each stream the same movie, show or music in stereo to two different sets of headphones, instead of having to awkwardly split one between the two of you.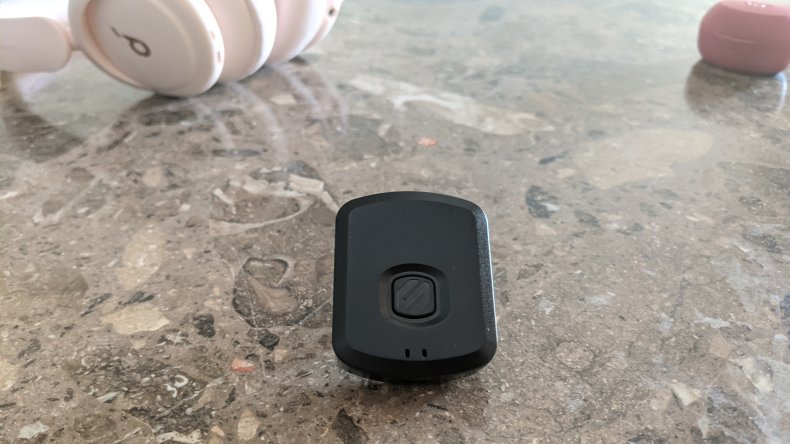 One Button, No Menus
As promised, using the device was easy. After fully charging it, I pressed the multifunction button to put it into pairing mode, put my headphones into their pairing mode, held the device and headphones fairly near each other and they automatically paired. Hey, we live in a world with such quick pairing options as NFC, Android Fast Pair and the infamous iPhone-AirPods love connection. So my patience is thin for having to pair stuff through the antiquated process of turning on my phone's Bluetooth, selecting the desired device from the list, tapping what I want to pair, etc.
Adding a second headset was just as easy. With one headset already paired and active, I put the second headset into pairing mode, double tapped the FlyTunes button and voilà. By the way, it's OK to plug FlyTunes into the audio source either before or after the pairing process is complete.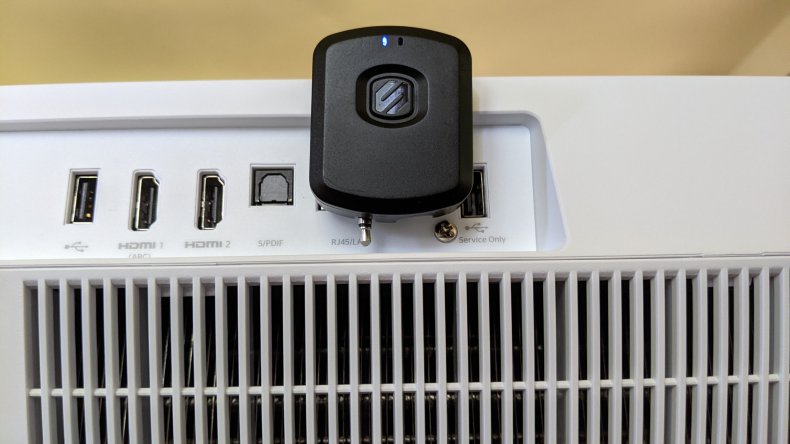 Virtually Endless Uses
I actually used this product on a cross-country plane trip. The battery, which they say lasts for 8 hours, stood up just fine. And the range was more than I needed. In fact, I was sitting over the wing and (just to get personal for a moment) was able to go all the way to the lavatory in the back of the plane without losing the signal. But that (with or without the bathroom break) is just one of many use cases, which include:
Watching TV in bed without disturbing your partner
Rocking out with your favorite earbuds on a fitness machine
Keeping the peace with two kids watching a movie on a long car ride
Mobile gaming
Adding wireless functionality to any of the millions of devices on the planet with an one-eighth-inch auxiliary audio output jack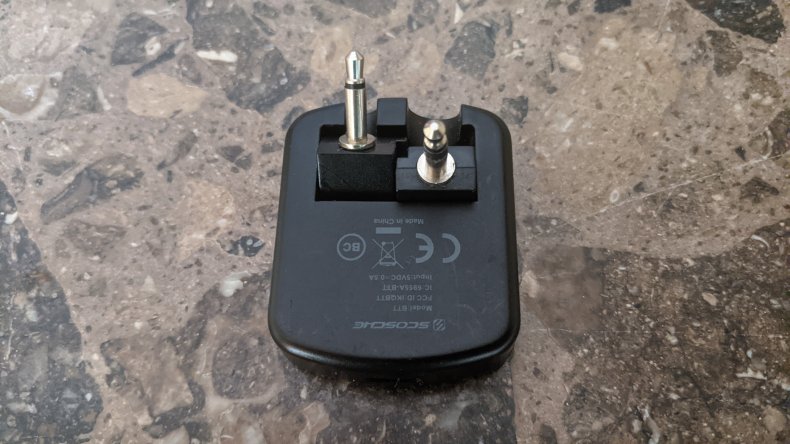 It's Not a Receiver
Just to be clear, this device is only for transmitting from a source, like a TV, laptop, CD player, stereo system, etc. In other words, it's designed to send audio from one of those devices to your wireless headphones or speakers. Twelve South's AirFly Pro can also receive audio. That would be helpful if, say, you were renting a car or boat and wanted to quickly cast audio from your phone (which has Bluetooth) to that vehicle's speaker system (which might not). But for that extra functionality—and longer battery life—that product costs almost twice as much as this one.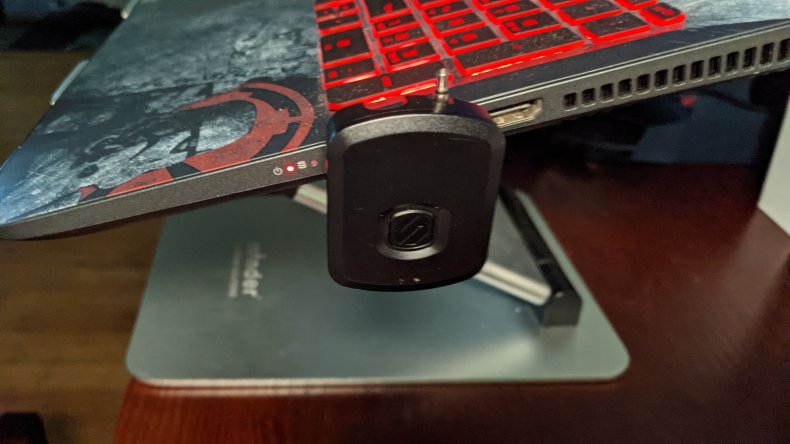 Should You Buy the FlyTunes Wireless Audio Transmitter?
It comes with a carrying pouch and a 4-inch extension cord, making it easier to attach to out-of-the-way jacks. I personally pack this handy little Oreo-size accessory on most trips, especially if I'm flying. It's definitely affordable. And especially if you have a great set of wireless earbuds and like to travel, this one seems like a no-brainer.
Newsweek may earn a commission from links on this page, but we only recommend products we back. We participate in various affiliate marketing programs, which means we may get paid commissions on editorially chosen products purchased through our links to retailer sites.