'No They're Not': Top Journal Editor on Scott Atlas' Claims Scientists Are Backing Trump's COVID Response
The editor-in-chief of one of the world's most prestigious science journals has criticized White House coronavirus adviser Scott Atlas for claiming "scientists all over the world" agree with President Donald Trump's approach to handling the COVID-19 pandemic.
In a response to Newsweek, Atlas defended the president and said Trump "has always followed the most current science to do everything possible to save lives and end the pandemic. That is also true about everything that I have advised. And to claim otherwise is beyond outrageous."
Atlas, a neuroradiologist who is not an expert in infectious diseases or epidemiology, tweeted on Thursday: "Looks like top scientists all over the world are lining up with the @realDonaldTrump #Covid_19 policy to 1) aggressively protect the vulnerable, and 2) OPEN schools and society! Yes - we ARE following the science! NO MORE LOCKDOWNS. #FactsMatter."
In a separate tweet, he shared a link to a news story about health experts joining a "global anti-lockdown movement."
"Top scientists all over the world line up with the #Covid_19 policy of @realDonaldTrump Protect the vulnerable and OPEN schools and society. That is the science!" he wrote.
The BBC News article Atlas linked to reported on the Great Barrington Declaration, an open letter expressing concern that COVID-19 policies are damaging people's physical and mental health.
According to its website, the declaration has been signed by over 5,300 medical and public health scientists. They argue people with the lowest risk of dying from COVID-19 should return to normal life and to build up immunity by being infected by the virus, while those at high risk are protected.
However, the idea of letting the virus spread unchecked is viewed as dangerous by World Health Organization experts. The BBC News report highlighted critics of the plan, who said it may not be possible to totally protect the vulnerable. They also voiced concerned about the long-term side effects that even healthy people may have from catching the virus.
It was unclear what policy Atlas, senior fellow at the conservative think tank and research institute the Hoover Institute at Stanford University, was referring to in his tweet. The Trump administration did not roll out a national strategy, but instead issued guidelines for re-opening and let governors decide how to deal with the pandemic in their respective states.
In a response to Newsweek, Atlas pointed to remarks the president made at a news conference on August 19: "We must all remain vigilant and continue to exercise extreme caution around those at highest risk, as we know." The president went on: "in our path forward, we will continue to follow a science-based approach to protecting the high risk while enabling healthy Americans to safely go back to work and school."
Atlas also referred to a September 28 news conference where the president said: "we are relentlessly focused on protecting the vulnerable while enabling healthy Americans to go back to work."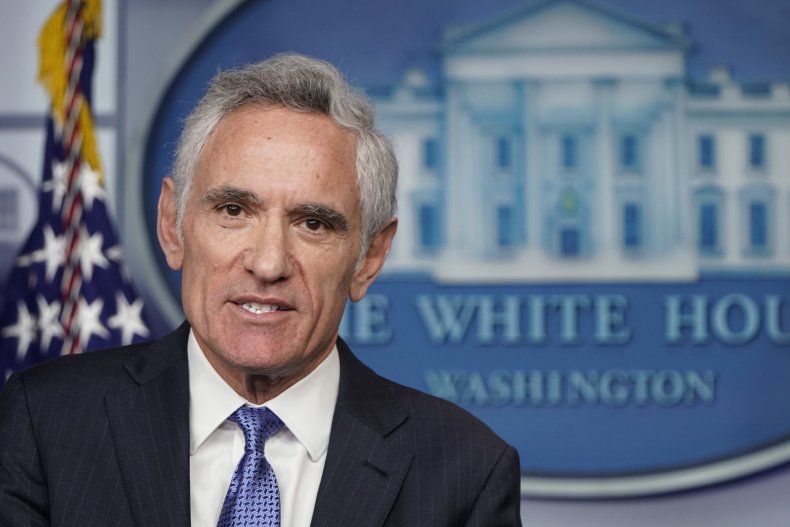 Last month, experts told Newsweek of how the U.S. had mismanaged the pandemic from the start. For months, the U.S. has had the highest case and death count for the coronavirus. Over 7.6 million people have tested positive, including president Donald Trump and members of his administration, and 212,773 people have died, according to Johns Hopkins University data.
The Science editor's response
On Thursday, Holden Thorp, the editor-in-chief of the Science family of journals and a professor of chemistry and medicine at Washington University in St. Louis, quote tweeted Atlas' initial post. "No they're not. I would know," he said.
Jeremy Berg, Thorp's predecessor at Science and professor of computational and systems biology at the University of Pittsburgh School of Medicine, replied: "Yes, me too (immediate past Science EiC). They are most definitely not (with a few exceptions who also lack epidemiology expertise like Dr. Atlas)."
Andrew Paul Landstrom, a pediatric cardiologist and cardiovascular geneticist at Duke University School of Medicine, also replied to Holden's tweet, saying he was "going to go ahead and side" with the the Science editor-in-chief in the exchange.
Atlas' appointment to the White House this summer sparked controversy. Last month, Robert Redfield, director of the Centers for Disease Control and Prevention (CDC), told a colleague during a phone call that "everything" Atlas says "is false."
Atlas has also faced criticism from former colleagues at the Stanford University School of Medicine.
A group of 78 health experts signed a letter stating they felt they had a "moral and an ethical responsibility to call attention to the falsehoods and misrepresentations of science recently fostered" by him.
His appointment has been regarded by some as an attempt to sideline White House coronavirus task force members such as Anthony Fauci, who has been the director of the National Institute of Allergy and Infectious Diseases since 1984, and present views that align more closely with the president's.
Scott Atlas' statement to Newsweek in full:
"America has experienced the loss of more than 200,000 lives, a heartbreaking loss to our country after being blindsided by the virus. That is tragic for so many families and it will never be forgotten. To combat the pandemic, this administration is focused on a strategy that is now being endorsed by epidemiologists and top scientists across the political spectrum from Harvard, Stanford, and Oxford among other elite research and medical science institutions: 1) protecting the vulnerable, 2) preventing hospital overcrowding, and 3) reopening schools and society.
After stopping the flow of incoming cases from China and elsewhere, that response included immediately mobilizing emergency hospital beds and personnel; deploying billions of dollars of PPE, ventilators, and medical equipment; creating an unprecedented massive testing program from scratch; protecting seniors with priority PPE and tens of millions of priority rapid tests to every certified nursing home and senior centers; accelerating new therapies; and developing the fastest vaccine in history.
The president has always followed the most current science to do everything possible to save lives and end the pandemic. That is also true about everything that I have advised. And to claim otherwise is beyond outrageous. Moreover, to insist on the opposite policy —stopping all cases of COVID-19 at all costs and maintaining lockdowns—is both contrary to the science and extraordinarily harmful to the people of the United States, particularly the working class and the poor, who have sacrificed greatly to recover from this difficult time."
This article has been updated with comment from Scott Atlas.