A woman has recounted one of the "worst" experiences of her career, after being swarmed by a pack of dogs as a fight broke out.
Morgo shared heart-stopping CCTV footage to her TikTok account, @coolslacks, showing her tending to a group of around 30 dogs, ranging in size from a small Basset hound to a large Pitbull.
In the clip, filmed in an outdoor enclosure, some dogs at the forefront of the clip get into a scrap, as Morgo instantly rushes over to try and separate them.
While not unusual for dogs to nip and tussle with one another, the action had a horrifying chain reaction on the rest of the animals.
Suddenly, dozens of canines swarm Morgo, with other dogs beginning to scrap with each other after getting caught up in the excitement.
Morgo, who was desperately trying to protect the original victim, is overcome by the pack, and goes under as they lunge from all directions.
Another worker who heard the ruckus can be seen rushing to her aid, as he immediately grabs a huge Pitbull by the collar and holds him tight.
Eventually another worker also appears, as the trio desperately try to disperse and calm the dogs.
The terrifying video, posted earlier this month, was captioned: "The worst work experience I've ever had."
The nightmarish CCTV has been seen 8.5 million times, and can be seen here, as Morgo uploaded a further three videos sharing the events leading up to the scrum.
She explained two pups were "playing," when they knocked into a basset hound, who didn't like it and "reacted pretty aggressively," and then "whipped around and started snapping at the brown and white dog."
Describing how the situation deteriorated, she said: "And then that brown and white dog just started yelping and crying, and whenever that happens with dogs, it triggers a pack mentality, kind of like a prey drive in them.
"So they just instinctively go towards whatever is crying and just attack it, so that's basically how I ended up getting that dog pile on me, I was trying to separate them."
The 21-year-old said she was trying to get the original dog inside, as she continued: "But what was happening was those dogs were hearing him cry, and they were jumping on me.
"And there were quite a few really heavy dogs... coming at me from all angles, obviously that's going to pull me down, I ended up just falling to the ground.
"So I was just holding on to this dog, just trying to keep him safe, trying to keep all these dogs who are snapping at us away from me, making sure he's not getting injured. So I just started screaming for help, I was screaming for all these dogs to get away, to back off."
Referencing why her colleague immediately went for the Pitbull, she explained: "For those of you wondering about the Pitbull he grabbed, that Pitbull is a really big boy, he is, I want to say 115lbs, and he was trying to get on top of me, so he was trying to prevent me getting further crushed from this massive tree trunk of a dog."
Eventually, they got the dogs separated, back inside and "put away."
"I pretty much was just crying for hours, I cried for at least two hours straight," Morgo admitted.
Afterwards, she claims she was told to stay and finish her shift as it would be "dangerous" for her to leave.
In a part two, she claims she left the unnamed doggy daycare last April, while confirming she wasn't injured in the "kerfuffle."
"Mentally I was very injured, physically, I was totally fine," she clarified.
There was an injury however, as she revealed: "The dog who did get injured was actually not a dog originally involved in the fight, it was a dog who was getting really excited from the fight, it had attacked a dog and punctured them right on their hindquarters, so that was the only injury that had happened."
The graphic below, provide by Statista, illustrates America's favorite pets from 2017-2018.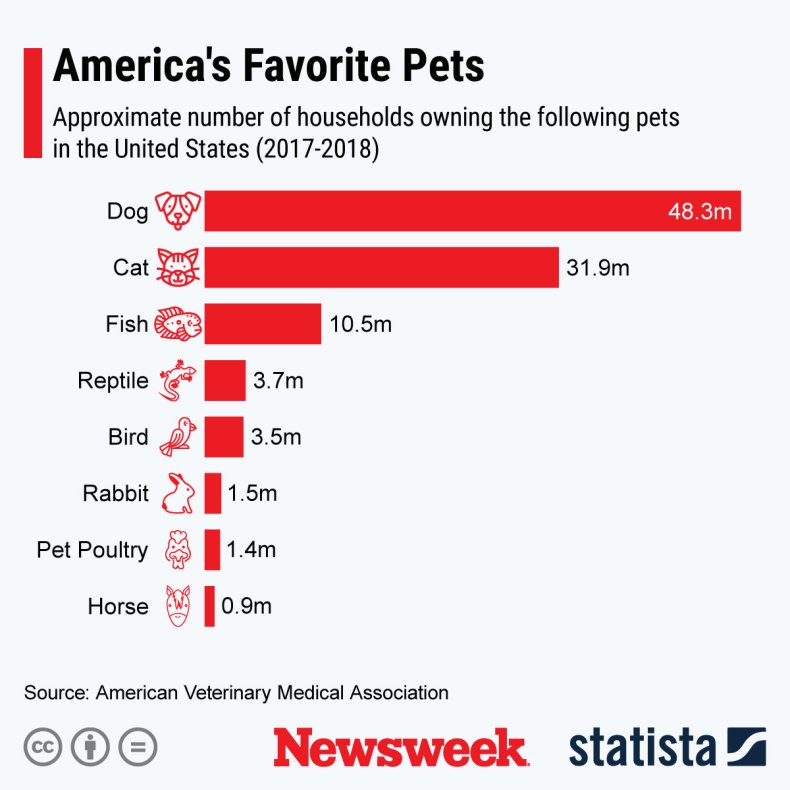 Confirming she was the only attendant in that area, she added: "It was probably the biggest fight I've ever experienced, working in the dog industry I've dealt with a few fights there, but nothing that was to that calibre to where I was physically getting trampled."
Commenting on the original video, which Morgo claims she was told to take down, @amysplayhouse wrote: "Too many dogs, they do react and act as a pack! Sorry you went through this!! You did your best to rescue the dog or dogs!"
Trev noted: "That prey drive went 0-100 instantly."
Jessica Masegian commented: "I hope that brown and white dogs owners thank you. This is so intense."
Ly McDougal reckoned: "Breaking up 2 dogs as 1 person is hard enough, can't imagine getting swarmed."
While Jess260 pointed out: "It's like a prison fight."
And Chelsea Dubskini asked: "Is this not a prison riot."
According to the National Canine Research Council, in 2019 there were 47 verified dog-bite related fatalities (DBRF) across the US.
"The majority of the 47 DBRFs were adults 70.2 percent, and 29.8 percent were children (aged 12 or under)," they stated. In 2018 the verified figure was 38, while in 2017 it was 40.
Newsweek reached out to Morgo for comment.