Sean Hannity Blasts 'Gutless' Joe Biden for Doing Exactly What Trump Did
Fox News host Sean Hannity lambasted a recent decision from President Joe Biden as "gutless," despite Donald Trump having once made the same decision.
Starting in 2004, the network broadcasting the Super Bowl airs an interview with the current president before the game, typically pre-taped on the preceding Friday. Throughout the past week, however, the Biden administration declined to commit to an interview with this year's host channel, Fox, with which the White House maintains a turbulent relationship. Biden has not sat down for any sort of interview with the right-wing network since the start of his presidency two years ago.
Following a hectic back-and-forth—including an attempt to set up the interview with Fox Soul, a streaming arm of the network targeted at Black American audiences—the White House on Friday confirmed that the interview would not take place, adding that Fox Corp. had called for its cancelation.
"As we said earlier, we had arranged an interview with FOX Sports host Mike Hill and Vivica A. Fox with the president ahead of the Super Bowl, and Fox Corp had the interview canceled," a White House official told CBS News. "FOX has since put out a statement indicating the interview was rescheduled, which is inaccurate."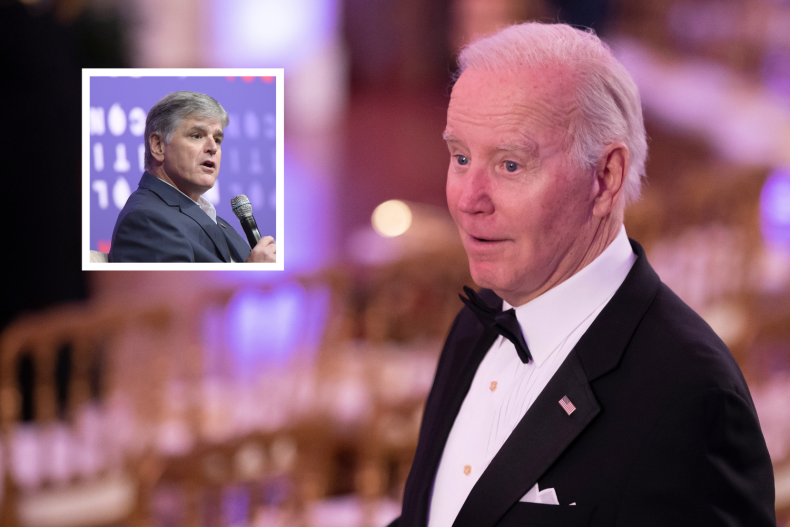 Following the decision, Hannity took issue with the president's decision during a recent broadcast.
"[Biden's] not going to do the tradition Super Bowl interview with Fox," the Fox News host said. "That is gutless on his part, don't you think? That is really gutless."
However, as was highlighted in a clip posted to Twitter on Saturday by user Acyn, former President Trump similarly declined to sit down for a pre-game interview in 2018, with the suspected reason being his issues with that year's network, NBC. Despite his fruitful past relationship with the network on his show The Apprentice, the former president frequently criticized NBC for, as he put it, creating "so much Fake News." A story from NBC News also once prompted Trump to assert that the Federal Communications Commission (FCC) should revoke the network's license, which would not have been possible.
The Trump White House never released an official reason for the decision in 2018.
Biden previously sat down for a Super Bowl interview with NBC last year, and with CBS in 2021. Former President Barack Obama took part in the tradition during every year of his two-term presidency, with former President George W. Bush originating the tradition in a 2004 interview on CBS.
Super Bowl 57 kicks off at 6:30 p.m. ET on Sunday, with the Kansas City Chiefs taking on the Philadelphia Eagles. The much-anticipated halftime show will be headlined this year by Rihanna.
Newsweek reached out to Fox News for comment.