Second Cargill Plant in Canada to Close While American Meat Industry Copes With Coronavirus Concerns
A Cargill-owned meat processing facility in Chambly, Quebec, is due to close temporarily starting next week in response to a growing number of employees diagnosed with the new coronavirus.
According to a statement from Cargill obtained by Newsweek Sunday, the decision to halt operations came after 64 of the plant's staff members—about 13 percent of its 500-person workforce—tested positive for the disease. Of all cases confirmed, the company said three employees have recovered and it expects "others to be cleared to return to work soon."
During a Sunday interview with The Canadian Press, Roxane Larouche, a spokesperson from the United Food and Commercial Workers' (UFCW) Quebec Office, said 171 workers were asked to remain home last week by the plant's resident nurse. Larouche noted that 30 of the individuals sent home were later diagnosed with the new coronavirus, the news agency reported. UFCW represents the Cargill plant's employees.
Although Cargill's statement did not provide a definitive timeline for its upcoming shutdown, the company explained that it has partnered with local health and union officials to administer diagnostic tests to all staff as soon as possible.
"As we continue to prioritize the health and safety of Cargill employees, we will be shutting down our Chambly, Quebec protein facility," the statement read. "As standards evolve in the fight against this virus, we are continually learning and improving how we respond to protect our employees and keep the food system operating."
Larouche told The Canadian Press that Cargill's Chambly facility will pause production beginning on Wednesday, with intentions to test its staff throughout Wednesday, Thursday and Friday. According to the outlet's report, she said the plant will reopen once there is a sufficient number of employees who have not come into contact with an infected person available to work.
"As we continue to focus on safety, we want to emphasize that employees are required to have had no symptoms of illness and not had contact with anyone with the COVID-19 virus for 14 days," Cargill's statement added.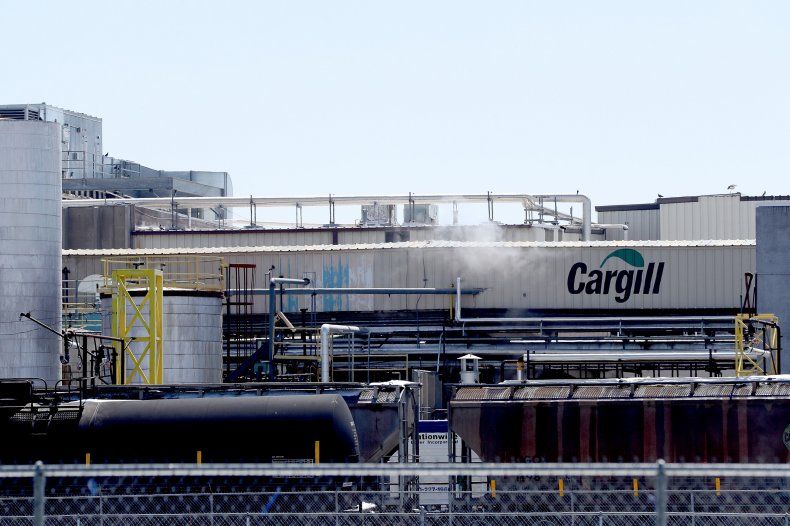 News of the Chambly plant's upcoming closure followed the reopening of another Cargill meat processing facility in Canada's Alberta province by just a few days. The Alberta plant resumed operations on May 4 with virus mitigation procedures in place after a two-week lockdown. Hundreds of the plant's employees had previously tested positive for the new coronavirus, according to reports from multiple outlets.
Cases of the coronavirus have been identified at meat processing facilities across North America since the start of the pandemic, many of which are located within the United States. Around the same time its facility closed in Alberta, Cargill minimized production operations at a plant in Fort Morgan, Colorado. The decision came after at least 15 cases of the virus were confirmed among employees, the state's department of Public Health and Environment reported, as outbreaks of various sizes began cropping up at plants owned by large meatpacking corporations in several Midwestern states.
Corporations like Tyson and Smithfield Foods, two of the most expansive meat processing companies in the U.S., in addition to Cargill and JBS, closed facilities in April due to infections diagnosed among staff. Though President Donald Trump's April 28 executive order allowed plants to reopen with measures in place to protect workers, criticisms that accuse meatpacking corporations of endangering employees have mounted alongside national concerns about protein supply shortages, which acknowledge negative impacts of plant shutdowns on ranchers and consumers alike.
A lawsuit filed against Smithfield Foods in April, which was later dismissed, claimed one of its Missouri plants put workers at risk of contracting the new coronavirus by neglecting to provide adequate protective gear or adjusting its environment to allow for social distancing. Another suit filed against JBS last week held the company responsible for the death of an employee by citing similar claims.
Concerns about the meatpacking industry's sanitation policies have targeted several areas of the market. On Sunday, People for the Ethical Treatment of Animals (PETA) alerted the public to its new ad campaign targeting U.S. factory farming practices, which suggests large-scale changes are necessary to avoid further transmission of infection.
"Meat comes from filthy factory farms teeming with bacteria and disease," the animal rights organization wrote on Twitter. "If we want to avoid another pandemic, we need to change."
Newsweek reached out to the North American Meat Institute, a trade association, for comment on PETA's ad Sunday.
Updated 3:00 PM ET.