Second Stimulus Check Being 'Seriously Considered' as Unemployment Drops to 11.1%
White House officials said that they would "seriously consider" sending out a second round of stimulus checks to millions of people in the United States, despite news that unemployment numbers have decreased.
"We're very focused on, as part of the next CARES Act, we're going to seriously consider whether we need to put more payments and direct payments," Treasury Secretary Steven Mnuchin said at a press conference Thursday, adding that the first round of checks had "worked very well."
Newsweek contacted the Treasury Department for comment but did not hear back in time for publication.
President Donald Trump did not address whether or not more stimulus checks could be coming during his remarks at Thursday's press conference.
Instead, Trump focused on the decreasing unemployment rate as the country's economy had continued to reopen last month.
The unemployment rate fell to 11.1 percent in June as 4.8 million jobs were added in the country, according to a report from the U.S. Department of Labor.
Employment in leisure and hospitality jobs rose sharply, the report stated, which could be attributed to the phased reopening of businesses that most states enacted throughout May and June.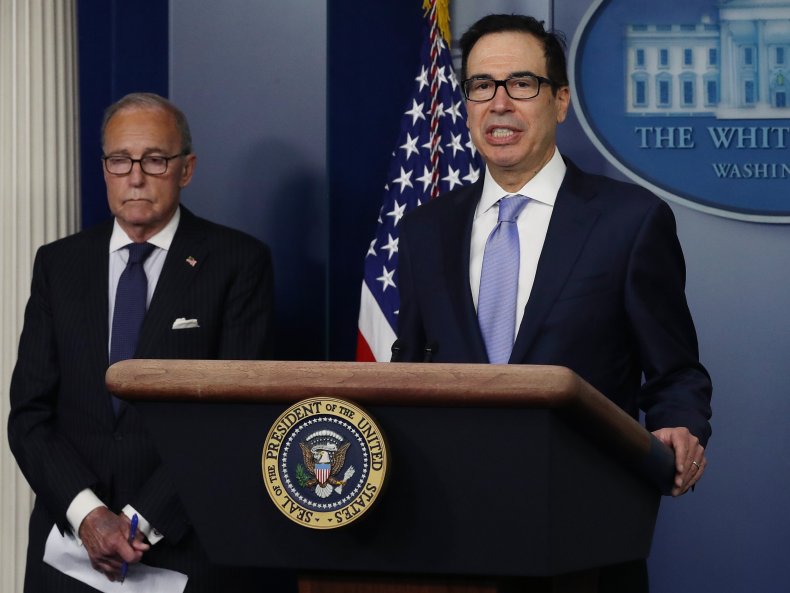 Still, the added numbers remain a far cry from what the job market resembled before the coronavirus crisis hit in March.
Roughly 22 million jobs were lost due to the pandemic recession, inspiring law makers to pass the Coronavirus Aid, Relief and Economic Security (CARES) Act. The first round of payments under the legislation provided up to $1,200 for eligible adults to assist them with financial struggle due to the pandemic.
Nearly 160 million Economic Impact Payments (EIPs) have been made, although the Taxpayer Advocate Service issued a report stating that "many individuals" were still awaiting all or part of their funds as of June 3.
These people may have to wait until 2021 to receive their promised money, TAS warned in the report to Congress.
"Because these individuals are likely experiencing financial distress now, the National Taxpayer Advocate recommends the IRS continue to work on solutions and alternatives to ensure that all individuals receive the EIP in its entirety in 2020 rather than having to wait until 2021 when they file their 2020 income tax returns," the report stated.
Despite these issues, polling shows that many American adults have indicated that they would like to see a second round of EIPs.
Trump told a Scripps reporter in an interview Monday that the White House "will be doing another stimulus package."
He was vague on details, saying that plans for the legislation could be announced "over the next couple of weeks" and that it would be "very generous."
The data in the Department of Labor report was collected from June 7 to 13, before several governors were forced to reverse their plans for reopening due to rapidly increasing coronavirus infection rates.
At this point, the report is a "dated snapshot," Jesse Edgerton, an economist at JPMorgan Chase, said, suggesting that July's labor report could see a rise in unemployment numbers once again.