Third of Americans Want Second Stimulus Check of at Least Twice Last Amount
A third of Americans believe a second stimulus check would need to be at least twice as much as the first, according to a poll.
While the prospects of further direct payments appear to have increased, with President Donald Trump indicating a willingness to support them, what amounts these would consist of is unclear.
The CARES Act gave up to $1,200 to eligible individuals, $2,400 to couples and $500 for each dependent child, to assist people through the financial strains posed by the COVID-19 pandemic. The HEROES Act, which has stalled in the Senate, approved similar amounts to adults, while payments for children would be $1,200 per child, but capped at three dependents.
According to a poll of 1,000 American adults for Jackson Hewitt Tax Service conducted by Dynata, 36 percent believe a second payment should surpass the amount of the first.
Respondents, who were surveyed online on June 10, were asked: "If there is a second stimulus payment, what amount would be necessary?"
Nearly a quarter, 24 percent, said twice the amount, while 12 percent said three times. Those figures together equate to 36 percent of respondents, just more than a third, indicating they would want a higher payment. Another 41 percent said the same amount, while 24 percent said another check is not necessary.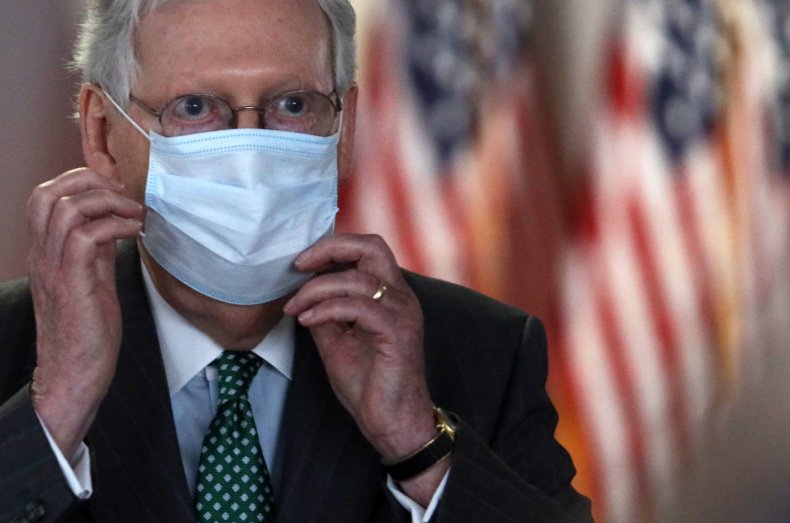 Of those who received a stimulus check, 32 percent said the money went to savings or a retirement account, 25 percent said it was used to pay bills, and 20 percent said the money went on essential items such as groceries or medical supplies. Just 6 percent said they "put it toward a fun purchase."
Mark Steber, Jackson Hewitt's chief tax information officer, told Newsweek: "Not many taxpayers are taking extravagant trips or vacations or buying big televisions as some may have assumed. They are spending their stimulus money on necessities or saving during this uncertain time."
The desire for higher stimulus payments follows previous polling which has indicated Americans believe another round of such support is necessary.
Of 1,000 likely voters surveyed for an FT-Peterson US Economic Monitor poll from May 20 to 26, 76 percent feel it is important they personally receive another direct payment, while 52 percent said they would spend a second payment on basic living costs.
A second round of stimulus checks will depend upon the contents of a further COVID-19 relief bill, which Congress has stalled upon.
Though the House passed the HEROES Act, a $3 trillion package put together by Democrats in the lower chamber, this has met opposition in the Senate⁠—with the GOP, which holds a majority in the upper chamber, indicating the bill has no chance of being passed.
They have criticized it for being too wide-ranging, while also calling for a pause to assess what measures should be taken next. Democrats, meanwhile, have pushed for immediate action to be taken.
The prospect of checks has been a point of contention among GOP lawmakers.
As states reopen, the U.S. continues to face the financial ramifications of lockdown measures, with inflated unemployment figures one indicator of the struggles of workers and businesses nationwide.
More than 2.3 million confirmed cases of COVID-19 have been identified in the U.S. since the start of the outbreak, according to Johns Hopkins University figures.
The graphic below, from Statista, shows the daily surge of cases up to June 23.