Second Trump Term Would 'Feed the Sickness,' Romney Says
GOP Senator Mitt Romney is warning that a second Trump would "feed the sickness" of America and make national distrust "incurable."
In an op-ed published in the Atlantic on Monday, the Utah Republican expressed his frustrations with the political options that Americans have, writing that while he wouldn't want to see former President Donald Trump in the White House again, he also doesn't think President Joe Biden has been able to unify the nation.
"President Joe Biden is a genuinely good man, but he has yet been unable to break through our national malady of denial, deceit, and distrust," Romney said. "A return of Donald Trump would feed the sickness, probably rendering it incurable."
In fact, Pew Research compiled three surveys to provide an average to show the median feeling Americans have toward the federal government as a whole. The 2022 graph shows a decline from the 1960s to 2022 where just 20 percent of respondents said they trust the federal government to do "what is just about right/most of the time."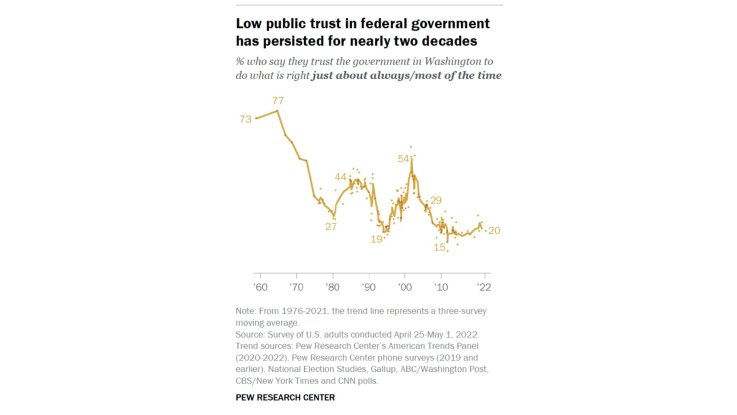 Pew Research Center
"Congress is particularly disappointing," the senator added. "Our elected officials put a finger in the wind more frequently than they show backbone against it. Too often, Washington demonstrates the maxim that for evil to thrive only requires good men to do nothing."
Romney, who has worked closely with Biden to pass a number of bipartisan legislation, has been a vocal critic of Trump, despite saying that his fellow Republican would likely win the party's 2024 nomination should he seek it.
On Monday, the senator said he hopes "for a president who can rise above the din to unite us behind the truth," while stopping short of naming a candidate who could take the challenge on.
"Several contenders with experience and smarts stand in the wings; we intently watch to see if they also possess the requisite character and ability to bring the nation together in confronting our common reality," Romney wrote.
Until there is such a leader, the Republican urged everyday Americans to fill the gap by rising about "grievances and resentment" to bring the nation together.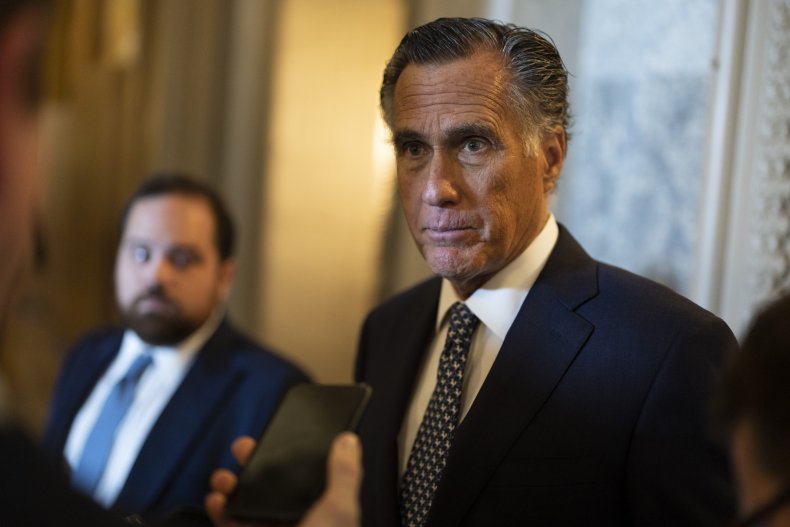 "While we wait, leadership must come from fathers and mothers, teachers and nurses, priests and rabbis, businessmen and businesswomen, journalists and pundits," he said. "That will require us all to rise above ourselves—above our grievances and resentments—and grasp the mantle of leadership our country so badly needs."
Romney's remarks seem to reflect the growing consensus among Americans, who don't want either Biden or Trump as their next president.
A new poll conducted by the Harvard Center for American Political Studies and Harris between June 28 and 29 found that more than 70 percent of voters don't want Biden to run for a second term. Six in 10 voters also said they don't think Trump should run in 2024.
However, both Biden and Trump received the most support in a potential presidential primary, with Biden earning 30 percent of support among Democratic voters and Trump earning 56 percent of support among Republicans.